2025 QB Colin Hurley talks Penn State offer and recruitment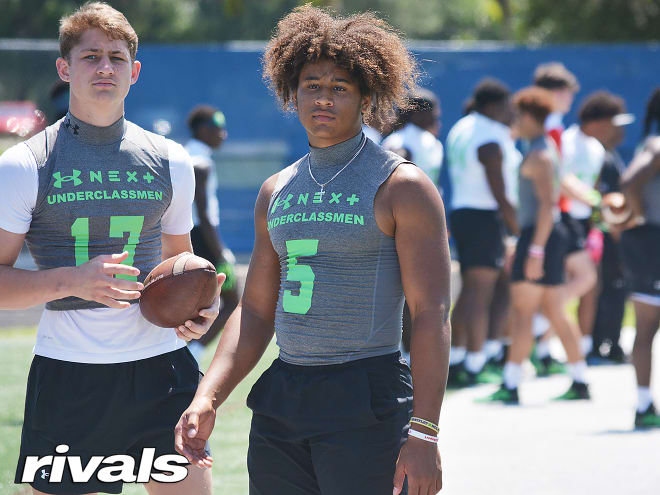 In the world of recruiting, you would be hard-pressed to find a more well-spoken and thoughtful player when it comes to interviews than Trinity Christian Academy (FL) quarterback Colin Hurley. The 2025 prospect is quickly becoming one of the highest recruited quarterbacks in the country and has the accolades, stats, and as you will learn, attitude to go along with it.
"I'm honored and grateful," Hurley said about his offer from the Nittany Lions. "I would like to thank Coach (Mike) Yurcich, Coach (James) Franklin, and the Penn State Football staff for the offer. It's a big-time program, with a rich history, and I fully understand the significance of being offered." He was also sure to give credit to all those who helped him get there, "I give credit to my teammates, coaches, trainers, teachers, and parents".
While Hurley may only have just been offered by the Nittany Lions on Monday, it's a program that he's been familiar with for quite a while. "What a lot of people may not know is, I first visited Penn State more than a year ago," Hurley told Nittany Nation. "When I visited, I thought Happy Valley was super cool." He said about the visit. "The campus is very impressive. The facilities are exactly what I thought they'd be. I threw it very well at the camp. It just took a while for things to finally settle, but you gotta respect that on my part and on the part of Penn State."
Hurley has also been quite in touch with offensive coordinator Mike Yurcich throughout the process as well.
"I've been in contact with Coach Yurich and sent him reels of HUDL film from my state championship season. We've talked football and small talk and he's been very methodical in my recruitment. He visited my school twice and attended a game."
Notable, Hurley is also a teammate of 2023 Penn State running back target Treyaun Webb, who is expected to announce his commitment this Thursday to either Florida, Penn State, or South Carolina.
While many recruits can be discouraged by the process that comes with recruitment, Hurley understands that each program and school has its own processes and that includes Penn State. "He told me he has a process and I certainly respect that, very much." He also told Nittany Nation, "I kinda approach the recruitment process differently. I don't, and won't, chase and collect offers. I don't do the crazy camp tours that other guys do."
Despite all his accolades and success, Hurley isn't one to show off but he's confident in his abilities. "I only did four camps this year - FSU, LSU, Ohio State, and Miami. I was a Top Performer at all of them and when I do attend a camp, I expect to be the best QB at the camp, regardless of the class and who's there. I don't play on social media. I'm about being the best QB and person I can be. I'm about winning and leading."
The phone call, however, that he's been waiting for from Penn State came yesterday.
"He (offensive coordinator Mike Yurcich) and I spoke yesterday and he told me, 'Colin, we've done our homework on you, we've spoken to your coaches and they feel you're the best in the country. You have the grades. You check all the boxes - you are big, strong, powerful, athletic, and have an elite arm, that can make all the throws. You are a leader and your resume includes two state titles and a bunch of awards. We'd like to extend an offer to you.' It was a very good call," Hurley told Nittany Nation about his conversation with Yurcich.
So where does Hurley's recruitment go from here? "I am quickly putting together a list of schools that I want to focus on. I prefer building relationships and building a real connection." He said regarding his next steps. "I know I'm a (class of) 2025, but I feel schools who are interested should move soon because I can't see where I would feel comfortable with a school that moves on me too late."
Hurley, surrounded by a strong support group and inner circle will also take everything into account, "My circle and I look at every factor - school, coach, conference, teammates, program, academics, city where I'd live for 3-4 years, and if the program will prepare me for the next level, because that's the goal."
As mentioned above, it's hard to find players who are more well-spoken than Hurley. The 2021 Florida High School Class 2A Player of the Year is a true all-around recruit. Testing-wise, he shows great athleticism, a 4.75 forty-yard dash, a 9.8 broad jump, and a 36" vertical. Balls have been clocked coming out of his hand at 60 mph and on the field last year, he totaled over 2,100 passing yards and 24 touchdowns while helping Trinity Christian Academy to a 10-4 record including three wins over teams with top-25 national rankings. He also carries a 3.9 GPA in the classroom.
With his latest offer, Hurley holds 24 scholarship offers with Arkansas, Florida, Florida State, Georgia, LSU, Miami (FL), Michigan State, Ole Miss, Missouri, Ohio State, Penn State, UCF, and Virginia Tech among them. He is not yet rated or ranked by Rivals.