First step sets Toney apart
There aren't many linebacker/defensive ends who double as sprinters in track, but Shaka Toney of Philadelphia's Imhotep High has never fit the conventional mold.

Toney has been listed at a variety of sizes, but he said that 6-foot-4, 217 pounds is the most accurate measurement.
Measuring him as a football player isn't so difficult.
Finding what position he can play at the college level might be more challenging, but that will be a puzzle the Penn State coaches will gladly attempt to solve in the coming years.
Toney was a defensive end for a 15-0 Imhotep team that defeated Cathedral Prep, 40-3, to win the PIAA Class AAA championship.
How disruptive was he on the field? Toney had a school-record 21 sacks as a senior, but coach Albie Crosby said that doesn't begin to tell the story. Quarterbacks were always aware of where he was on the field, and even when he didn't record a sack, he often chased QBs out of the pocket into the arms of another teammate.
Offensive linemen couldn't keep up with his quick first step, and quarterbacks couldn't outrun him.
"He is not your typical defensive lineman with his size," Crosby said. "He can run and is very competitive."
He's still running hard this spring as a member of Imhotep's track team, competing in the 100- and 400-meter distances, along with the javelin and discus. That's right: this feared defensive lineman runs the 100.
Toney said he was recruited by Penn State to be a hybrid player – part linebacker, part defensive lineman and full-time disruptive force. He has heard some of the skeptics who contend that he won't be able to carry the weight in college to be a defensive lineman, and he has a succinct rebuttal.
"Coach [James] Franklin said I can put my hand in the dirt," he said.
So if the Penn State head coach said he can be a defensive lineman, that's good enough for Toney. He also points out that opposing offensive linemen won't be able to block a player they can't catch.
Few prospects in the country this past year had a first step that was as impressive as Toney's, which is why he spent so much time in opposing backfields.
"I think it's impossible for a lineman to truly get physical with me," he said. "I am a physical player myself and I always believe that with my first step, I will get to the ball."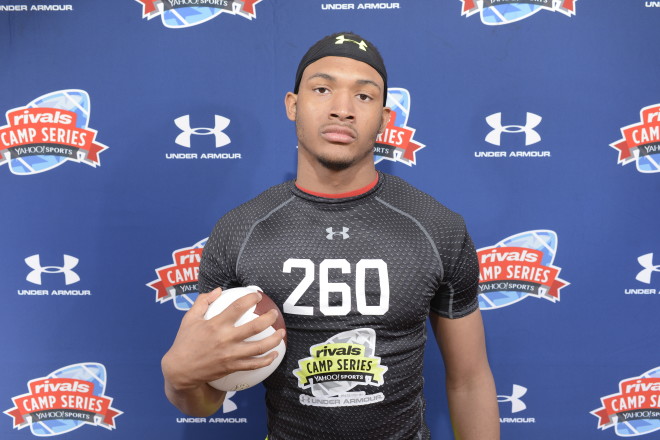 His coach said that Toney's quick first step is truly his calling card. "He does a great job anticipating the snap and is really good at keeping blockers off him," Crosby said. "He does a phenomenal job of bending, and his pad level is tremendous, making it tough for an offensive lineman to get his hands on him."
Imhotep fielded two outstanding defensive ends last season, as Toney teamed up with Andre Mintze, who went on to sign with Vanderbilt. With this type of talent, is it any wonder the Panthers won 14 of their 15 games by 21 points or more?
Despite all his individual accomplishments, Toney is proudest of the winning pedigree he helped Imhotep develop. He played on the varsity team all four years of his high school career, helping the Panthers go 55-5 during that span.
"It was always a dream to win a state championship, and for it to come true meant so much to all of us," he said.
Toney realizes that he could end up at linebacker at Penn State. He said he will do anything that will help the team win, just as he did during his high school career.
In the summer before his senior season, Toney made a verbal commitment to Penn State, but there was some late recruiting drama.
The Panthers entered the picture at the end of the recruiting cycle, and with the Feb. 3 signing date only hours away, Toney wasn't sure where he would attend college.
"My sister told me if football was taken away from me, what school would I enjoy?" Toney recalled. "It was more about that."
He said he liked both schools but Penn State was the best answer to the question his sister posed.
Toney admitted that he didn't want to attend school more than five hours from home. He is hoping his family and friends will frequently make the four-hour trek to Penn State to see him play.
"He comes from a great family," Crosby said. "I don't know if you will find a support system as well as Shaka Toney has."
Toney is the youngest of five siblings, with two brothers and two sisters.
"They all look out for their little brother," said Crosby, who recently stepped down as head coach.
And been working out this spring and summer, preparing for his college football career.
Although Toney would like to contribute immediately, he takes a mature approach when it comes to playing time.
"As far as what the coaches want to do, if they feel I have to wait and develop and get stronger and learn the system, I am perfectly fine with that," he said.
Then again, he's going in with the mindset that he will attempt to contribute right away. His position is yet to be determined but his will to win and competitive nature have long been established.