Penn State announces staff changes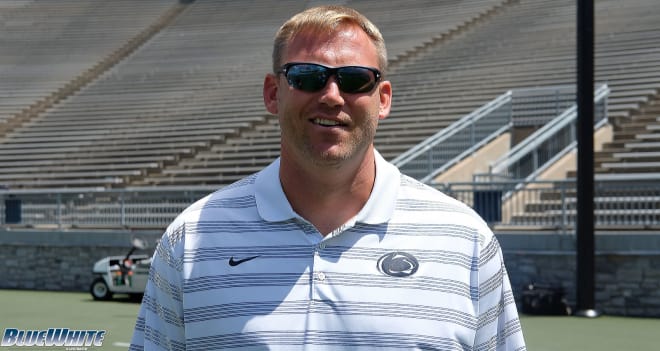 UPDATE (5:40 p.m.): Penn State football has confirmed multiple changes to its coaching staff.
Announced early Friday evening, Penn State head coach James Franklin and the Nittany Lion football program have rolled out a host of assistant coaching changes moving forward.
Following the departure of offensive coordinator Joe Moorhead to become Mississippi State's head coach, as well as that of running backs coach Charles Huff following him to the Bulldogs, Ricky Rahne has been locked in as the Lions' new offensive coordinator and quarterbacks coach.
"We are thrilled to elevate Ricky to offensive coordinator and add Tyler and Phil to our staff," Franklin said via press release. "Ricky is one of the rising stars in college football. He is extremely sharp, driven and has a great rapport with our players. He has been very involved in our offensive scheme the last two years, which is why I anticipate our offense will continue to thrive under Ricky."
With the move of Rahne from tight ends assistant to OC, former offensive graduate assistant Tyler Bowen has been tabbed to fill his role in charge of the tight ends. (Original story below).
"Tyler is a young man I have known for many years, beginning as an offensive lineman at Maryland and then continuing our relationship while he was a student assistant at Maryland and as a graduate assistant at Penn State," Franklin said. "He has a high football IQ and tremendous passion for the game that will impact our student-athletes on a daily basis. He has history with our offensive scheme, which will help this be a seamless transition."
Additionally, assistants Josh Gattis and Matt Limegrover have taken on new roles as well, Gattis now named as Penn State's pass game coordinator, wide receivers coach and offensive recruiting coordinator and Limegrover named run game coordinator in addition to his responsibilities in charge of the offensive line.
"Josh and Matt have played vital roles in our offensive success and I am excited to see how we evolve in their new roles. Josh has brought tremendous insight into our passing game on a weekly basis as he has continued to develop our wide receiving corps into one of the best in the country. Upon his arrival, Matt made an immediate impact on the guys in the offensive line room and we have a very bright future in the trenches with him at the helm."
Not finished with the rollout, veteran coach and current defensive consultant with the program Phil Galiano has been added to the staff as well, his role announced as special teams coordinator and assistant defensive line coach. Galiano brings 17 years of experience in the profession to the table including 12 years in the collegiate game and three years in the NFL with the Tampa Bay Buccaneers.

"Phil brings a variety of experiences at both the college and professional levels as a special teams and defensive coordinator," Franklin added. "He has been a valuable addition to our staff as a defensive consultant this season. Throughout his career, Phil's special teams units have had success at all levels and I know he will bring our special teams unit to another level. He is another guy with Pennsylvania roots and I am happy to be able to bring him home."
Original report: Per sources, Blue White Illustrated has confirmed a return to Penn State's staff for former graduate assistant Tyler Bowen.
The move for the current Maryland offensive line coach coincides with the recent departures of offensive coordinator Joe Moorhead and running backs coach Charles Huff to Mississippi State.
Details regarding the hire have yet to be confirmed by Penn State, but a source indicated the move is expected to place Bowen in charge of the Nittany Lion tight ends with an anticipated move to offensive coordinator for current assistant in charge of tight ends, Ricky Rahne.
Bowen, a 2010 graduate of Maryland University, has worked with the Terrapins for the past nine months after spending two years prior with Fordham University. There, he worked for one year alongside former head coach Joe Moorhead with the Rams. In his second year in 2016, Bowen was named the Rams' offensive coordinator as Andrew Breiner was named Fordham's new head coach following the departure of Moorhead to Penn State.
Before his stints at Maryland and Fordham, Bowen worked at Penn State as a graduate assistant dealing with the Nittany Lion offensive line in 2014 and 2015.
Details have yet to emerge regarding the program's plans to fill Huff's role in charge of Penn State's running backs.