Future fast-approaching for Washington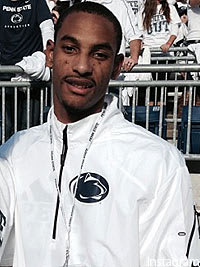 The future is approaching quickly for incoming Penn State shooting guard
Isaiah Washington
.
Having finished his senior season, the Williamsport, Pa., native is just months away from beginning his career with head coach Patrick Chambers and the Nittany Lions or, if all goes according to plan, less than a month.
"I believe I'm graduating early so that I can get there in May sometime, I believe," Washington said during a phone interview Tuesday afternoon. "It's something I've always wanted to do. I wanted to originally get there as soon as I could. I'm ready to get up there and just prepare and hopefully help Penn State in any way that I can."
Should Washington complete all of the academic work required to cement the early graduation from Williamsport High School, the 6-foot-4, 180-pounder would enroll at Penn State for the first summer session at the University Park campus, which begins on May 18. With the potential early-enrollment, so to speak, Washington would give himself a six week head start on college hoops careers that typically begin for incoming freshmen at Penn State during the second summer session in late June.
Six weeks early, of course, pales in comparison to the time that Washington has spent committed to Chambers and the Nittany Lions.
Pursued by Chambers and the Nittany Lions' staff as just a sophomore, Washington took just a few unofficial visits before making a verbal commitment to Penn State in April 2012. Though the Nittany Lions were coming off a 12-20 overall record at the time of his commitment and have had both challenging and encouraging 10-21 and 16-18 seasons in the time since, respectively, Washington said Tuesday that he has no regrets about the decision that will lead him to Happy Valley this spring.
"It was definitely a blessing to commit early. Just having a high major Division I school be interested in you at such a young age, it's a blessing," he said. "It was good for me to actually have the school that I wanted to go to, that I felt filled all of my needs, offer me so early.
"It just seemed silly to me to hold out for what I didn't feel could get any better. Of course I had other looks in the Big Ten and stuff like that, but I just felt comfortable with Coach Chambers and what he's got going up there. I thought he was genuine, and over the two years I haven't thought twice or changed my mind at all. He's committed to me and I've been committed to him."
Now that the finish line for high school and starting line for his college career are directly in sight, Washington has been simultaneously working toward the future while savoring the end of a hard-fought high school career that was capped this spring with a
Pennsylvania Sports Writers First-Team All-State Class AAAA selection
following his 22 points per game senior season.
Though the Millionaires saw eight seniors depart from last year's district-winning, PIAA playoff team and had ups-and-downs on the way to a 12-12 record, Washginton led the team in rebounds and assists on top of his nightly point production.
Now, looking to put on weight to his lean but speedy frame through work with a personal trainer five times a week, Washington is just anxious to contribute in any way he can for the Nitany Lion future that awaits him.
"I just see that I have to compete," he said. "I have to listen and buy into what the coaches are saying. They're obviously going to lead me in the right direction."