Joe Bedenk: College baseballs forgotten pioneer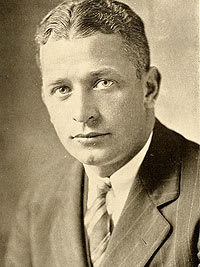 Playing in the College World Series is the ultimate goal of every collegiate baseball player, and it's been 40 years since a Penn State team last made an appearance.
The coach who took that 1973 team there now has a stadium on campus partly named for him, but the Nittany Lion coach who actually helped start the prestigious College World Series and who in 1957 produced the best baseball team in Penn State history is all but forgotten.
That's how history often works, and it is too bad.
Joe Bedenk deserves better. After all, he is not only Penn State's winningest baseball coach with 380 victories, 159 losses and three ties stretching from 1931 through 1962, but his 1957 team is the only one of the five Lion teams to reach the College World Series that played in the championship game.
With baseball being the school's first varsity sport in 1875, one would think Bedenk would be memorialized with his name on the stadium. Or at least with a statue nearby.
However, it is Bedenk's assistant and successor, Chuck Medlar, whose name is attached to the modern-day baseball facility across from Beaver Stadium. That's because one of Medlar's players, Anthony Lubrano, chose to honor his former coach when he donated more than $2 million for the naming rights for the baseball complex that opened in 2007. It's not that Medlar was undeserving.
Medlar's 19-year tenure as head coach from 1963-81 is second only to Bedenk's record tenure of 32 years, and his record of 312 wins, 141 losses and six ties is third behind Joe Hindelang. What makes Bedenk and Medlar's records even more impressive is that they coached in eras when there were fewer games in a regular season: an average of 15 to 20 for Bedenk and 20 to 25 for Medlar, compared to 50-plus in the past 25 years.
While Bedenk took three teams to the College World Series in 1953, 1957 and 1958, Medlar was there with two of his teams in 1963 and 1973. Both have been inducted into the American Baseball Coaches Hall of Fame, with Bedenk part of the inaugural class of 13 in 1967 and Medlar elected in 1980.
Those aren't the only similarities between the two men. Both played baseball for Penn State, and both were deeply involved with the football team, too.
Bedenk was a right fielder and clutch hitter who batted fifth in 1922-23, but he was an even better football player. As a sophomore starting guard on the 1921 squad, one of Penn State's greatest teams, Bendek was a second-team Walter Camp All-American. In his senior year, he became the school's first interior lineman to be named a first-team All-American.
After five years as the head baseball coach and an assistant football coach at Rice and Florida, Bedenk returned to Penn State in 1929 as an assistant to head coach Hugo Bezdek in both football and baseball. When Bezdek retired from coaching after the 1930 season, Bedenk succeeded him in baseball while continuing as the football line coach under another Bezdek protégé, Bob Higgins.
Medlar was an outstanding pitcher for Bedenk from 1940-41 and the captain-elect of the 1942 team. Back then, collegiate players were also allowed to play professional baseball in the summer. So, after his junior year in 1941 when he was 7-3 as both a starter and reliever, the Detroit Tigers signed him to a contract and sent him to Beaumont, then a Class A Texas League affiliate. He pitched 64 innings in 17 games, all in relief, for a 2-4 record and .380 ERA.
As the 1942 baseball season approached, Medlar dropped out of school to join the Tigers in spring training. The Tigers assigned him to Jamestown, N.Y., in the Class D Pony (Pennsylvania-Ontario-New York) League. He was 5-0 with a .265 ERA after pitching 51 innings in six games, and the Tigers moved him up to their Class A affiliate, Elmira, in the Eastern League. There, Medlar appeared in 20 games and pitched 70 innings for a 4-3 record and 3.73 ERA and was promoted to Buffalo of the Class AA International League, then one level below the majors. (Class AAA leagues were not part of minor league baseball until 1946). Medlar pitched 11 relief innings in seven games with no decisions and gave up no runs. At that juncture, he seemed headed toward the Tigers as a relief pitcher.
However, World War II intervened and Medlar went into the Navy, spending time in the Pacific war zone. When he returned to Buffalo after the war, a sore arm ended his career. So he finished his education in 1946 at Penn State and spent 14 years handling the pitching staff before Bedenk's retirement.
Meanwhile, Medlar took on added responsibilities in 1946 as the head trainer of the football team. That made him a colleague of Bedenk on the football staff until 1953, and therein lies a historical football footnote to this baseball tale.
When Higgins retired as head coach after the 1948 season, Bedenk was his surprise successor. However, after five games in 1949, Bedenk told athletic department officials he wanted to go back to being a football assistant and concentrate on coaching the baseball team. That led directly to the hiring of an outsider, Rip Engle from Brown, who - as the now-familiar story goes - brought along his college quarterback, Joe Paterno, and forever changed the history of Penn State football.
Bedenk left the football staff after the 1952 season. Meanwhile, Medlar continued as the football team's head trainer until his retirement in 1983, 12 years after his induction into the National Athletic Trainers' Association in 1971.
Bedenk's love for baseball was evident to everyone who knew him. He was a hard ass as a football coach, and in his younger days he took delight in demonstrating techniques - some of them illegal - one-on-one with his linemen. He was a bit mellower on the baseball field, perhaps because the sport itself is far less violent than football.
I became acquainted with both Bedenk and Medlar as an undergraduate writing for The Daily Collegian in the late 1950s. They were both friendly and accommodating to young Collegian reporters and treated us with respect, even asking us to call them by their first names despite our age differential. At first, that was more difficult to do with Bedenk because he seemed more like a father figure to me, while Medlar was more like an uncle.
What I remember most about Bedenk is that he liked to talk about baseball, particularly major league baseball, and strategy. Medlar used to kid us young reporters a lot, and he called everyone "stud." Now, look up the word in the dictionary and it is defined as a term for the breeding of horses or slang for "a man regarded as virile and sexually active." Actually, it was Medlar's sly way of being friendly with someone without having to remember their name.
Frankly, at the time I didn't know much about the athletic backgrounds of either Bedenk or Medlar. I really didn't begin learning about them until I started working on my first Penn State book, the Penn State Football Encyclopedia, in 1996. And it wasn't until five years ago, while researching a story about Bedenk's outstanding 1957 baseball team, that I found out about his involvement in the creation of the College World Series.
It all came about because of the expanding popularity of football and basketball in the mid- to late 1940s and the continuing loss of undergraduate talent to professional baseball. Bedenk and his friend Eppy Barnes, the head coach at Colgate, believed college baseball needed to stop the increasing encroachment of the professionals. One way to do it, they agreed, was to do a better job of selling their sport better to the public. They knew they couldn't do it alone, so they decided to form an organization for college baseball coaches.
Baseball coaches were already far behind their peers in football and basketball, who had started coaches associations two decades earlier - football in 1921 and basketball in 1927. Baseball had been the most popular sport in the country in the 1920s, and there didn't seem to be any need to promote it. But by the mid-1940s, football and basketball had narrowed the gap.
So in early 1945, Bedenk and Barnes proceeded to survey 200 college baseball coaches. More than 140 responded. On June 19, 1945, 27 coaches met at the New York Athletic Club. One of the speakers pushing the idea was Branch Rickey, the president of the Brooklyn Dodgers who had played baseball at Ohio Wesleyan and been the head coach at Allegheny (Ohio) Wesleyan and even at Michigan while attending law school. Two years later, Rickey would help Jackie Robinson break the major league color line.
The coaches agreed to form an official group called the American Association of College Baseball Coaches with an annual membership of $5 for active members and $2 for allied membership. A month later, Barnes was elected president. Bedenk declined any official position, but while he did not serve as vice president or secretary-treasurer, he continued to be a behind-the-scenes force in the neophyte organization.
With the help of Rickey and other executives in major league baseball, the new coaches association was able to sponsor an all-star college game at Boston's Fenway Park in June 1946. The group then convinced the NCAA to sponsor an official championship playoff, and the first tournament was held in the spring of 1947.
Kalamazoo, Mich., was the site of the championship series and featured just two teams in a three-game playoff. California won the first championship with a two-game sweep of Yale, with a meager total of 1,896 fans in attendance. The next year, Kalamazoo also hosted the championship series, and Southern Cal beat Yale, two games to one. In 1949 the championship series expanded to four teams, and the games were moved to Wichita, Kan. Texas went undefeated in three games to win the title.
Businessmen in Omaha then convinced the coaches to move the championship series to their city. With a revised format of eight teams in a double-elimination structure, the 1950 series drew a total attendance of 17,805, but that was enough for the coaches association to decide on Omaha as the permanent home for the championship series. The series actually lost money in 10 of its first 12 years in Omaha and didn't officially become known as the College World Series until the late 1960s.
In 1987 the format was altered again, with the eight teams divided into two four-team double-elimination brackets and the winners of those brackets meeting in a single championship game. That has remained the format ever since, and the College World Series now attracts upwards of 25,000 fans each year.
Before Bedenk's death in 1978, the archives staff at Penn State's Pattee Library asked him to describe in writing his involvement in the formation of the coaches' organization - now known as the American Baseball Coaches Association - and the College World Series. His succinct reply, hastily scrawled at the bottom of the archives inquiry, tells a lot about the kind of humble man he was: "E.D. Barnes and I organized the association behind closed door before it was made public. - F. Joe Bedenk."
Surely, those immortal words are worthy of a plaque somewhere in Lubrano Park to honor the forgotten all-time best baseball coach in Penn State history and the man who helped start the College World Series.