Penn State pummels Wisconsin, 48-7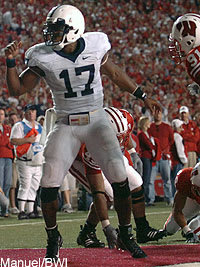 MADISON, Wis.(AP) With coach Joe Paterno perched in the press box for the second straight week because of a sore hip, Daryll Clark threw for a touchdown and ran for two more scores to help No. 6 Penn State dismantle Wisconsin 48-7 on Saturday night.
Cornerback Lydell Sargeant had two interceptions - off of two quarterbacks - and Derrick Williams scored again in the return game as the Nittany Lions (7-0, 3-0 Big Ten) made another strong statement asserting their place among the nation's top teams.
It is Penn State's 11th 7-0 start under Paterno and first since 1999. The Nittany Lions also won consecutive Big Ten road games for the first time since '99.
Are the Nittany Lions in the national championship picture?
``We certainly deserve to be considered,'' Paterno said.
It was the second straight home loss and most lopsided loss since 1989 for Wisconsin (3-3, 0-3), which opened conference play with three losses for the first time since 2002 - a dismal start for a team considered a potential conference title contender going into the season.
``I thought we'd win, but anybody who thought we'd win by 41 hasn't been in the game very long,'' Paterno said.
A major letdown in a high-profile game is nothing new for Wisconsin these days, having blown chances to beat Michigan and Ohio State in the past two weeks. The collapse just came a little earlier this time around.
Badgers coach Bret Bielema, speaking softly with an obviously hoarse throat, seemed surprised that his team didn't fare better but wasn't surprised that Penn State was as tough as they were.
``I think Penn State's a very good football team,'' Bielema said. ``I thought that all week.''
With the Badgers trailing 17-7 and pinned deep in their own territory just before halftime, quarterback Allan Evridge was sacked and stripped of the ball, sending it scooting across the turf. It was scooped up by middle linebacker Josh Hull and Penn State took possession at the 16.
Wisconsin cornerback Allen Langford then was called for pass interference, and Clark scored on first-and-goal from the 2 to put Penn State ahead 24-7 at halftime.
Clark carved up the Badgers' defense on the first drive of the second half, then scored on a 4-yard scramble. Clark took to the air again on Penn State's next possession, throwing a 44-yard pass to wide-open Deon Butler to go ahead 38-7.
At least the Badgers had their marching band back this week. The band was suspended for last week's loss to Ohio State in connection with a hazing scandal.
Wisconsin's defense held up fairly well in the first quarter, allowing only a field goal despite spending most of their time on the field as the Wisconsin offense managed one first down.
The Nittany Lions then scored their first touchdown early in the second quarter as Clark absorbed a big hit to make an even bigger play.
With Penn State facing third-and-goal on the 2, Clark took the snap and rolled right, where he was leveled by linebacker DeAndre Levy just as he pitched the ball right to Evan Royster for an easy touchdown.
After yet another three-and-out by the Badgers, Williams squirted through a seam in the middle of the field and raced 63 yards with a punt for a touchdown.
Evridge didn't complete his first pass until the 8:34 mark of the second quarter, connecting with Travis Beckum on a 45-yard completion that set up Evridge's 5-yard touchdown scramble.
After going 2-for-10 for 50 yards passing, Evridge was replaced by Dustin Sherer with 3:15 left in the third quarter. Sherer put together a drive - only to throw an interception to Sargeant, who picked off Evridge earlier in the quarter.
``I think the quarterback has to play a lot better in certain situations, whoever that's going to be,'' Bielema said.
It all was witnessed from on high by the 81-year-old Paterno, who had to move upstairs for the Nittany Lions' win last week over Purdue because of the nagging hip injury. Paterno also coached from the press box during the second half of a game against Temple earlier in the season.
``I was afraid somebody was going to come around and ask me for my ticket,'' joked Paterno, who just started walking with a cane. ``It's not fun. But I think I can help the team more up there because I can talk to all of the coaches. I think I've watched more film since I got hurt than ever before. So maybe now I can suggest some plays and once in a while, I'm right.''
Paterno was hurt at practice the week before the season opener when he was demonstrating an onside kick.
Coincidentally, Paterno also was injured the last time the Nittany Lions visited Camp Randall. Paterno tore ligaments in his left knee in a sideline collision with a player at Wisconsin in 2006.