Penn State's Class of 2018 – Signing Day Superlatives
The majority of Penn State's Class of 2018 took advantage of the inaugural early signing period by inking their letters of intent Wednesday. With the newest Nittany Lions on board, here's a highlight of some of the recruits and what they bring to the program.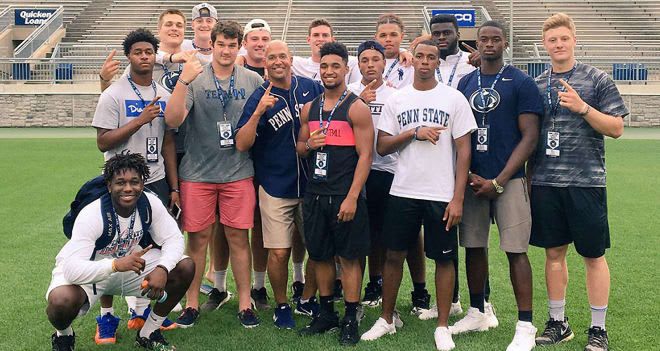 HEAD OF THE CLASS - The only Rivals five-star and Top 5 prospect nationally, DE/LB Micah Parsons is the headliner of a studded group and the best one yet under James Franklin. Once the very first verbal commitment in this class, Parsons opened his recruitment to enjoy the process before Franklin reeled him back in. Not only does Parsons carry the highest profile and have the best chance at immediate playing time – Franklin announced he'll begin his career this spring at middle linebacker – he's also one of the best recruiting successes of the Franklin era. Keeping the state's top-ranked player and the highest-ranked defensive end in the country at home is a big deal. He's also the highest-ranked player in Pennsylvania since Philadelphia DT Sharrif Floyd back in 2010.
SURPRISE 11th-HOUR PICKUP - With a couple scholarships opening in the last month, Penn State responded by going out and grabbing one of the highest rated targets on the staff's initial board. PSU offered WR Jahan Dotson in December after his sophomore season, which was one of the first offers to go out at his position. When he committed to UCLA this past September, the coaches gave him his space without losing touch. When the Bruins went through a coaching change around the time openings were being created to State College, another opportunity arose for Dotson to jump on board – and he did just that.
TOTAL COMMITMENT - Looking back on this class in 10 years, it would not be surprising if WR Justin Shorter reaches the greatest individual heights of this group. A big-bodied pass catcher with top-notch athleticism, Shorter already looks like an NFL prospect. But how he has handled this recruiting process is what is worth noting now. He committed in early August before the start of his junior season and never wavered, holding true to his status longer than any of his future classmates. He could have gone almost anywhere in the country, but once he announced his decision there was not as much as a rumor about him considering elsewhere.
HIGHLIGHT REEL – Similar to his predecessors Saquon Barkley and Miles Sanders, Ricky Slade has a high school highlight film that can provide entertainment to even modest football fans. Whether it's Slade outrunning defenders, juking them or even plowing through – yes, despite his 5-foot-9, 185-pound frame, the dude can run with power – Slade appears to have the vision and instincts that only a select few have. He's also one heck of a receiver.
FARTHEST FROM HOME - According to Google Maps, it is Trent Gordon of Manvel, Texas, who has the longest trip to State College from his hometown. Without traffic, it would take 22 hours and 11 minutes to drive to his new college, traversing approximately 1,520 miles. That's about 170 miles farther than Isaiah Humphries in Sachse, Teaxs, 410 miles farther than Judge Culpepper in Tampa, Fla., and 430 miles farther than Jordan Miner in Wesley Chapel, Fla.
CEILING PROJECT- Nana Asiedu started his high school career as a tight end and defensive end before being moved to offensive tackle, where he is projected to have the greatest upside and was given a four-star rating. Standing 6-foot-6 and 275 pounds, he has the frame that Franklin covets in his OTs. Now he's just getting the technique down. He made strong improvements as a senior, and as a redshirt candidate, he'll have at least another year to hone in on the position before being asked to handle more than a scout team role.
POSSIBLE POSITION CHANGE - Franklin announced during his press conference that Parsons will begin spring practice at LB, as Penn State graduates both Jason Cabinda and Brandon Smith and an opening at Mike LB overlaps Parsons' early enrollment. Another possible position change for down the road is Nick Tarburton, also an early enrollee. Tarburton was signed as a LB but he's already listed at 250 pounds by Penn State. A future on the DL is not a farfetched scenario.
ADAM BRENEMAN AWARD - Named in recognition of Adam Breneman, who helped peer recruit during the tumultuous times preceding PSU's Class of 2013's letter of intent day, this goes to the signee who helped encourage and persuade his classmates into believing that Penn State is the place to be. This year, the award goes to LB Jesse Luketa, who was recruiting for the Nittany Lions before even he had made a verbal commitment himself last February. An honorable mention here goes to WR Shaquon Anderson-Butts, the only previous verbal commitment who did not sign Wednesday. Teammates with Parsons, Anderson-Butts announced for Penn State in June and stayed in Parsons' ear all the while.
BEST RECRUITER - While Penn State routinely takes a by-committee approach in recruiting each person, it was Josh Gattis's relationship with Dotson that served as a reason why the WR felt comfortable flipping allegiances late in the recruiting process. With Dotson, PSU signed three Rivals250 WRs, the position which Gattis coaches, and before signing day, Gattis was in Arizona recruiting another four-star in Solomon Enis. Gattis also played an important role in signing DT Judge Culpepper and DB Jordan Miner out of Florida. An honorable mention nod goes to Charles Huff, who is now at Mississippi State. Before his departure to follow Joe Moorhead, Huff had a key role in at least a half dozen signees and was a major influence on Slade's decision.
MOST UNDERRATED (OFFENSE) - Considering how Penn State once had five-star Justin Fields in the fold, any quarterback who signed after his de-commitment would be partly overshadowed by the magnitude of that departure. But Penn State quickly responded after that setback in finding the next best available. Just over a month later, it hosted Will Levis for an unofficial visit and camp appearance. The evaluation sufficed an offer, and Levis committed the next morning. Penn State wasn't the only school to put the late-bloomer in high regard. In the summer before his senior year, Levis camped at Florida State, Iowa, North Carolina, Syracuse and UConn and earned offers at each stop. He was also one of the highest-rated overall athletes at a regional Nike Opening. He might not have the five-star rating that Fields did, or even a four-star, but the coaching staff has shown a knack for discovering successful three-stars (i.e., Trace McSorley and Tommy Stevens) and it shouldn't surprise many people if the strong-armed, athletic Levis follows that lineage.
MOST UNDERRATED (DEFENSE) - Rated as a three-star LB, Charlie Katshir played safety for Cumberland Valley, as well as skill and specialist positions. He doesn't currently have the prototypical size of a Big Ten LB, but his high school highlights show some of the best football instincts of this class. As he recovers from shoulder surgery, Katshir is a redshirt candidate for his first year, but with proper development and coaching he has the tools to be an impact player for the Nittany Lions down the road.
EARLY IMPACT (OFFENSE) - With Mike Gesicki exhausting his eligibility and no surefire replacement in line for him at TE, Pat Freiermuth has an opportunity for playing time as a true freshman. More physically developed than classmate Zack Kuntz, Freiermuth stands 6-foot-5 and 250 pounds already, according to Penn State's weigh-ins. He improved dramatically from his junior to senior seasons in high school and if he can maintain that trajectory into 2018, he and Shorter could be the two offensive signees with the best chances to see the field next fall.
EARLY IMPACT (DEFENSE) - Whether he's lining up at MLB or at DE, Parsons is the obvious choice to contribute in 2018. But with three seniors graduating at DT, opportunity exists inside for someone to step up. Penn State signed three DT prospects Wednesday. Standing 6-foot-4 and 300 pounds, PJ Mustipher is built the best physically to handle early playing time in the trenches, if a true freshman is indeed called upon. A standout wrestler, too, Mustipher has the aggressiveness to not be hesitant in such a role, if that's what's asked.
EARLY IMPACT (SPECIAL TEAM) - With Tyler Davis playing his last game for PSU in the Fiesta Bowl, a kickoff specialist is needed for next season. There will also be a vacancy at placekicker. Jake Pinegar was the only specialist signed in this class. A multi-sport athlete who measures in at 6-foot-2 and 195 pounds, Pinegar is known for a powerful leg and could quickly settle in on the kickoff team next fall. He'll have more competition before he handles field goal duties, but that's certainly a possibility for the Iowa native as well.