BREAKING: PSU adds four-star DB from Florida
Penn State picked up its second commitment of the summer, adding four-star defensive back Jordan Miner to its Class of 2018 Thursday evening.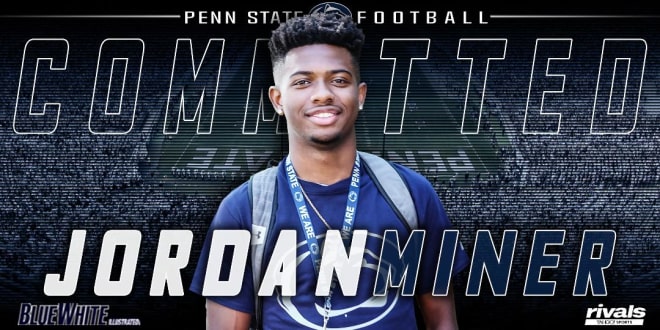 Penn State's push to become a national player on the recruiting trail took another step in the right direction Thursday, as Wesley Chapel, Fla., native Jordan Miner publicly announced his commitment to the Nittany Lions earlier this evening.
A four-star prospect, Miner has been on the staff's radar since the end of his sophomore season. He earned a scholarship offer from head coach James Franklin in October, but it wasn't until last month when we asble to make his first visit (June 1-2). That's when he and his father spent part of the weekend in State College.
Over the past year, Miner, who plays at Wiregrass Ranch High School, has been able visit about a dozen other programs - Auburn, Georgia, Maryland, North Carolina, South Carolina, Tennessee, among others. That afforded him the chance to narrow his list to four schools: Penn State, Maryland, North Carolina and Tennessee.
All of those programs had a lot that he really liked, but Penn State had a combination that few could match.
"Definitely the mixture of academics and athletics. That was something Jordan and our family really liked," said John Miner, Jordan's father, when asked what stood out about the Nittany Lions when Jordan and his parents compared his final schools.
"Academically, Penn State is one of the top schools in the entire country, but they're also a team that's in the hunt for a national championship. We see Penn State as a team that, at the very least, will be in the top 25 discussion over the years to come. So, with that combination, that's something that Jordan and our family really liked. Also, early in the process, he mentioned that he was very interested in playing in the Big Ten, so all of that just fit him well."
Relationships also played a major role in Miner's decision. Since earning the offer, Miner has been consistently speaking with cornerbacks coach Terry Smith. As time went on, he also built a strong relationship with safeties coach Tim Banks, as well as Franklin.
"Ever since October, Coach Smith has been communicating with Jordan as much as possible," said Mr. Miner. "So, Coach Smith would probably be the coach that you'd consider his primary contact, but he then began speaking with Coach Banks more and more in the spring. Coach Franklin was always great about reaching out when he could. I would say that he heard from Coach Franklin once every couple of weeks."
His father went on to add, "Jordan always felt as if all of them were very sincere. They also do a great job at creating a family environment, which was something he picked up on right away during our visit. Meeting Justin King, who's Coach Smith's son, and having him on staff, it helped show us that they really take care of their own. Penn State people take care of Penn State people.
"Also, a lot of alumni, who are working different jobs across the country, go out of their way to help recent graduates. Between all of that and their academic advisors, we felt as if this was a place that's really going to take care of Jordan, not just when he's there, but after school, as well."
At 6-foot-1 and 180 pounds, Miner was recruited to play cornerback for the Nittany Lions, although he could potentially play safety if needed. Last season, he recorded 38 tackles, including 6.5 tackles for a loss. He also broke up 12 passes, pulling in three interceptions for a Wiregrass squad that went 7-3 playing in Florida's highest classification.
Miner earned just shy of 30 verbal scholarship offers. In addition to the schools mentioned, Arkansas, Georgia Tech, Kentucky, Mississippi State, Ole Miss, Oregon, Pitt, South Florida and Wisconsin were a few of the other top programs that threw their hat in the race.
He's now the 14th player to join Penn State's Class of 2018 and the third who is expected to play in the secondary. All three defensive backs reside down south, as safety Isaiah Humphries and cornerback Trent Gordon both live in Texas.