PSU-Wisconsin takeaways: Offense bounces back, defense holds, more
Madison, Wisc. -- Penn State has had so many heartbreaking, last-second losses against ranked teams on the road in recent years.
It changed the narrative Saturday here at Camp Randall Stadium.
Ji'Ayir Brown intercepted Graham Mertz's pass with almost no time left to seal a 16-10 Nittany Lions victory over Wisconsin in front of 76,832 fans.
Here are our quick takeaways.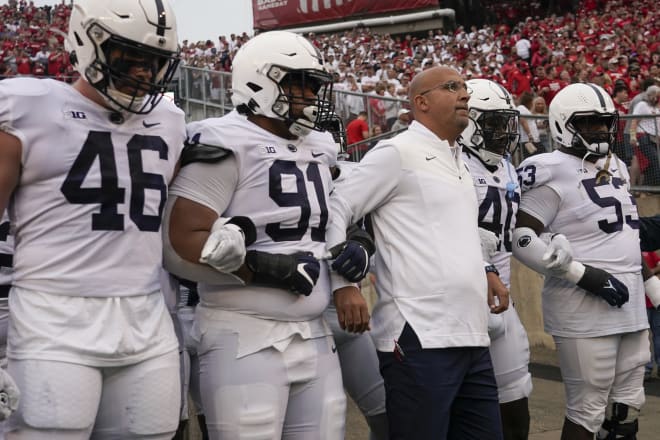 The defense finally seals a win
Jaquan Brisker is certainly bruised following Saturday's game, but the senior safety who returned for contests like this one came through time and time again at Camp Randall, especially when it mattered most.
Brisker's interception with 2:16 to play on a 4th and goal will be the one that is remembered for a long time, but he also made four tackles despite twice leaving the game due to injury.
Brent Pry's group was mostly terrific on this day. It was broke a couple of times but ultimately held the Badgers without points on three red-zone trips and stopped the hosts on 13 of 20 third downs.
The 330 yards allowed and 26 first downs aren't preferable, of course, but for so long, Penn State fans have yearned for big plays from the defense in the biggest moments, and it answered the bell to start the season.
Targeting call looms large
When Ellis Brooks knocked Wisconsin quarterback Graham Mertz out of bounds at the Penn State 38, it appeared that the Nittany Lions' defense had held to set up a pivotal 4th and 2 with 5:57 to play.
Instead, the Badgers' challenged the call, and upon further review, head referee Jerry McGinn assessed a targeting foul on the Penn State linebacker, which means he was ejected. It also gave the home team a fresh set of downs, of course, and Wisconsin drove all the way to the PSU 2 before Jaquan Brisker intercepted Graham Mertz's pass on fourth down and returned it 41 yards with 2:16 to play.
Brooks will also miss the first half of the Ball State game, of course, and the call is certainly going to be debated for a long time.
Offense bounces back
No one in white uniforms or clothing could have been happy with how Penn State's offense functioned in the first half, but it bounced back in a big way after the break.
Offensive coordinator Mike Yurcich's group racked up 254 yards in the second half compared to just 43 in the first. Quarterback Sean Clifford hit Jahan Dotson for a pretty 49-yard score to put the Lions in the lead and then back Noah Cain plowed in from two yards out in the fourth quarter for the game's winning score.
Clifford was 18 of 33 for 247 yards and a touchdown, but perhaps most importantly, no turnovers. Cain led the Lions with 48 yards, and Dotson totaled five catches for 102 yards and a score.
All told, it wasn't always pretty, and no one will argue that. But, a win is a win and the Lions needed it and got it.
Special teams troubles
Jordan Stout missed an extra point and a field goal. We should note he connected on a 24-yard boot to help lead to the margin of victory, but his struggles were troubling and could have easily cost Penn State the game.
It was also a bit confusing why Jake Pinegar, who traveled, did not handle extra points or short field goals, but that could change as soon as next week.
Biggest win since?
Penn State's sideline went crazy as expected when the clock hit zero, and later, players were doing backflips in the end zone.
It's the biggest Penn State win since beating Ohio State in 2016, but before that? It's a good question, as this one ranks up there as one of the most important ones in the James Franklin era.