Shaw clears the air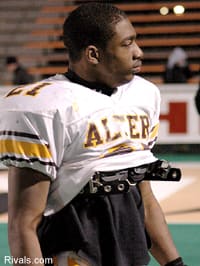 It's been a crazy week for Trotwood (Ohio) Madison running back
Michael Shaw
.
The four-star tailback had intended to make the trip to Happy Valley this weekend to take a tour and visit with the members of the Penn State coaching staff that were on campus, but a change of plans will have him visit at a later date.
"Me and my dad were going to fly down to Penn State, but with Coach (Jay) Paterno, we never got it officially confirmed," said Shaw. "I called coach Paterno, and my dad sent coach Paterno some messages, and coach Paterno said that it would just be best for us come in July.
"That's when things are a lot smoother. Right now they're still trying to get some guys to work out, they still having guys coming in and out of town. So it would just be a lot easier for us to come down and we would have a better time to enjoy ourselves."
Shaw, who is rated the nation's No. 12 running back by Rivals.com, said that the staff would be more accommodating if he would reschedule for early July. No date has been set as of yet for the deferred visit.
"They were really busy, trying to get things together with the program as far as what they were going to do with the team this year," said Shaw. "They still have a lot of players and a lot of freshmen coming in, and just workouts and conditioning, it was really kind of hectic with final exams and things like that."
Although Shaw was initially put off by the decision to postpone the trip, he said that he understood why the move was made and contended rearranging his schedule was no problem.
"I understand that this is a business and I know that the coaches are very busy," said Shaw. "I understand why I would have to wait a little bit and they said that there would be a better opportunity to enjoy ourselves. I'm still anxious, but it makes me more anxious and maybe I'll have a lot better time if I just wait. I'm not worried about it."
He said that Penn State is still among his leaders.
"They're definitely one of my top schools, like I've been saying, I've always been a Penn State fan," said Shaw. "Growing up, I always loved Penn State and its tradition of backs. I'm just real excited to get the opportunity to go see the school, meet more of the coaches and get to see the facilities and stuff like that."
Shaw has consistently put the Nittany Lions among his favorite schools, and there were some rumors that he was making the trip to State College to verbally pledge to play for Penn State. He said that committing wasn't a part of the plan, but he did not rule it out that it couldn't have happened.
"Anything is possible," said Shaw. "I definitely think that there was a possibility. Like I said, that's always been one of my favorite schools. If I was impressed enough, it would definitely have been a possibility."
Shaw has trimmed down his list to six or seven teams, and is looking hard at a number of programs that have successfully produced quality running backs.
"Michigan, Nebraska, Iowa, Clemson and Tennessee," said Shaw. "I've kind of cut my list down, I've trimmed down my list to about six or seven."
The tradition at running back at Penn State is something that Shaw is well aware of. The Nittany Lion staff has made sure of it.
"They send me cards about the tradition and history of backs (at PSU), and that's very appealing to me; it really gets me going," said Shaw. "I like to hear how successful their backs have been because it lets me know that I can be a part of history at Penn State and I could carry on the tradition at Penn State."
As a junior in 2006, Shaw carried the ball 180 times for 975 yards and 21 touchdowns. He also proved to be a viable threat catching the ball out of the backfield, hauling in 10 catches for 200 yards and an additional touchdown.