3-2-1: The litmus test
Wrapping up another week of Penn State football news, notes, and observations with BWI editor Nate Bauer.
THREE THINGS WE LEARNED
1 - Terry Smith set the stage for Penn State's defense
I wrote about it Thursday evening, but it bears repeating here: Terry Smith has very high expectations for Penn State's defense this season.
Appearing on the Penn State Coaches Show with host Steve Jones in lieu of James Franklin, Smith's final response laid out the case for why the Nittany Lions' defense this season could be the best of his six-year tenure on the staff.
"We have the opportunity to be one of the best defenses we've had here in the last five or six years," Smith said. "We have some veteran guys that are back in key roles like PJ Mustipher and Shaka Toney. We've got critical guys. Jayson Oweh is coming out of the background and now he's the guy that's going to be rushing the edge. Antonio Shelton is going to have a great year. And then you look at our linebackers with Jesse Luketa. Brandon Smith, who is going to step out in the forefront this year. Lance Dixon is having a great camp. Charlie Katshir is stepping through it. Ellis Brooks. We've got great depth on the defense and we already talked about the corners."
In fact, Smith spent the majority of his interview discussing the intricacies of his position group and the talent that exists there throughout the depth chart. We'll move on to his comments about the corners in the next segment, because honestly, they're equally important, but the bottom line through Smith's interview was that he has a very good problem on his hands in having to sort out a starter to line up opposite senior Tariq Castro-Fields.
Rounding out his analysis, Smith summed up the experience and talent that exists at safety, and how the combination of all three levels has worked in conjunction to create a high-performing unit this preseason.
'You look at Lamont Wade and Jaquan Brisker and Jonathan Sutherland and newcomer Ji'Ayir [Brown], nickname Tig," Smith said. "There's depth and the cohesiveness of this unit is led really by Shaka Toney, who leads the defense. They play as one. These guys have a lot of fun together. These guys challenge one another. And they get after it.
"Every day at practice, we play hard and that's what Penn State defenses have always done. I think these guys are having a lot of fun at it and we all know when teams are having fun, they'll be much more successful."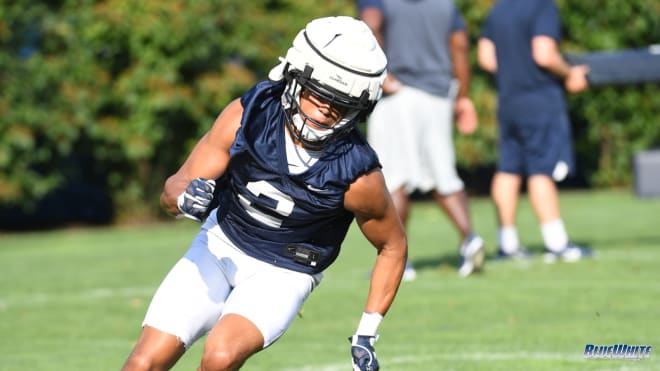 2 - Improvement in the secondary is a huge piece of that equation
A few elements went into Penn State's less-than great pass defense numbers last season.
Finishing 100th nationally in passing yards allowed at 251.5 yards per game, the Nittany Lions were also 41st in team passing efficiency defense with an average opponent passer rating of 124.30. Of course, all this was part of a defense that finished the season ranked eighth nationally in scoring, allowing just 16.0 points per game.
Partly due to an outstanding rushing defense that finished fifth nationally, allowing only 95.0 yards per game, partly due to injuries that forced younger players into action, partly due to some lapses by players, and partly due to some self-inflicted struggles in scheme, the end result was a big discrepancy between explosive pass plays surrendered against passing touchdowns allowed, which was among the best in the country at just 10 in 13 games.
The reality ahead of the 2020 season is that Penn State feels quite good about resolving the issue, and it starts with how they feel about the players battling it out at corner. Tariq Castro-Fields is healthy and a leader, and the likes of Joey Porter Jr., Keaton Ellis and Marquis Wilson all have a year of experience under their belts. Stressing ball skills in the group to turn passes defended and pass breakups into interceptions this season, Penn State is very much under the impression that it can and will improve on its 10 total interceptions last season, which ranked 61st nationally.
And, judging from Smith's comments last night, the staff is entirely bullish on its potential in the weeks and months ahead.
"I think the corner room is strong. When you look at Porter, who is battling at that starting position. You got Marquis Wilson, you got Keaton [Ellis], and then Daequan Hardy. I just think those guys have all played and the preseason that they're having, it looks really, really good. And the safeties are playing well too," Smith said. "I think on the back end, obviously we had some struggles last year, and we feel like we've gotten them fixed and I'm just excited to see this whole group come out and play this year."
3 - The first game is now just two weeks away, and they're ramping up for it
Nothing has been said yet, but I would expect Penn State to get into its game week preparations by Wednesday of this week, as is usually the case ahead of the first game of the season.
Let's go back to Smith here from Thursday night and his comments regarding this point in the preseason process and how it comes into play once the season is underway.
"This is kind of when you find out, can they finish games? Their body is tired. They're mentally fatigued. And this is where their technique and their study habits have to take over, because at this game, you're playing in the Big Ten, everyone we play is tough, everyone is well-coached. How do you get an advantage?" Smith said. "When you're in a game, and you're fatigued, you're in the fourth quarter and you're on snap number 80 or 85, that's where your film study has to kick in, that's where your technique has to kick in, your fundamentals have to kick in, and that's where we are right now in camp. We're just trying to see which of these guys can battle through this mentally and physically And then those are the guys that you start to lean on and count on for the season."
Between Smith's comments last night and Franklin's comments Wednesday regarding the ramp-up to the season, the picture has been painted that the program is attempting to do its best to start as close to midseason form as possible by presenting big challenges now, especially given the no nonconference reality of the amended 2020 schedule.
"I think there's a lot of things that are different. It's opening with a conference opponent right from week one. Very different than the NFL where you typically would get preseason games. Very different than college where you would typically, not all the time, but typically get out of conference games," Franklin said. "And then obviously we also have the stadium issue. We all know Beaver Stadium with no one in there is very different, and not just for the visiting team coming, also for what we're used to.
"We're going to start practicing like that. We're going to start practicing in Beaver Stadium a little bit more. We're going to start turning the music off, where usually we spend so much time trying to get prepared for crowd noise and things like that. These are all things that we're just going to have to get used to the new normal."
TWO QUESTIONS
1 - Does John Dunmore's departure change the Nittany Lions' calculus at receiver this season?
Answer: Not really.
The news of the redshirt freshman's withdrawal from Penn State came Wednesday afternoon, leading head coach James Franklin to address the situation in his post-practice media session Wednesday evening. Asked to comment beyond the program's official statement - "John Dunmore has withdrawn from Penn State this semester for personal reasons" - and whether or not the door was open for Dunmore to return to the program in the future, Franklin said this:
"We'll just take it one day at a time. I'm not sure," Franklin said. "As you know, with things like this over [the past] six years, I'm not going to get into a whole lot of specifics and details. That's not fair to John and his family, and I can't I can't predict what the future holds."
Whether or not Penn State knew this was the likely outcome to Dunmore's situation in the spring or summer is something I don't know, but all indications to Blue White Illustrated pointed to two things about the wide receiver position:
1) Jahan Dotson and Daniel George would need to fulfill their trajectories this season, that Cam Sullivan-Brown came back this summer ready to go and impressive, and that KeAndre Lambert-Smith and Parker Washington were likely ready to contribute from the jump.
2) That expectations should be tempered, at least for the immediate future, for Dunmore and T.J. Jones.
Now, not much has come in the way of news for Jones this preseason, so it's tough to provide much insight on that front. But all of the conversation the past month has centered largely on the five players discussed in the first point. And the comments from offensive coordinator Kirk Ciarrocca this preseason on the Penn State Coaches Show bear that out, all while maintaining optimism for the group as a whole in spite of its relative lack of game experience.
"I would say that since the day I got here, the receiver position has probably improved more than any other position. Now, is that going to produce immediate results on Saturdays when we're playing for real? I don't know yet," Ciarrocca said. "But I do know this, you have to be able to do it in practice before you can have a reasonable expectation that it could happen on Saturday. Coach Stubbs has done a great job with those guys, coaching his butt off and developing them and teaching them the system and getting them comfortable with it and allowing them to go out there and make plays for us in the passing game.
"It is critical that we have wide receivers that when they're in a one on one situation, that they can win and we can make the defense pay. It helps open everything else up for us. So I'm excited about these guys and their growth. KeAndre has shown some great potential to be an explosive player for us. Parker is showing great potential, where they could possibly have an immediate impact for it. But I'm excited about the whole group of them overall, but really excited about those two young guys, but they've all really improved. I think Jahan, some of the older guys, [Daniel George], Cam Sullivan-Brown have done a great job in leading the group too. They're always the first group on the field when we're doing these skill developments and they're the last group to leave the field with it, so that's exciting to me."
Just as a reminder, Jones held the top spot on the program's official spring depth chart in the spring at the Z wide receiver position.
2 - How far along is this team?
Penn State tight ends coach Tyler Bowen might have provided the best answer of the week when he was asked Wednesday just what kind of a toll or impact the start and stop and start again nature of the 2020 offseason will have once games get going.
His answer?
"We won't know until we go play," he said. "I'm very hopeful that it won't affect it at all. The one thing through all the starting and stopping is, we have also had ample opportunities to to get on the field, and in a lot of ways, you're kind of gaining some of those spring ball practices back through the skill instruction. Maybe it's not as physical in nature, but you are able to get a little time on the field and sharpen their tools and sharpen their craft.
"I'm very hopeful, and with the way our guys have approached it and the way we've approached it as a staff all the way from the top down, that we'll be able to go out on the field and execute."
The add-on to that notion is that, in addition to everything discussed earlier with the potential of Penn State's defense and how well they're already reportedly playing together through the preseason, the offense has been given some much-needed make-up time of its own with the delayed start to the season.
Though certainly the preference likely would have been to get going on time, or at least at the end of September with the SEC, the reality for Penn State's offense is that through the return to campus in June, into the informal ramping-up stage, walk-throughs, and even the 12-hour sessions that marked the end of August and into September, the transition into Kirk Ciarrocca's offense has effectively been given room to breathe.
It's just that, as Bowen emphasized, the next few weeks will serve as a litmus test for putting months and months of planning into action.
"We had a lot of time to install it mentally and the guys to digest it and to be able to put it together in their mind, but now comes to the mad race of getting those physical reps," Bowen said. "It's one thing to understand it and digest it. It's another thing to be able to go on the field and do it, which is obviously what we're working through our skill instruction periods and obviously now transitioning into practice here over the last couple of weeks. We definitely had time to install the offense, now it's a matter of going out and executing it physically out on the field in live fire."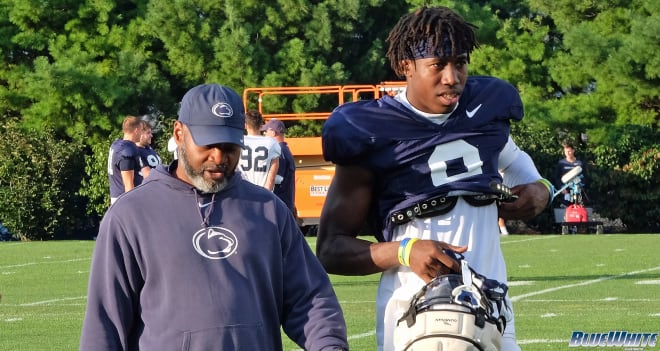 ONE PREDICTION: Joey Porter Jr. is going to start at corner opposite Tariq Castro-Fields
One element that I get caught up in along with seemingly everyone else, but don't necessarily believe in, is the notion of starters as being a particularly big deal.
On the offensive line, it is. Certainly, at quarterback and tight end, it's true. Maybe I would say the same of Penn State's linebackers. And, quite obviously, when any particular guy is an absolute stud, that changes the dynamic.
But when it comes to groups like the secondary, the defensive line, running backs and receivers, Penn State has a tendency to get its "backups" plenty of reps through the course of a season, and not just in garbage time.
Looking at Pro Football Focus' snap counts from last season, John Reid and Castro-Fields were the top snap count guys at corner with 658 and 610 snaps, respectively. But Keaton Ellis (253), Trent Gordon (209), and Marquis Wilson (189) all were among the top 25 in the category on defense last season, while Joey Porter Jr. had 80 snaps in just four games, gaining valuable experience along the way.
All of that serves as a preface, or disclaimer, to my prediction, but given some of the preseason comments made publicly and privately, and especially in the wake of Smith's comments last night on the Penn State Coaches Show, that's my pick nonetheless.
No doubt, you're going to see plenty of Castro-Fields, Porter, Ellis, Wilson, and even Hardy this season at the position, but Porter seems to be the guy that has made that move.
"His speed is, for a guy that size, you just don't see it every day. And we're excited," Smith said. "He's had a fabulous camp. He's gonna play a lot of football for us and we're excited to see him play."