Amazing Trace
As part of our exclusive, free look at our Rose Bowl preview magazine, we're running a series of feature stories from it here at Blue White Illustrated! We're continuing today with Trace McSorley's meteoric rise through a debut season as Penn State's quarterback.
To check out the rest of the issue, CLICK HERE!
By Nate Bauer
In the days leading up to his team's recent appearance in the Big Ten Championship Game, Penn State coach James Franklin was asked to evaluate the matchup between the Nittany Lions' receivers and Wisconsin's defensive backs.
Having already established itself as one of the nation's most dynamic offensive teams, particularly in the passing game, Penn State understood that its hopes would depend to a large extent on Trace McSorley's success at completing deep passes to a talented corps of wideouts. The Badgers, Franklin noted, were leading the country in interceptions, but the Nittany Lions were among the best in creating explosive plays in the passing game.
"They are experienced in the secondary, no doubt. I think we are talented at receiver and tight end. We are experienced at receiver and tight end," Franklin said. "That will be a really interesting matchup in this game."
In guiding the Lions to a 38-31 victory in Indianapolis, McSorley demonstrated precisely Franklin's point. Completing 22 of 31 passes for 384 yards and four touchdowns, he broke the game's yardage and touchdown records while furthering his ascent to the top of Penn State's own record books.
It wasn't easy. The Nittany Lions had fallen behind by three touchdowns in the second quarter, putting McSorley, a redshirt sophomore, in the position of having to engineer one of the great rallies in recent Penn State history in order to keep the game interesting. But he did just that, as the Lions outscored Wisconsin 31-3 over the final 31 minutes. It was the most impressive comeback in a season that's been full of them, and McSorley provided the spark, operating offensive coordinator Joe Moorhead's attack with unflinching poise.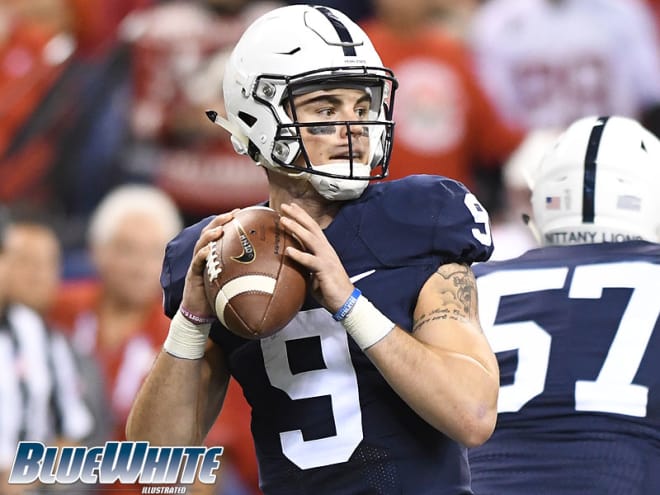 "I was just trying to take what the defense was giving me, not force anything. Coach Moorhead just kept telling me to trust the system and trust the game plan," said McSorley, standing on the winner's podium. "Our receivers came to me and said, just keep trusting us. They were feeling confident. They were happy with what they were doing. I just kept trusting them. The offensive line was incredible, gave us a ton of time. Everything came together in that second quarter and we were able to carry it on the rest of the game."

Penn State's reward for its victory over Wisconsin is a Rose Bowl matchup with Pac-12 power Southern California. For the Nittany Lions to extend their winning streak, they will likely need McSorley to continue his upward trajectory.
In the Big Ten Championship Game, one of the keys for Penn State was to use McSorley's versatility to create indecision in the Wisconsin secondary. If the defensive backs feared his ability to gain yards on the ground, they would have to step up closer to the line of scrimmage, leaving the perimeter exposed to deep shots against single coverage. But if they dropped deep into coverage to help prevent longer completions, McSorley would likely find ample running room. It was a no-win situation, and making matters worse for the Badgers, McSorley has become adept at throwing deep while on the run.
"I think the explosive plays come from Trace's mobility, when he is able to step up in the pocket and extend plays," Franklin said. "When he steps up in the pocket, even when he's on the run, his eyes are downfield. That puts your underneath coverage and defense in conflict."
McSorley did that with great efficiency in the victory over the Badgers, but not without facing a series of brutally damaging setbacks first. After a wicked sandwich sack at the hands of linebacker T.J. Watt in the second quarter, McSorley had a huge welt on his upper arm. And the physical bruises were compounded by the team's difficulties moving the ball – difficulties that reached their nadir when McSorley wasn't able to control an errant shotgun snap in the second quarter. The Badgers returned the loose ball for a touchdown and a 21-7 lead.
But drawing on the mettle he'd shown throughout the season, McSorley responded by spearheading a series of Penn State counterattacks. His last pass of the first half was caught by Saeed Blacknall for a 40-yard touchdown, and his first pass of the second half was also caught by Blacknall, this time for a 70-yard score. The Nittany Lions went on to score touchdowns on four consecutive possessions, and a fifth ended with a Tyler Davis field goal. By the time it was over, the Lions had shredded a Wisconsin defense that had given up only eight touchdown passes in the regular season.
The performance was the best of McSorley's career, and it took place on his biggest stage to date, but Franklin talked afterward of his consistency throughout the season.
"Trace has been dynamic all year long. I'm really proud of him – his attitude, his demeanor, the type of teammate he is, the type of leader he is," Franklin said. "Obviously he made plays [against Wisconsin]. But the wideouts made unbelievable plays for him, the tight ends made unbelievable plays for him. His mobility helped the O-line, and we were able to get those guys to settle down."
McSorley's influence on the Nittany Lions' success throughout Penn State's season has been immeasurable. And while he's only in his first season as a starter, his story seems familiar, if only because it could have been lifted from a sports movie about a scrappy underdog finally getting his big chance.
McSorley is listed at 6-foot-0, 205 pounds, and at the time of his signing nearly three years ago, there was some uncertainty – among outsiders, at least – about whether he would even get to play quarterback at the college level. He had been an All-State player on both offense and defense at Briar Woods High in his native Virginia, and given that he came aboard as part of the same Penn State recruiting class that featured four-star quarterback Michael O'Connor of IMG Academy in Florida, there was speculation among recruiting analysts that McSorley, a three-star prospect, might end up at free safety.
But competition didn't faze McSorley – not on an individual level and definitely not on a team level. As he told BWI following his verbal commitment, "I want to help this team… get back to the national championship levels where it's been in the past. I want to be a part of a team like that, so that's what I want to bring. I'll do everything I can to help the team out and bring it to that level."
O'Connor transferred after the 2014 season, and McSorley served as Christian Hackenberg's backup the following year. His most extensive action came in the final game of the 2015 season, as he came on in relief of an injured Hackenberg in the TaxSlayer Bowl and kept the Nittany Lions competitive in a 24-17 loss to Georgia.
After the game, Hackenberg announced that he was forgoing his senior season to enter the NFL Draft, and McSorley became the leading candidate to replace him by virtue of his limited experience as a backup. He looked great in the Blue-White Game, but questions lingered, and they had less to do with whether he had the potential to outperform his predecessor than whether he could orchestrate the Nittany Lions' revamped offense while managing to stay healthy himself. Hackenberg had absorbed a series of body slams while playing his final two seasons behind an inexperienced offensive line, and it was unclear at the time whether the Lions' offensive front would be dramatically better in 2016. It was clear that Moorhead's new offense would require the quarterback to carry the ball more than Hackenberg did.
The Lions stuttered to a 2-2 start, handicapped by defensive injuries and a slow-starting offense. McSorley had produced middling results as the team approached the second half of the schedule. Through five games, he had completed 93 of 158 passes, with only six touchdowns and three interceptions, and he ranked 52nd in the Football Bowl Subdivision with a passer efficiency rating of 140.4.
But as the Lions began piling up victories – their streak stood at nine after the win over Wisconsin – McSorley's ranking started to climb, going from 52 to 38 to 34 to 23 and ultimately to 14. During that span of games, he completed 113 of 200 passes, tossing 19 touchdowns and only two interceptions, good for a season-best 156.6 efficiency rating. Further, in the clearest indication of his high-reward impact on Penn State's offense, he posted the best yards-per-completion average in the FBS heading into bowl season, besting the likes of Baker Mayfield, Lamar Jackson, Deshaun Watson and Jake Browning with a mark of 16.31.
For his efforts, McSorley received second-team All-Big Ten honors from the coaches and media, and also from The Associated Press. He's now Penn State's record-holder for single-season passing yards, having thrown for 3,360 to break Matt McGloin's 2012 mark by 94 yards with one more game to go.
Having steadily improved throughout the season, exceeding all but the most optimistic of internal expectations, McSorley has rewarded his coach's faith. In a recent interview with the NFL Network, he said that one of the reasons he came to Penn State was because Franklin thought he had the potential to play quarterback at the college level.
"A lot of schools were saying I would play safety and were recruiting me for other positions, and Coach Franklin was very adamant that he wanted me to play quarterback and he believed in my ability to play quarterback," McSorley said. "I think that was the biggest thing, his belief in me and how he continued to show to me and my family that he believed in what I could do as a quarterback."
Turning doubters into devotees through the course of his debut season, McSorley has given every indication that he will continue to prove that Franklin's evaluation was entirely accurate.