Army Bowl: Day 2 practice news and notes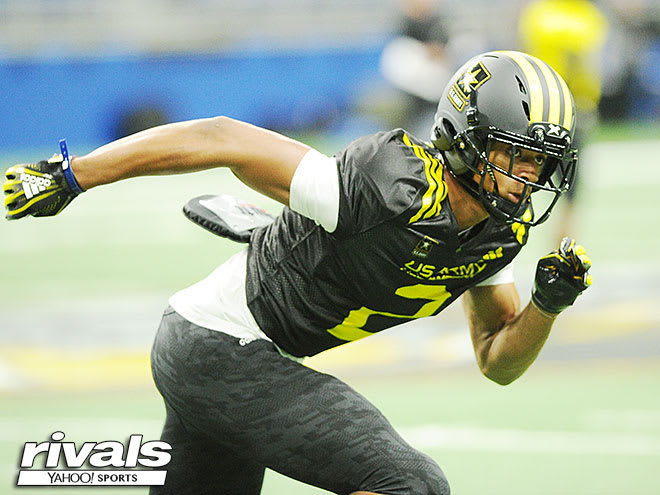 SAN ANTONIO – With cold temperatures outside, Day 2 of U.S. Army All-American Bowl practices were once again held indoors at the Alamodome. The East and the West took turns running hour-long practices in the morning before combining for 7-on-7 and offense-defense one-on-ones in the afternoon. Here is the biggest news of note from the day.
MORE ARMY BOWL: Gorney's Day 2 thoughts | Ranking the QBs after Day 1
-The headline performance of the day was five-star Penn State signee Micah Parsons taking the field for his first practice of the week and everybody knew it as soon as he stepped into the Alamodome. The Harrisburg, Pa., native was all over the field showing off his speed and aggressiveness, but really made his presence felt in the team drills as a pass rusher. Playing mostly as a linebacker, Parsons came off the edge with such explosiveness that offensive linemen really had no chance of stopping him. He had a strip-sack during the team session and a few plays later he flew into the backfield and dropped quarterback Phil Jurkovec for a sack even though defenders aren't supposed to touch the quarterbacks in practice.
-When talking Tuesday's top performers beyond Parsons, five-stars Amon-Ra St. Brown, Brenden Radley-Hiles and JT Daniels all deserve mention as their play from Day 2 of practices stood out. There is a lot of talent in that West defensive backfield beyond Radley-Hiles. Texas signees Jalen Green and Caden Sterns have both been impressive all week long, playing with great length and getting in passing lanes. Clemson signee Xavier Thomas was more vocal and energetic today from his defensive end position and he had a few nice plays in the backfield during the team session. Four-star Chris Murray has been the West's most consistent offensive linemen this week, while Michigan signee Aidan Hutchinson woke up with a strong showing on Day 2 that included a lot of time spent in the backfield. Josh Jobe, an Alabama signee, who projects as a safety, played physically and had a nice interception later in the day.
-A few players had performances on Tuesday they would rather forget. Five-star Texas signee Anthony Cook has not lived up to expectations so far. The physically talented cornerback looks a step too slow and has been on the short end of his many matchups against St. Brown. Cook has had trouble guarding fast receivers that run crisp routes without holding them.

On the East team, Notre Dame defensive back signee Derrik Allen has also had a tough week. A bigger safety prospect, Allen has had a hard time with quicker receivers towards the sideline. He could find himself playing closer to the line of scrimmage in the game and when he gets to South Bend. West defensive ends Draco Bynum and Ron Tatum both struggled on Tuesday, with neither able to get off blocks once offensive linemen locked on.
-Plantation (Fla.) American Heritage is one of the most talented programs in the country and they have three Army All-Americans this year. Five-star Patrick Surtain, Rivals100 defensive back Tyson Campbell, and four-star defensive linemen Nesta Silvera all had a good day of practice. Surtain and Campbell were seemingly making big plays on every other rep. Surtain, who is considering LSU, Alabama, and a few others, was more physical today and it paid off in the form of an interception and multiple pass breakups. Campbell, who is looking at Alabama, Georgia, Miami, and Ohio State, showed off excellent instincts and broke on the pass very well. There was one rep in particular where he was so quick to get a jump on the ball that he literally ran out of his cleat. Silvera, a Miami commit, continued to play with a lot of energy and was a constant presence in the offensive backfield.
-Jordyn Adams has been a bit overshadowed by wide receivers like St. Brown and Mark Pope this week, but he shined a bit on Tuesday. The North Carolina signee's route-running abilities and smooth running style helped him create a lot of separation and the quarterbacks were able to find him a few times in the open field. Rivals100 offensive lineman William Barnes is also finding Adams more this week. Barnes has the Tar Heels among his leaders and Adams is working hard to make sure Barnes signs with North Carolina on Signing Day in February. Auburn, Florida, and Georgia are the other major contenders for Barnes, who will be taking official visits to North Carolina on Jan. 12 and Auburn on Feb. 2.
-The afternoon 7-on-7 scrimmage between the East and West featured several big defensive plays. Ohio State signee Dallas Gant intercepted West quarterback Matt Corral, Clemson signee Kyler McMichael picked off West quarterback Tanner McKee and Florida State signee Jaiden Woodbey intercepted East quarterback Phil Jurkovec. Later in the day, five-star Brendan Radley-Hiles made a ridiculous break on the football to break up a well-thrown ball from fellow five-star Trevor Lawrence. Offensively there were some good plays as well, including a pinpoint pass from USC quarterback commit JT Daniels to Texas signee Brennen Eagles for a touchdown.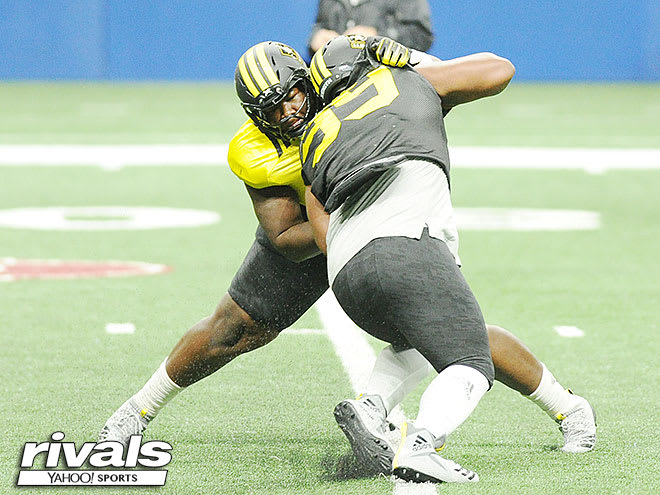 -The offensive line-defensive line one-on-one session in the afternoon joint practice produced plenty of fireworks. Georgia offensive line signee Jamaree Salyer and Michigan defensive line signee Aidan Hutchinson got into a bit of a scuffle and then everybody turned the intensity up. Trey Hill, also a Georgia offensive line signee, flattened Iowa defensive line signee Tyler Linderbaum a few plays later. Ohio State defensive line signee Tommy Togiai played with great energy, quickness, and power. Missouri and USC target Michael Thompson probably had the best reps of this session. His suddenness at the snap along with a strong arm-over move helped him win the large majority of his reps. Oklahoma signee Brey Walker had some good reps at tackle and really showed off his strength while Georgia defensive end signee Adam Anderson made good use of his excellent speed off the edge to win his fair share of reps.
-We mentioned Brian Hightower's drop problem in this column on Monday, but the Miami signee is our No. 1 bounce-back player from Tuesday's practice. Hightower only had one drop we saw on Tuesday and it would have been a tough catch. He made some very nice grabs, including a one-handed grab along the sideline that drew "oohs" from the crowd. Offensive tackle Max Wray was not necessarily bad on Monday, but he did not stand out. On Tuesday, however, the Ohio State signee was definitely noticeable for the way he kept defensive linemen at bay. Five-star Jaiden Woodbey bounced back just over the course of Tuesday's practice, with a slow start in the morning that was followed by strong play in the afternoon 7-on-7.
-Ole Miss signee Matt Corral has been working on getting more of his fellow Army All-Americans to join him in Oxford. One, in particular, who is listening is four-star offensive center Tyrone Sampson, who de-committed from Syracuse during the early signing period. Ole Miss reached out to Sampson immediately after he announced the de-commitment and an official visit with the Rebels has now been scheduled for the Jan. 26 weekend. Arizona, Cincinnati, Michigan State and Louisville are also in discussions with Sampson on official visits, but his talks with Corral in San Antonio this week certainly appear to have helped the Rebels' chances here.
-Houston four-star wide receiver Jaylen Waddle carried Monday's momentum into Tuesday's practice, but that momentum was quickly interrupted when he came up hobbled with a knee injury. Waddle missed all but the first half hour of Tuesday's practice and was limping along the sideline with ice on his left knee.
-The West team's issues at running back continue, with Harold Joiner still getting the bulk of reps in practice. The coaching staff has experimented with players from other positions, including Waddle, linebacker Raymond Scott and DB Radley-Hiles, but none have tried it more than a couple snaps each. With T.J. Pledger still sidelined with an ankle injury and Trey Lowe not expected to play at all this week, the Army Bowl has brought in Rice commit Brenden Brady to shore up the depth issue in the West backfield.