Big Ten Spotlight: Comparing 2018 recruits to current stars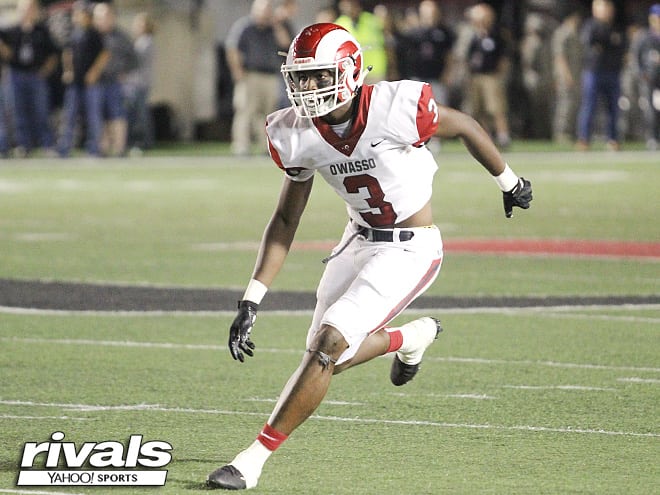 MORE: Breakout stars from Week 10
Finding the right kind of players who will succeed in your offensive and defensive schemes is one of recruiting's challenges, but one way to predict that success is with players resembling those who have succeeded in the past. This week we look at Big Ten rosters and recruiting classes to see which 2018 recruits most closely resemble current starters.
ILLINOIS
Player: WR Mike Dudek
Recruit: Carlos Sandy, Ft. Lauderdale (Fla.) Cardinal Simmons
Comparison: Like Dudek, Sandy is not among the higher-ranked prospects in his class, but the two-star possesses many of the same attributes that have made Dudek successful in Champaign. Both are small in stature, but quick in and out of their breaks and have extremely reliable hands. The Illini faithful just hope Sandy does not get bitten by the injury bug that has plagued Dudek's career.

INDIANA
Player: OT Coy Cronk
Recruit: Nick Marozas, Chicago (Ill.) Brother Rice
Comparison: Cronk and Marozas' measurables coming out of high school are identical and their builds at the same stage of their careers look very similar. What was unique about Cronk is that at 6-foot-5 and 272 pounds, he played middle linebacker for his high school team, highlighting his athleticism. Marozas has excellent athleticism and foot speed for an offensive linemen as well, but it will be a difficult task to make the same early impact Cronk did for the Hoosiers.
IOWA
Player: LB Josey Jewell
Recruit: Dillon Doyle, Iowa City (Iowa) West
Comparison: Jewell is Iowa's smart, tough, hard-hitting middle linebacker who came to the program as a lightly-recruited two-star prospect, but has matured into one of their all-time best at the position. Doyle actually brings a more impressive skill set, and is the son of the Hawkeyes' strength and conditioning coach. He can provide that same level of toughness Jewell has, and both being in-state guys means that black and gold is deeply ingrained.

MARYLAND
Player: OT Derwin Gray
Recruit: OT Evan Gregory, Hyattsville (Md.) DeMatha
Comparison: What I remember most about Gray from the Rivals Camps Series event he attended during his high school years was the devastating punch. He would swing and miss at times, but when he got hands on defenders he punished them. Gregory has that same punishing style and his measurables are nearly identical to Gray's at the same stage. While Gray is a left tackle, Gregory may prove to be more of a right tackle or even guard in college though.

MICHIGAN
Player: RB Karan Higdon
Recruit: Hassan Haskins, Eureka, Mo.
Comparison: Michigan fans wondering what they are getting in their new running back commit need look no further than their current leading rusher. Higdon has broken out this season as the Wolverines' top ball carrier in a multi-back rotation showing the toughness to run between the tackles and the quickness to hit the edge. Haskins' running style is very similar and he does it in a bigger frame.

MICHIGAN STATE
Player: DB David Dowell
Recruit: Davion Williams, Belleville, Mich.
Comparison: One would think the best comparison to Dowell in Michigan State's 2018 class would be his younger brother, Michael Dowell, but Williams actually resembles the Spartans' starting free safety better. Both have two-way abilities at defensive back and wide receiver and both are rangy in that defensive backfield. Williams is not as seasoned as Dowell was at the same stage, but there is time for that to happen.

MINNESOTA
Player: DE Nate Umlor
Recruit: Alex Reigelsperger, Huber Heights (Ohio) Wayne
Comparison: Minnesota flipped Reigelsperger from his previous commitment to Kentucky and in so doing got a player with very similar measurables to their breakout freshman defensive end. Umlor was actually brought in as a tight end, but quickly moved over to defense in spring ball. Reigelsperger will come in right away as a defensive end and brings a comparably energy level and playing style to Umlor.

NEBRASKA
Player: DT Mick Stoltenberg
Recruit: Tate Wildeman, Parker (Colo.) Leland
Comparison: Stoltenberg was a lean 6-foot-5 and 250 pounds coming out of high school and has now grown into a 305-pound monster nose tackle for the Cornhuskers. Similarly, with Wildeman's frame, it looks like he will play much bigger than his current listing of 245 pounds. Stoltenberg was muscled-up and a little stiff in high school, but had enough explosiveness to come off the edge and Wildeman seems to have that versatility to be whatever Nebraska needs.

NORTHWESTERN
Player: SB Garrett Dickerson
Recruit: Charlie Mangieri, Dunlap, Ill.
Comparison: Northwestern employs that very unique 'superback' position in their offense, and it is currently manned by Dickerson, who was rated as a defensive end coming out of high school but also played tight end. Mangieri was recruited specifically for that 'superback' role and besides having remarkably similar size stats as Dickerson coming out of high school, he plays all over the field on both sides of the football for Dunlap High.

OHIO STATE
Player: DB Jordan Fuller
Recruit: Josh Proctor, Owasso, Okla.
Comparison: Every college coach in America wants safeties with size, agility, athleticism and ball skills, but prospects who put those attributes all together in a FBS caliber package are rare. In Fuller, Ohio State has one of those currently manning their safety position, and in Proctor they are re-stocking the cupboard with more. Proctor can cover man-on-man, but has the size to run the alleys and stop the run, just like Fuller provides the Buckeyes right now.

PENN STATE
Player: TE Mike Gesicki
Recruit: Zach Kuntz, Camp Hill, Penn.
Comparison: With so much of the spotlight on Saquon Barkley and Trace McSorley in Penn State's offense, Gesicki has gone a little under the radar. That has changed as the season has progressed, however. His ability elevate and control his body through the catch makes him an extremely valuable red zone weapon. Like Gesicki, Kuntz has a basketball background and his 6-foot-7 frame is going to be a quarterback's best friend in the red zone.
PURDUE
Player: WR Jackson Anthrop
Recruit: Cornelius McCoy, Deerfield Beach, Fla.
Comparison: Why did Purdue go all the way down to south Florida to take a diminutive two-star wide receiver in McCoy? The success they have had with Anthrop may be one reason. Like McCoy, Anthrop was rated two stars coming out of high school, lacked size and did not get many FBS looks outside of Purdue. But, he has emerged as the Boilermakers' top receiver in this 2017 season. McCoy has the skill set to duplicate those stats when he gets to West Lafayette.

RUTGERS
Player: RB Gus Edwards
Recruit: Stevie Scott, Syracuse (N.Y.) Christian Brothers
Comparison: What do you do when you're about to lose your big, bruising, powerful tailback? Go back to his home-state and find his twin. Finding a running back of Edwards' size (6-1, 235) who has the suddenness to hit the hole on time is difficult, but it looks like Rutgers has done it with Scott. Additionally, Scott comes out of his senior year in high school five pounds heavier at 240 than Edwards is as a senior in college.

WISCONSIN
Player: WR Jazz Peavy
Recruit: Taj Mustapha, West Bloomfield, Mich.
Comparison: This is an easy exercise with Wisconsin because the Badgers tend to recruit the same kids year after year: hard-nosed football players who epitomize the toughness associated with Big Ten football. So as not to be accused of picking low-hanging fruit, we choose a skill position here. Neither Peavy nor Mustapha are burners, but they both have good speed, good size, good hands and run solid routes.