Billievers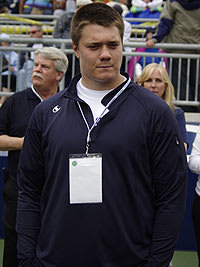 It was their first visit to the campus since the NCAA levied unprecedented sanctions on the football program less than one week prior, and it was also their first chance to speak face-to-face with head coach
Bill O'Brien
since the news broke.
"I can honestly say that before this visit - and I think this is on behalf of all six [recruits] - none of us were real sure about anything," said Breneman, the nation's No. 1 tight end from Camp Hill (Pa.) Cedar Cliff. "As did I, we all remained publically committed to Penn State, but we all had a lot of questions. I had a lot of questions that needed answered, and [my family and I] were definitely thinking, 'Is this the best thing for me?' "
Once the six recruits arrived on campus, they each met with O'Brien. With their parents, they each sat down with O'Brien one-on-one in his office, and then they met as a collective group.
O'Brien sold his pitch to each person, stressing similar aspects that he'd sold all over national television and radio the past week: Penn State's education, the chance to play in front of 108,000 fans, the prospect of playing in the National Football League.
Then O'Brien gave them time. The families convened for a personal meeting - no O'Brien, no assistant coaches - and they discussed the future.
"Without any coaches there, we just kind of talked together about how special this situation is for us, how we can build our own legacy and how we can be remembered for a long time up at Penn State," Breneman said. "We are the Class of 2013, we came to Penn State when the whole world kind of looked down on us. It's definitely a unique time, but we have a special class that's really close."
He added, "We just looked at each other and just said, 'You know, we believe in this guy and his commitment to the program. … We have a chance to [accomplish] something bigger than ourselves, bigger than bowl games, bigger than just a football program.' "
Once the meeting finished, Breneman, joined by Hackenberg, Mahon, Sickels, Fuller and Nelson, strolled back up to O'Brien's office and delivered the news.
"All six of us commits just walked upstairs to coach O'Brien's office, opened the door and told him that all six of us were going to remain committed to Penn State," Breneman said.
Nelson, a 6-foot-5 offensive tackle from Hershey (Pa.), said O'Brien was "fired up" about their decision.
"We all were," he said. "We believe in each other, the coaches, players and parents.
"I'm so proud of my fellow recruits. We're going to stick together, remain committed and restore the roar."
The other four recruits expressed their excitement via Twitter once they reassured their decision.
"Love this 2013 class," tweeted Hackenberg, the four-star quarterback from Fork Union (Va.) Military Academy.
"Just made the most important decision. Staying the course. Staying true to my commitment," tweeted Mahon, the 315-pound offensive lineman from Randolph (N.J.)
Sickels, the four-star defensive end from Little Silver (N.J.) Red Bank Regional, tweeted, "We are the 2013 class."
Philadelphia Roman Catholic receiver Fuller, who just landed a scholarship offer from Notre Dame, tweeted, "A bowl game? I [have] 108,000 behind me. Not worried about a bowl game."
Breneman expressed similar sentiments about the four-year bowl ban sanctioned by the NCAA.
"Everything we committed to PSU for is still there," said the No. 1 prospect in Pennsylvania for 2013. "I know I didn't, and I don't think the other commits committed to Penn State to just win bowl games.
"I know I committed to Penn State because of Coach O'Brien and because of his coaching staff, the best coaching staff in the country. Playing in front of 110,000 people, and the great degree you get from Penn State. All that stuff is still there. Who cares about bowl games? We're going to do something bigger than just a bowl game."
The other half?
Six of O'Brien's recruits have reaffirmed their commitments, but what about the other six who verbally pledged to join the Nittany Lions before the NCAA penalties?
But they have yet to speak with O'Brien in person, nor have they visited campus since the NCAA's decision. Breneman said in two or three weeks, that should change, as he and the coaching staff are planning another visit.
"We're working on that right now," Breneman said. "We're going to try getting the other six guys to come up and some of us well go up too, to do the same kind of thing. It could be within two or three weeks."