Cabinda and Reeder stepping up for PSU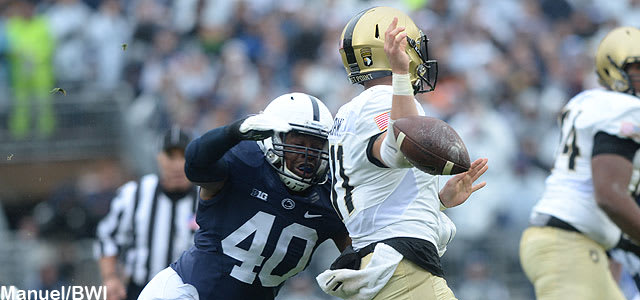 Sure it could've been under more joyful circumstances, but Bob Shoop looks back to the bus ride home after Penn State's loss against Temple and remembers it as a moment that he might never forget.
Starting middle linebacker Nyeem Wartman-White had just suffered a season-ending knee injury. The team was counting on Wartman-White to be the heartbeat of his unit, and the defensive coordinator wasn't exactly sure how he was going to replace him. As Shoop was going through different options in his mind, Jason Cabinda sat down next to him and made the call a little easier.
"Put me in there," Cabinda told Shoop. "I got this."
A sophomore who had just started only the second game of his career, it was a bold move. Cabinda showed enough in the off-season to earn the nod at Will, but to handle the responsibilities that come along with playing Mike was another task. Cabinda, though, was eager for the opportunity, and he was successful in selling Shoop on the decision.
"The unselfish move that Jason made, moving from Will to Mike, is something that I'll always remember," Shoop said. "I'm sure I'll tell stories about him for the remainder of my career. What he has done this year with being a leader and stepping up and performing has just been incredible to me."
Through eight games he's been a constant force in the middle of the Penn State defense. Cabinda leads the team with 61 total tackles and five pass breakups, while also racking up 3.0 tackles for loss and two sacks, including the game-clincher against Army. What's impressing Shoop more, though, is the way Cabinda is doing it.
When he approached Shoop on the bus ride home from Philly, the coach was unsure at first. For a young player like Cabinda who really had only been playing linebacker for a couple seasons, including high school, Shoop contemplated at first how Cabinda would fit into the role. Despite a strong true freshman season, was Cabinda experienced enough to excel with added pre-snap responsibilities, such as vocalizing the play calls or aligning the defensive linemen?
Two thirds of the way through the season, Shoop has seen all he needs to.
"To me, he brings something to the table here that I've seen very, very few people have," Shoop said. "As good of a player as Mike Hull was, Jason has some of the leadership qualities - the personality, to the vocalness, to the commanding his troops type of thing - that are very rare in college football. I think he brings something very special to us and has emerged as a magnificent leader on the defensive side as a young player."
By week two, Cabinda was Penn State's starting Mike linebacker and he's filled that role every game since. Which means Shoop was forced to call up another second-year linebacker, whom he initially had some reservations about, too.
After a redshirt season last year, Troy Reeder missed portions of spring practice and preseason camp with injuries and/or an illness. Despite being healthy enough to make his college debut against the Owls, Shoop had hoped to ease Reeder into the rigors of college football instead of letting him dive head first.
But when Wartman-White went down and Cabinda slid over, Shoop's hand was forced. Similar to Cabinda, though, Shoop has been pleased with Reeder's quick study. Now with seven college starts at Will under his belt, Reeder ranks No. 2 on the team with 28 solo tackles.
"Let's keep in mind here that this wasn't the plan coming into the season," Shoop said. "We've moved Jason to a position that he's never played at this level. Then we elevated Troy, who we expected to be a backup this year, and those guys are playing at a pretty high level. They've learned some lessons the past few weeks, but I think with those two … the future is very bright for Penn State and Penn State's defense. Cabinda and Reeder - those guys are warriors."