Column: OBriens passion pushes program forward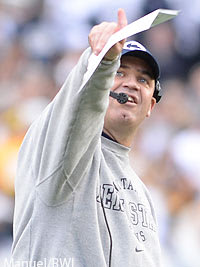 Bill O'Brien
's passion for winning isn't necessarily revelatory.
His approach to achievement, at least at Penn State, might be.
The Nittany Lions' second-year head coach, backed by undeniable success in the face of incredibly trying circumstances, has decided that his team can and should beat not only the best teams in the Big Ten, but also the elite programs in college football.
In the face of the NCAA's crippling sanctions, O'Brien's vision might seem ludicrous, but he is trying to shape perceptions so that they dovetail with his ambitions for the program.
O'Brien is a fiery competitor, and he wants and needs the validation that success brings. He's never made any secret of his intentions. In fact, he spelled them out very clearly in August: "Win this day, go to the next day and try to win the next day."
There's a fundamental philosophy here that extends far beyond the football field and can be seen as the primary influence on every decision O'Brien makes. The realities of life as the parent of an 11-year-old son, Jack, who suffers daily from seizures caused by lissencephaly, provides all of the context for O'Brien's perspective.
Life is precious and every moment is a gift to be cherished and used to the fullest. The impatience O'Brien exhibits isn't impatience at all, but actually just the realization of an ideal that few of us can truly have the perspective to appreciate.
With that in mind, regardless of the forum, every ounce of one's energy should be poured into achieving absolute excellence. It's important to hold true to personal ethics and convictions, but if anything doesn't align with the path toward that ideal, make the necessary correction.
The announcement earlier this week that quarterbacks coach Charlie Fisher and longtime linebackers coach Ron Vanderlinden were resigning from their positions with the Nittany Lions came as a surprise to many.
It shouldn't have.
Vanderlinden, credited with reviving the program's "Linebacker U" moniker and grooming a number of players for NFL stardom, seemed as though he would either finish his career at Penn State or be lured away by a head coaching opportunity somewhere else. The idea that Penn State would willingly part ways with a guy of his reputation would until recently have seemed laughable - were it not for the clear-cut direction O'Brien is taking the program.
Regardless of their qualifications, Fisher and Vanderlinden didn't fall in line with O'Brien's chosen direction. Unlike the shapeless identity of Penn State's offense in the latter years of Joe Paterno's reign, O'Brien's choices represent a marked turn on both sides of the ball, with a turn toward a clear direction, as the Lions continue to evolve.
With the NCAA's sanctions beginning to ease, O'Brien is streamlining the operation to meet a simple yet lofty standard. Decisions are motivated by a straightforward question: "Will ________ help lead to a win against Ohio State, Florida State, Alabama or Oregon?"''
If it does, it stays. If it doesn't, it goes.
From assistant coaches to players, support personnel to potential recruits, O'Brien is attempting to find the combinations that will create the perfect program. The old "Success with Honor" mantra doesn't go far enough anymore as O'Brien looks to build a juggernaut on the field and in the classroom at Penn State.
Refusing to settle for anything other than a shot at national championships with student-athletes, undoubtedly, standards have risen.
Certainly, the followers of a program that sustained the ultimate longevity under Paterno's reign must face some unpleasant realities. Though some principles have been maintained, and in some cases accentuated, the particular strategies necessary for achieving that level of success have changed to match O'Brien's pronounced sense of urgency.
Frequently invoking the memory of Paterno when talking about his own career timeline, O'Brien has insisted his time on the sidelines will be complete long before his 75th birthday, let alone his 85th.
Having earned the cache to shape the program as he sees fit, O'Brien is implementing a vision that forgoes the very idea of patience. Working with indefatigable passion while climbing a coaching ladder throughout his career in stops at Georgia Tech, Maryland, Duke and the New England Patriots, O'Brien has followed his own compass toward personal excellence. Whether or not it can take him to the heights he hopes for remains to be seen, but his intent is hardly a guessing game at this point in his charge of the Nittany Lions.
And now, nearly two full years into his tenure, time has become a luxury he's refusing to afford. Notions of job security, prolonged stability and satisfaction are no longer applicable within the Penn State football program.
Having dusted themselves off from the program's darkest hour, under O'Brien, the Nittany Lions are set to collectively chase the loftiest goals in the school's recent history with a fierce sense of urgency befitting of the moment.
It may be the most welcome change yet.