DeChellis, Lions add shooting guard to class of 2010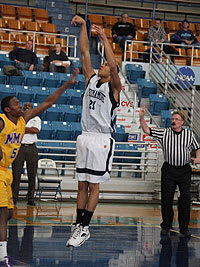 Former Central York standout shooting guard Tre Bowman (6-foot-4, 185 pounds) from St. Thomas More School in Oakdale, Connecticut, is set to become a Nittany Lion.
In town for a visit this weekend, Bowman made his decision to commit to Penn State head coach
Ed DeChellis
on Monday, picking the Lions over offers from schools including Duquesne, South Florida, Drexel, James Madison, Northeastern, St. Joe's, LaSalle and heavy interest from Nebraska and Minnesota.
"I sort of knew I was going to (commit) but I just had to make sure," he said. "I really liked the coaches and the players. I had a chance to be around them a lot and it was just right.
"They sat me down in the conference room and showed me the openness at my position. The only player ahead of me at my spot is Cammeron Woodyard. They said they would be disappointed in me if I wasn't getting playing time right away."
Averaging 17 points per game, Bowman was the leading scorer for a St. Thomas More school that advanced to the national semifinal championship, and had games of 39 and 36 points this season.
Describing himself as one who likes to shoot, Bowman noted that he can play above the rim, dribble, and pass as well.
A standout at Central York High School, Bowman went to St. Thomas More this year to work on his defensive game and attract some more attention, post-graduate coach Jerry Quinn said.
"This year alone, he has four other kids on this team who have already committed to Division I schools. He has two juniors who have offers from Division I and he's got four other post-graduates who have been offered Division II scholarships. So, there's ten kids from his team this year all going on to college on scholarship," Quinn said. "So, it's a competitive league. It's a competitive team. It's a competitive program, and we really try to run it like a college. We hold all the kids accountable, we try to maximize their potential, but Tre was ready for all of it and Tre really, really, worked hard.
"He's a credit to his town, he's a credit to himself, he's a credit to his family. I really respect how hard he's worked this year."
Quinn went on to describe the way Bowman, the starting two-guard on this year's team, plays the game.
"He's just not a shooter. He's actually really pretty talented and if needed, he can help out at the point, but one of the things I told coach, he really looks to score," Quinn said. "He has a scorer's mentality and he's got a shooter's mentality, and he's not afraid to miss, which is important.
"He's a guy who moves. When he's spotting up, when the ball is released we're typically pulling our defense out because we expect him to make every open jump shot. But he's an athlete as well.
"He's gotta spend some time in the weight room and he's gotta continue to improve his defensive capabilities and interest and effort. But, on the major level, these kids get that.
Bowman is all-set academically, according to coach Quinn, and will finish out the year at St. Thomas More before arriving at Penn State for the first summer session in late-May.
The Nittany Lions have two more open scholarships to fill for the 2010-11 season, although DeChellis noted at his year-end press conference that he was unsure whether they would fill all of the spots opened by the early graduation of Andrew Ott and the transfers of Bill Edwards and Chris Babb.
(Warning - explicit music accompanies the video)