Despite loss of Parsons, Franklin still excited about PSU linebacker corps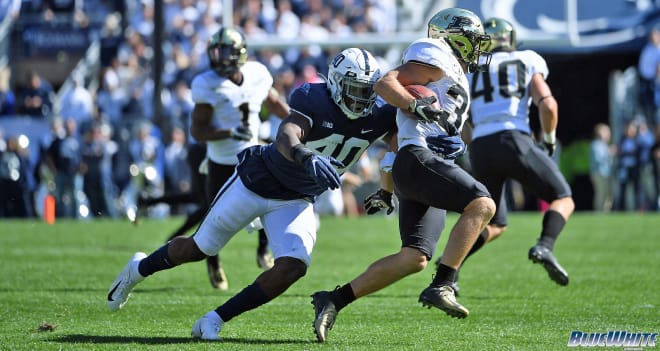 "We're actually in a really good place," Franklin said. "We had a great conversation with Micah and both his mom and dad. We had a really strong relationship with their whole family, and I think there was a legitimate possibility for that to happen. But as we continued to talk and continued to work with it, the timing of it made it challenging. He had been gone for so long and had been in California training. That made it a little bit more complicated than we were able to work through. So that won't be happening. We understand the decision, and just like we were on the front end, we're supportive of the decision."
"In a lot of ways, time has allowed us to work through some of that that," he added.
"Obviously, there's a lot of excitement about Jesse Luketa, Ellis Brooks, Brandon Smith, Charlie Katshir, Lance Dixon and the new guys as well – Curtis Jacobs, Zuriah Fisher and Tyler Elsdon. So we feel like we've got a really good group there. There's flexibility there in terms of guys who we would consider more suited to be box 'backers and guys who we think are more suited to be field 'backers, and then also in this day and age of college football, being able to play star – our nickel situation where we play with five defensive backs. We think we're in a good place. It's obviously a position of strength. You never want to lose players, but we feel like that's a position of strength for us, and we're excited about what those guys are going to be able to do moving forward."
Those linebackers and their defensive teammates will be spending the next three-plus weeks getting ready for a season-opening schedule that begins at Indiana and continues with a visit from Ohio State in week two. With spring practice having been canceled and the fall season in limbo for weeks, the Nittany Lions haven't done much tackling since last December. But Franklin said that's not unusual.
"That's a little bit of [a mistaken] perception out there when it comes to full contact," he said. "With most of the programs I've been around and most of the coaches I've been around, there's very little full contact left in college and NFL practices. It very rarely happens. But yeah, there are some aspects of it. It's not like you can go from not doing any of it to going into a game and it's the first time anyone's ever tackled. What we try to do is to do things in as controlled an environment as possible. Instead of doing a full scrimmage, maybe you just do a tackling drill. We've been doing tackling drills for the past couple weeks… but now we may go to a thud tempo where we bang and wrap without going to the ground. We've got to build it in stages, no different than anything else. You go individual to group to team settings, just like you go from footwork to tag-off tempo to thud tempo to once in a while live tempo. You need to do a little bit of that, but you need to do it in segments.
"When we watch college football on the weekends, that's what I'm constantly doing. I'm not watching the game like most people. I wish I could. I wish I could just turn on football, grab some pretzels or chips, and watch the game and just enjoy it. But I'm constantly watching for things and texting [video director] Jevin Stone: 'Did you see the fourth quarter of the Ole Miss game? This happened and can we pull it out and show it to our guys tomorrow?' Part of that is tackling. You see examples of poor tackling. You see issues on special teams, all the stuff that's usually rampant early in the season."
Franklin said he did plan to have the team scrimmage prior to the season opener in Bloomington, which is set for Oct. 24. There will be live tackling in that scrimmage, Franklin said, "but not a whole lot of it."
*******
• Talk about this article inside The Lions Den
• Watch our videos and subscribe to our YouTube channel
• Learn more about our print and digital publication, Blue-White Illustrated
• Follow us on Twitter: @BWIonRivals, @NateBauerBWI, @RivalsSnyder, @DavidEckert98
• Like us on Facebook