Elite 2024 QB Jadyn Davis recaps weekend visit to Penn State
Penn State hosted one of the nation's top prospects in the Class of 2024 Sunday in quarterback Jadyn Davis.
A resident of Fort Mill, S.C., Davis and his family travelled north for his sister's AAU basketball tournament that took place in nearby Harrisburg, Pa., over the weekend. That gave him and his family an opportunity to drive up to State College Sunday morning, and they spent about half the day touring facilities and meeting with the coaching staff.
"Just the tradition there. You can't beat a school with a rich tradition," Davis said, when asked what stood out to he and his family. "From the blue buses to the basic blues, black shoes, no name and all game. Just that little stuff really stood out to me. I heard that they're adding onto their facility. I believe it's another $70 million expansion.
"That's the great thing about me being so young. I get to see everything that's being developed right now. They're also building a QB lab, which I'm really eager to see. But also, just the environment. This was the first visit that I was able to take some of my siblings on and they treated all of my family like they're part of team. My younger brother had a blast. My other little brother had a blast and this was the first trip my mom got to go with me. So, we all had a great time. They showed great hospitality."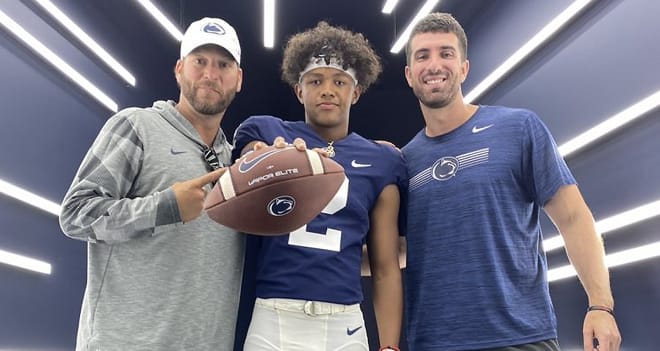 Davis was offered by the Nittany Lions in the beginning of April, and since then, he said he's had multiple conversations with offensive coordinator Mike Yurcich and offensive analyst Danny O'Brien. He added that O'Brien has been in contact with him "almost everyday," which meant this trip was an opportunity for him to get to know Yurcich better.
"You can always tell when someone is really passionate about what they teach and that is nothing short of the truth with Coach Yurcich," Davis said. "We were watching the film, and obviously he hasn't coached at Penn State yet, so we were watching film from when he was at Oklahoma State and Texas, and you can just tell that he loves it. After every play, he'd get on the board and start writing out plays, getting excited. It showed me the passion that he has for the game, the passion he has for teaching young men the game. He showed me a lot when it comes to how my skillset would develop in his offense, how he would use me.
"So, Coach Yurcich stood out a lot. You don't really see a guy with as much passion and energy as he had in the film room. A lot of people get bored in the film room and I know for sure that won't happen with Coach Yurcich. He's going to keep you up."
Despite the fact that there was also a camp later in the day, as well as other top prospects on campus, Davis said that he spent a lot of time with head coach James Franklin.
Related: Two big decisions on deck for Penn State's Class of 2022

"What was crazy to me is, if you didn't know who James Franklin was, you wouldn't think he was the head coach. That's how cool he was," Davis said. "He's a players' coach for sure. He was the first person to greet me when I walked into the stadium, just like any regular guy. There was no feeling of a hierarchy or anything like that.
"Everyone there felt like family, but Coach Franklin was a great guy. He answered every question that my family had. We got to drive the golf cart around and talk. He drives that thing like he's 18. We were joking about that. I loved Coach Franklin and everything he had to offer."
So far, Davis has earned nine verbal scholarship offers, which includes Alabama, Georgia and Ohio State. All three of those schools have already hosted him for a visit, along with Maryland, Oklahoma and South Carolina last month. Moving forward, he'll go to Tennessee tomorrow, July 28, followed by Ohio State the next day.
Despite growing up down south, Davis said that won't impact his college decision.
"I know I'm a southern boy, but that has no impact on me," Davis said. "If you want to play in the NFL, you could get drafted to Green Bay or Buffalo or anywhere that's cold, so weather and leaving home has no impact on me."
During his freshman season, Davis split time at quarterback. He totaled 839 yards passing, 11 touchdowns and three interceptions. He also rushed for 127 yards on 30 carries. Davis has already earned an invitation to the 2024 All-American Bowl.