Film Study: Michigan State
While it wasn't pretty for the whole game, the Nittany Lions used an aggressive approach in the second half to close out Michigan State, 39-24, on Senior Day at Beaver Stadium. A week after knocking off Rutgers, 23-7, the Nittany Lions again won convincingly against the Spartans and improved to 3-5 on the season.
Today we'll look at why Penn State got down 21-10 at halftime, how they flipped the script on the Spartans and how the defense used that to their advantage.
Foreshadowing The Problem
"The thing that really jumps out is their d-tackles. I think their four d-tackles in their two-deep are 345 pounds, 340 pounds, 335 pounds and 310 pounds in the two-deep, so they are big and physical."
— James Franklin, Tuesday
The biggest problem for Penn State's offense coming into the game was literally big.
While the Spartans have talented players dotting their defensive roster, the bedrock of what they do is based on their massive defensive line. The Spartans are stout through the middle of their defensive line. With an athletic linebacker like Antjuan Simmons behind them, they present an old-school problem of trying to find yards between the tackles. On plays where the running back runs behind center (A gaps), Michigan State has allowed just 2.4 yards per carry, according to PFF.
The problem for Penn State is that's exactly where the bulk of their running game is targeting. Their inside zone and man run concepts work off similar principles of attacking behind the center and work out from there. It was a disaster waiting to happen unless the Lions came up with a creative way around the problem.
Early in the game, Penn State chose to beat its head against this particular wall to uninspiring results.
Their first three carries of the game when trying to run up the middle resulted in three yards. While the Nittany Lions put together another long, methodical drive to start the game, their overall rushing numbers (11 carries for 2.7 yards per carry), were once again uninspiring.
Late in the second quarter, Penn State was in the middle of another controlled, methodical drive when they finally broke a big play.
While this is, for the most part, the same QB power that Penn State has been running for the entirety of the season, they added in a wrinkle that helped blow the play open. Traditionally, Kirk Ciarrocca will call this play from a read-option, or sprint-option look. The difference on this play is that Caziah Holmes sprints out of the backfield in a halfback screen motion and draws not only the linebacker but the over-aggressive safety with him.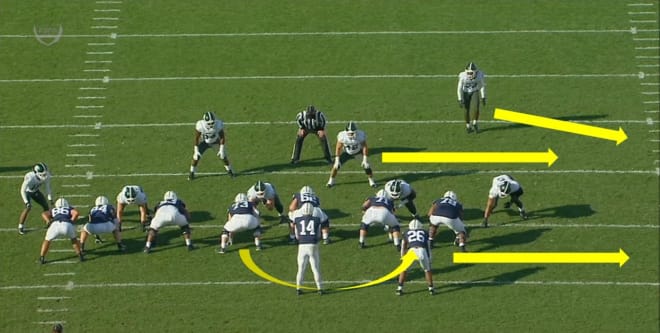 When James Franklin talks about being creative and manufacturing explosive plays, this is a great example of an adjustment that the Nittany Lions have made this season to do that.
However, one good run does not solve the problem.
Aside from this run, the offense was averaging 2.6 yards per carry. To make matters worse, their defense was not able to stop the Michigan State passing attack and they were getting gashed through the air. A run-first approach was not going to cut it in the second half.
While it was only an 11-point deficit, it certainly felt like Penn State's collective back was against the wall and their two-game winning streak on the line.
They responded by coming out firing.
On the first drive after halftime, 8 of their 11 plays were called passes. Sean Clifford and Will Levis combined to go 6 of 8 for 67 yards and a touchdown. For the half, Penn State threw the ball 13 of their 19 plays and ran it only to convert first downs or get into the end zone.
They even converted a two-point conversion on a play that they struggled with three weeks ago. In a real sense, the Nittany Lions grew up in the second half of the game Saturday.
It's also helpful to get a little bit of luck along the way
Penn State's measured, safe approach was only going to work for so long and Franklin knew it. He knew it was a possibility that their quarterback would have to carry them at some point.
"We knew we were going to have to throw the ball, they're really good against the run. We were able to get the throwing game going, we were able to move the pocket and do some things to help Sean," Franklin said in his postgame press conference.
It's an important moment and it's possibly an evolution point for the Penn State offense.
"I always want the ball in my hands. That's why I came here. Frankly, for the last few weeks I felt like myself again," Clifford said. "Coach Ciarrocca and Coach Franklin always talk about how they trust me and it's nice just to see it pan out."
Belief and words are one thing. To have that rewarded is another entirely.
Manufacturing
As we've said for most of the season, Penn State's deep passing attack has been rather monochromatic, featuring mostly go-routes outside the numbers. The problem has been that even when they've been executed properly, they're still a hard pass to complete most times.
This is the right read, a good back shoulder-pass, and a good effort by Jahan Dotson. Despite all of that, it's a drop and an incompletion.
While we mentioned this earlier when talking about subtle adjustments in the running game, possibly the biggest offensive play came through setting up a play via the pass.
There are many ways to create space on a football field offensively, but one of the best ways is to simply make a defender see something that isn't there.
If a player is out of position, big plays tend to happen. The play above was a good play design in the first half that went for a decent gain of 10 yards. Both corners were concerned with the fake block and run through by Parker Washington, leaving a large cushion for Dotson to pick up the first down. Later, the Spartans had given up an 11-point lead and the game pressure was on the defense to make a play. Instead of playing within themselves, slot corner Angelo Grose tries to anticipate the play and make a big stop.
The most encouraging thing about this game is that Penn State was forced off of plan A and found another way to win. This is something Franklin has been seeing out of his team for the second half of this season.
"The last three games have kind of got back to our identity of finding ways to win," he said. "Over the last seven years, we've overcome adversity, we've played great second half football. We've blown people out. We've had comebacks. We've had all different types of wins and a lot of them. And over the last three weeks, we've gotten back to that identity, so I'm really proud of them."
Safety & Numbers 
Much like Penn State's offense, Michigan State wanted to win through a tough, physical running game and protect their freshman quarterback making his first start. Unlike the Nittany Lions, Michigan State was finding just enough success to keep Penn State off-balance, mixing in reverses and jet sweeps.
To counter this (and the short passing attack), Brent Pry brought one of his best coverage defenders, Jaquan Brisker into the tackle box.
While Brisker playing in the box is nothing new (he's spent roughly the same amount of snaps in deep coverage as he had in the box per PFF), his alignment is typically deeper.
Translation: Penn State wanted to put the ball in Payton Thorne's hands and make him beat them. They were going to take away the run and force him to throw in situations that were not advantageous or easy.
Early on, it worked.
The problem was that Penn State was not able to get consistent pressure on the quarterback. When presented with a clean pocket on a play-action pass, he took advantage of Penn State's aggressive approach. On both long touchdown passes, the deep safety (Lamont Wade and Ji'Ayir Brown) abandoned their zone responsibilities to try and jump an intermediate route.
In general, the play-action passing game was a huge asset for Michigan State. Thorne was 8 of 9 for 175 yards and two touchdowns on play-action passes in the first half and put pressure on the Nittany Lions to start scoring. The Spartans were well on their way to sinking a dagger into the Nittany Lions.
What changed?
First, Penn State. As we discussed, Clifford began dealing and the Nittany Lions put the pressure back on the Spartans to make plays.
Second, Michigan State did not attempt as many play-action passes. They broke some big runs, but still only averaged 3.7 yards per carry on 10 runs in the third quarter. The Spartans only attempted four play-action passes (completing two) in the third frame while the game was still in the balance.
By the fourth quarter, Penn State had put up such an avalanche of points that they were forced to abandon the play-action passing because the run was no longer a threat. While this is a bit simplistic, check out the difference in the way Ellis Brooks reacts in the second quarter versus his reaction in the fourth quarter.
A two-score fourth-quarter lead will do that, despite the game still being in the balance.
The Long Road Back
After being left for dead at 0-5, Penn State has the chance to finish strong in a way that very few saw coming a month ago. It's a credit to the team, the staff and Franklin for building a genuinely resilient and positive culture.
Yes, they played three struggling teams, but instead of folding or having a mass exodus midway through the season, they buckled down and fought back. With a "Champions Week" match-up against Illinois, who is parting ways with Lovie Smith this off-season, the Nittany Lions have a clear path to 5-5 if they decide to play in a bowl game.
Good teams that go on to success, later on, build the habit and the culture of winning. For Clifford, this season has put everything into perspective,
"Momentum is huge. I didn't really realize that until this year. We've just been so accustomed to winning. This year has just taught myself and my teammates so many lessons about how life is," he said. "We talked about it. After the fifth loss, we said we can't roll over right now. When we went to Michigan, we knew it was one of the biggest games in our program's history. Just because it was huge for our mental (state) to catapult ourselves into bigger and better things. That's why it's so crucial to finish this season the way we want to."
Odds & Ends 
With all due respect to Dotson, this might be the catch of the year.
If you're not sure who that is, that's freshman defensive end (and possibly future tight end) Amin Vanover.
***********
With no Noah Cain this season, we haven't seen too much of this. While I have been a critic of Levis, this is your game-closing run of the year.
Dotson plays bigger than you'd expect, he's quicker than you'd think, and apparently, he's faster than you'd think. So, do we underrate him athletically? Yes, but it's not just us.
"My teammates always joke around with me that I'm not fast or it doesn't really look like I'm not running. On that punt return I had to show them that I had a little kick in me, a little speed in me," Dotson said. "We track with our GPS trackers how fast you were going, how many miles-per-hour. Hopefully, I get on the board this week."
He's very good at all of the technical and football-y parts of his position. So with that in mind, is he going to the NFL Draft this off-season?
"I haven't thought too much about it. I'm just trying to enjoy every moment I get with my brothers. Basically, just go out and cherish the moment, never get too far ahead of yourself."
Those sure sounds like the words from a guy who knows his time in college is coming to an end. Now that I think about it, I think I've heard Saquon Barkley say those exact words at one point.
********
This is what you call growth. Penn State ran roughly the same concept in the red zone the last few weeks. Saturday, it was an easy Clifford-to-Washington connection.
********
This feels like a basketball foul. Shaka Toney knew he had one personal foul to give and he wanted to give it.
********
Back for at least one more week this season when the Nittany Lions take on the Illini this Saturday.
Until then.