Franklin on Irvin Charles: 'Maybe the most talented WR I've been around'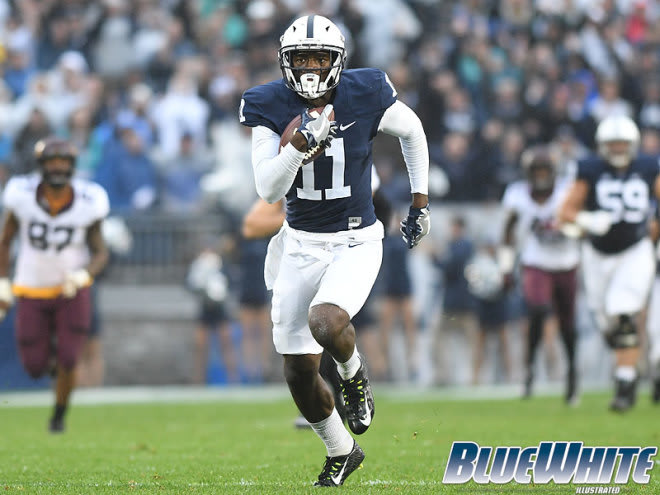 Prior to arriving at Penn State, James Franklin had helped coach four of the more talented wide receivers who've played in the NFL in recent years. At Vanderbilt he had Jordan Matthews. At Kansas State, Jordy Nelson. At Maryland, Torrey Smith, and when Franklin spent one season as the Green Bay Packers WR coach, Donald Driver was one of his pupils.
It's a long list of accomplished pass catchers, and on Tuesday Franklin hinted toward another one who is on track to joining those ranks.
"Irvin Charles has a very, very bright future," Franklin said. "He is talented, talented, talented – maybe the most talented wide receiver I've ever been around."
High praise, indeed, for the redshirt freshman from Sicklerville, N.J., one who is still biding for time on the varsity squad. He's seen action in all 10 of Penn State's game but has only two receptions for 106 yards. The majority of that yardage came on one crucial catch-and-run that went for a score.
That's when Charles made his formal introduction in front of the Penn State fan base, as his 80-yard touchdown against Minnesota in Beaver Stadium was not only the turning point of that game but perhaps PSU's season as well.
Franklin of course had been familiar with the former four-star recruit long before that, but he came to a greater realization about Charles' abilities during an impromptu footrace last year during a winter bowl practice.
"We did a race of what were considered the fastest guys on the team at that time," Franklin said. "We had (Dan) Chisena, who is running track now, and all those guys raced. Everybody thought it was going to be Saquon, (Brandon) Polk or Chisena (who won), but at 6-foot- 4, Irvin was just making noise, and the whole team was shocked."
Teammate Mike Gesicki calls Charles "a physical freak," vouching for the skills that his coach described about Charles.
"He can do anything that you're asking a receiver to do," Gesicki added. "He has all the physical features. I think with time and maturity and continuing to buy into what this program can do for him and what he can do for the program, I think that the sky is the limit for Irvin."