Freshman makes position change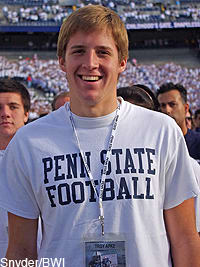 Blue White Illustrated was informed Wednesday that incoming freshman
Troy Apke
will play safety for Penn State in 2014 instead of wide receiver. The change of positions happened recently.
Apke was recruited out of Mt. Lebanon (Pa.) as a three-star wide receiver who was named first-team all-state as a senior. During that season, Apke grabbed 40 passes for 728 yards and had touchdown catches. He also had 10 carries for 103 yards and one score. Apke also stood out at defensive back for Mt. Lebanon.
After arriving on campus in June, Apke measured in at 6-foot-1 and 185 pounds. He was timed running the 40-yard dash in 4.4 seconds and he jumped 10+ feet in the broad jump.
Mt. Lebanon head coach Mike Melnyk told BWI in June that Apke is one of the most athletic football players that he's ever coached.
"I've been coaching for 26 years and he is by far the fastest player that I've ever coached," Melnyk said earlier this summer. "He's one of the fastest that I've ever seen on the football field. He has sort of a long stride, so he covers a lot of ground. So sometimes I think it looks like he's moving slower because he's covering so much ground with each stride."