Grades: Northwestern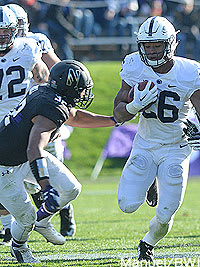 Penn State fell, 23-21, to Northwestern at Ryan Field in Evanston (Ill.) Saturday, dropping its record to 7-3 on the season. How did the position units fare? Blue White Illustrated offers its grades, here!
QUARTERBACK Sporadic at first, especially on short passes, Christian Hackenberg started off by completing just one of his first 10 passes while taking an unnecessary sack. But then he found some rhythm and completed 14 of his next 22. His interception, though, in the fourth quarter at the Northwestern 32-yard line took potential points off the board that could have helped Penn State seal this game.
GRADE C-
RUNNING BACKS Saquon Barkley initially struggled to find running room, gaining a net of just three yards in the first quarter, but once the second half rolled around, the true freshman carried this team. He totaled 120 yards and two TDs, both of which were run out of the wildcat. Barkley finished with six catches for 50 yards, too, although one accounted for 32.
GRADE A
RECEIVERS Chris Godwin was solid like he's been all season, finishing with seven grabs for 92 yards, and Geno Lewis' deep pass to DaeSean Hamilton for 32 yards on a broken trick play gets this unit bonus points, as it finally put momentum in Penn State's favor, even if it was short-lived. Otherwise, most of the receivers struggled to get open, especially in the first half, and a few drops - one from Hamilton, a couple from Mike Gesicki - spelled disaster once again. 
GRADE C
OFFENSIVE LINE Penn State committed more penalties along the line of scrimmage than it could afford, which is somewhat atypical. What was typical, however, was once again the pass rush pressured Hackenberg on all but a few of his 40 attempts. This unit had some bright spots, especially in the second half when Barkley ripped off some chunk yardage, but when they needed a push most on 3rd and 1, backed up in Northwestern territory, they couldn't come up with it. For the most part the O-line was outmatched.
GRADE C-
DEFENSIVE LINE It wasn't the dual-threat quarterback who gave this unit fits. Rather it was running back Justin Jackson, who finished with 186 total yards. Not all of those yards are attributable to the D-line, as Jackson was mostly contained before ripping off a chunk play here and there to give him the bulk of his yards. In spite of that and three DL sacks, though, this wasn't the dominance that we've come to anticipate from this unit.
GRADE C
LINEBACKERS Brandon Bell recorded 3.5 tackles for loss in the first quarter alone, but he quieted as the game moved along. Jason Cabinda and Troy Reeder were porous up the middle in the first half, both in the run game and in defending the pass. Cabinda's second-half interception was timely, but otherwise Penn State's linebackers just didn't get the job done in the middle of the field.
GRADE C 
DEFENSIVE BACKS They hit hard - Marcus Allen all but knocked Clayton Thorson out of the game in the first quarter - but the safeties were a liability throughout much of the afternoon, beginning on the first couple drives when they allowed multiple passes to be completed in the middle of the field, including Northwestern's first touchdown. Also when the running back got to the second level, the DBs struggled to bring him down. Late in the fourth quarter Grant Haley could've saved the grade for this unit - and the Penn State win, for that matter - but he allowed a would-be interception to fall to the grass. Then the next play was a 23-yard completion completed over top of him that set up Northwestern's winning field goal.
GRADE D
SPECIAL TEAMS Daniel Pasquariello averaged more than 45 yards per punt in the first quarter, including a 60-yard long, but as been the case all season long, his punts shortened as the game moved along. The real killer today, however, was Northwestern's kickoff return for a touchdown to give the 'Cats a two-score lead heading into halftime. Without that special teams failure, Penn State would've won this one.
GRADE F
COACHES James Franklin emphasized all week how opponents have a penchant to start day games slow at Ryan Field. As it turned out, he foreshadowed correctly because Penn State appeared to be playing flat throughout most of the first half. It totaled just eight yards on its first 11 plays en route to just 22 total and only one first down in the first quarter. To the coaches' credit, the team came out with a different energy in the second half, but it wasn't enough to overcome the clock management late in the game. With a 1-point lead as the game clock was winding down, Penn State waited to use the first of three timeouts until only 22 seconds remained. As Franklin acknowledged in the post-game, it should've come sooner. Had the clock been stopped before, PSU could have had up to 35 seconds with which to conduct one last drive after NW's game-winning field goal.
GRADE F
CROWD Northwestern's total attendance number barely eclipsed 34,000, but they accomplished exactly what Franklin hoped to avoid all week long. Kudos.
GRADE A