Kerner makes the call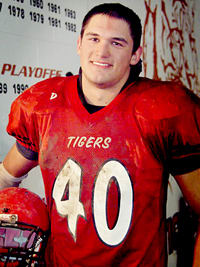 After waiting over a month between grabbing their first and second verbal commitments, it didn't take long for Penn State to find a third. Fairview (Pa.) defensive end
Jordan Kerner
jumped on board on Wednesday afternoon as the newest Nittany Lion.
"I've talked to coach McQueary," he said. "They're excited. He said that another D-End committed there, too, so now they've got two D-Ends and it's looking good for the defensive line."
The 6-foot-5, 225-pound prospect, who grew up a Penn State fan, chose the Nittany Lions over Iowa. He also had scholarship offers from Boston College, Maryland, Minnesota, Rutgers and West Virginia.
"I've been to the campus before, and I always hear about Penn State around this area. Everyone's wearing it, everyone loves it. I almost felt like obligated to go there. It was still my choice to go there, but everyone grows up loving Penn State, and I just really liked it there, too. Playing in front of 110,000 people sounds really nice, too."
Kerner also sought advice from a player who had to make the same choice in his area just a few years ago.
"I talked to [Penn State safety] Drew Astorino on Facebook, and I asked him why he chose Penn State. He just told me he wanted to be closer to friends and family and have them watch him play. I felt the same way," said Kerner. "I wasn't sure if I should have made that a more important aspect of my decision. He did the same thing, so I felt more comfortable following that gut feeling. That's how I kind of settled it. I loved both schools - Iowa and Penn State, but I liked being closer."
The three-star prospect was a second team all-state selection as a linebacker and was a part of the Erie Times-News All-District 10 team in 2009. He recorded nine sacks on the season.
He is ranked No. 16 in the Pennsylvania top 40 preseason rankings.
Kerner joins Delaware tight end
Kyle Carter
and Philadelphia defensive end
Shawn Oakman
in the Nittany Lions' Class of 2011.