Lions set to host Wolverines, send off key seniors
Patrick Chambers' comment had no real relation to the question he'd been asked Monday afternoon regarding Josh Reaves.
The spark of a turnaround that has ushered the program from a demoralizing 3-5 start in Big Ten play into one now sitting on the precipice of NCAA Tournament bubble talk, the Nittany Lions' junior forward has produced a direct correlation between his return from a four-game academic suspension and the program's current success. Yet in winning six of their past eight games with an opportunity to compete against another Top 25 program in Michigan Wednesday night at the BJC (BTN, 7 p.m.), the Nittany Lions can thank more than just Reaves for the turnaround. For that, Tony Carr, Lamar Stevens, Mike Watkins, deserve mentions, said Chambers.
So too, however, does Penn State senior shooting guard Shep Garner.
"I think Shep is having a career year," said Chambers. "He's doing some great things."
Among the more enigmatic of the Nittany Lions in Chambers' seven-year tenure, Garner has transformed himself from an at times frustratingly inconsistent mainstay into a key driver of the program's recent success.
He has the statistics to back it up.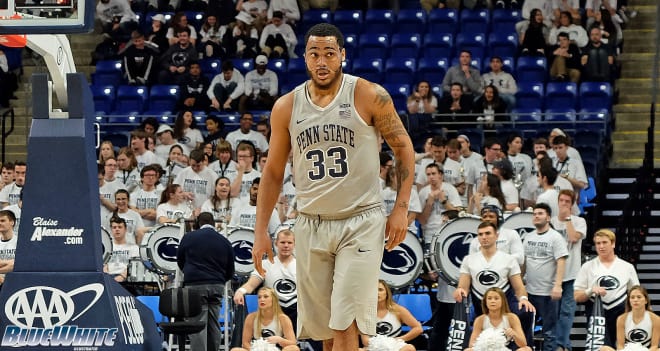 With just two conference games remaining before the Big Ten Tournament in New York, Garner is second in the league in 3-point field goals made at 2.5 per game and is sixth in 3-point field goal percentage at 43.7. In context, Garner is second among the bulk 3-point shooters on that list (45-of-103), trailing only Purdue's Dakota Mathias' 46.6 percent on 88 threes attempted, and ahead of Carr (40-of-94) and Iowa's Jordan Bohannon (48-of-115).

Further, in an evolution that has gone a long way with his coaches and teammates, Garner has evolved into one of the program's leaders on and off the hardwood in conjunction with the team's recent rise.
"I think it's been more recently, since January I would say. You have to earn it with these younger guys now. You have to earn it. Nothing is given today and if you give it, they don't respect it," said Chambers. "But if over two years you earn it and you can put the work in and show that you're going to sacrifice and show that you're going to be disciplined and show that you're about everybody in the room, not just yourself, then you earn that respect. I think he's earned the respect of his teammates.
"What Shep is doing in terms of leadership and what he's doing in practice and what he's doing in film and what he's doing to cultivate a great locker room and culture, man, that speaks volumes to me and his teammates... I know people really criticize Shep over the years and really get on him, and they always want more, but statistically, I think he's doing his job. I think he's overachieving a little bit."
Set to be celebrated Wednesday night ahead of the Lions' tip with the Wolverines, this being the program's Senior Night as the final regular season home game, Garner will be joined by the team's only other senior on the roster. Fifth-year forward Julian Moore, winding down his own Penn State career with gusto in recent games, has also earned that same respect.
Called upon to play double-digit minutes in eight of the team's past nine games, Moore has produced timely rebounds, buckets, and most important, plenty of inspiration to his teammates.
"I've been telling Julian since I got here, no matter who says anything to him, no matter what he's going through, I will always respect him because he's just going to go out there and do his job. And he's going to do whatever he needs to do to get it done. He's not going to back down from any challenge," said Reaves. "I love him to death and I will always have Julian's back no matter what. As a leader, he knows what he's doing. He's trying to help out the other bigs and get with them to improve, and you're seeing that each and every night."
Counted on heavily by Chambers and the rest of the Penn State staff as the reality check to the adversity and challenges the program has faced, especially among a group of younger players with a fraction of the same knowledge base to work from, Moore has fallen into his role as a grizzled, wise veteran nicely.
Committed to the program and its success in spite of the struggles he's seen throughout his career, that Moore remained with the Nittany Lions for his fifth and final year, rejecting graduate transfer avenues along the way, proved to be an impactful statement.
"Regardless of how many minutes he's played, how many points he's had, he's going to leave a legacy with this program - maybe not on the outside world - of a guy who is loyal, who is committed, and who played his role to the best of his ability," said Chambers. "And there's not many guys out there like him anymore. He had a chance to leave too. He graduated in the summer. He's a throwback. He stayed. He gutted this thing out. I'd really love to see him find success."
Two likeminded Nittany Lions that have played witness to the incredible challenges the program has faced the past four years, the pair amounts to Chambers' embodiment of his program's ideal.
Each competing starting during the 2014-15 campaign, the Nittany Lions have finished no better than 18-16 overall in that span with a conference-best record of 7-11 in 2015-16. Now, at 19-10 overall and 9-7 in the Big Ten, those previous marks have already been shattered with an opportunity to improve on them further.