Nittany Lions back on hardwood this week as part of NCAA's allowable return
In the absence of organized basketball until the team's return to informal workouts this summer, Penn State men's basketball head coach Patrick Chambers tried on a new professional hat in June.
Still following social distancing protocols as a program, the Nittany Lions' head coach spent three weeks appearing as a virtual talk show host. Dubbed "Behind The Climb," the 45-minute weekly program saw Chambers respond to fan questions and welcome a variety of notable guests relevant to the program.
Among them were new Denver Nuggets general manager and former Nittany Lion center Calvin Booth, six-year NBA journeyman point guard Tim Frazier, bestselling author and organizational leader Jon Gordon, new Big Ten commissioner Kevin Warren, and current Penn State junior shooting guard Myles Dread, each of whom spoke with Chambers at length for the three-episode show.
Of particular note, Dread detailed the newly initiated voluntary workouts that he was participating in with teammates, and the new normal it represented as the coronavirus pandemic continues to reshape even basic daily tasks.
"First and foremost, you better be wearing that mask everywhere you go. You always got to have your gaiter on," Dread said, noting the constant reminders pushed on players. "It's just really important for not only yourself but the people who you're going to be somewhat around. You always want to be socially distant, but you're always going to be around people in some way, shape, or form. So to protect yourself and to protect other people and prevent the spread of the virus, you always want to have your mask on."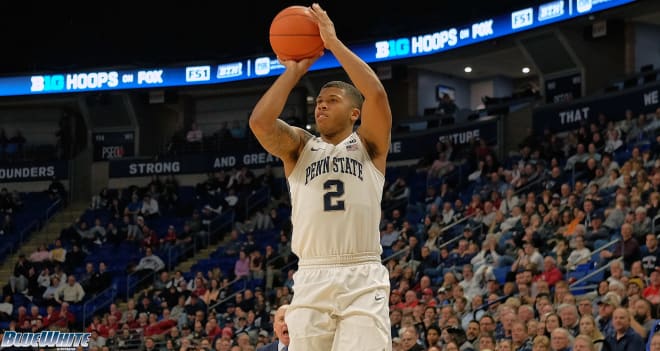 Masks aren't the only change being implemented.
Detailing that one-time individual QR codes are required on players' mobile phones to enter the program's practice facilities at the Bryce Jordan Center, Dread also relayed that basic questions must be answered to ensure no one has symptoms, followed by a forehead temperature scan. Anything above 100.3, he said, and you're taken for further testing, though no one had yet failed those protocols.
"Once you get your temperature, you're allowed to go in and work out. Everything is very socially distant," he said. "When you're lifting, you're always at least six feet apart from everyone. When you're shooting, there's only two people to a basket and it's your roommate, the person who you're spending the most time with. And they have everything packed up for you. You're in and you're out. You handle your business and you go back home and you continue to be socially distant."
Since the interview with Dread, the program has transitioned back to something approaching more traditional practices.
Beginning this past Monday, Penn State's voluntary individual offseason workouts turned the page into required training sessions, with the NCAA allowing up to eight hours per week of strength training and another four hours per week of on-court "skill instruction." The Nittany Lions are then permitted to work basketball skills with coaches and strength and medical staff on hand.
Determined to maintain at least the possibility of a season at this early stage in the process, they are all changes to which Dread and his teammates have gladly adhered. Looking to continue an ascent that saw the program string together an eight-game Big Ten winning streak last season and position itself for an at-large NCAA Tournament berth until college basketball's postseason was shut down by the pandemic, Dread and the Nittany Lions are eager to get the opportunity.
"You got to follow the rules if you want to have a season, and I'm pretty sure everybody in that locker room wants to have a season," he said. "So we've been doing a great job of that and I'm looking forward to the future."