Patrick Kraft officially named Penn State's next Athletic Director
On Friday morning, Penn State announced Boston College Athletic Director Pat Kraft, will officially be the university's next Athletic Director. Kraft will take over as the athletic director on July 1, 2022 following Sandy Barbour's retirement.
The search headed by President-elect Neeli Bendapudi is Bendapudi's first major hiring at the university since being named the university's next president on December 9. She will take over for current President Eric Barron, upon his retirement on May 8.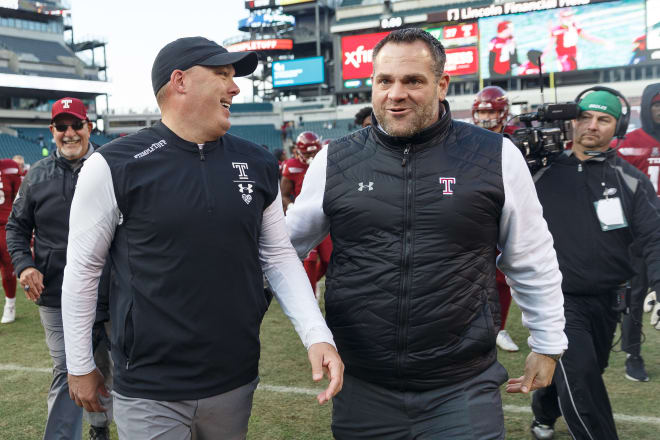 Kraft, 44 has been at Boston College since July 1, 2020. Despite the short period of time in Chestnut Hill, his time at Boston College can only be deemed a success. Under his watch, the university saw it win its first women's NCAA title when the Eagles Women's Lacrosse team won its first NCAA title in 2021. On top of that, five Boston College athletic teams in 2021 were ranked natioanlly during their seasons and saw major success in sports such the aforementioned lacrosse, men's hockey, women's hockey, field hockey, and basketball.
He also oversaw the hiring of the current Boston College men's basketball coach Earl Grant who in his first season helped the Eagles turn a 4-16 record in 2020-21 to a 13-20 record this past season.
But perhaps, the most appealing part of Kraft's resume is his fundraising abilities. During his two years with Boston College, Kraft led three major fundraising efforts including securing a $15 million gift for a future Men's and Women's Basketball practice facility as well as raising over $9 million for athletic scholarships and over $1 million for Boston College's "Support Your Sport" initiative each of the last two years. In the year prior to Kraft becoming Boston College's athletic director, the university appears to have raised just over $400,000 in the same initiative.
Prior to his time at Boston College, Kraft oversaw Temple athletics from 2013 to 2020 when he became one of the youngest athletic directors in the country when he was named Temple's AD at the age of 37. Temple athletics during his time were highly successful including the football program in which he oversaw the hiring of former Penn State linebacker Matt Rhule as head coach. Men's basketball and women's basketball also saw increased success during his tenure. He also oversaw the fundraising of over $55 million for the Temple Sports Complex as well as various other athletic facilities.
Kraft also spent time at Indiana (2009-2011) as an assistant athletics director and at Loyola (2011-2013) as an associate athletics director. Kraft attended and played college football at Indiana University while earning three degrees, he would later earn a Ph.D. in sports management from Indiana in 2008.