Quarterback Beau Pribula commits to Nittany Lions
Penn State's run in the Class of 2022 continued Monday with the addition of quarterback Beau Pribula.
A 6-foot-2, 202-pound dual-threat quarterback from York, Pa., Pribula earned an offer from the coaching staff at the end of March. Admittedly a Penn State fan growing up, it became clear right away that the Nittany Lions were the team to beat, but even then, Pribula didn't expect to end his recruitment just over four months later. However, due to all the changes surrounding the COVID-19 pandemic, he believes he was able to learn more, not less, about his top schools throughout the spring and summer.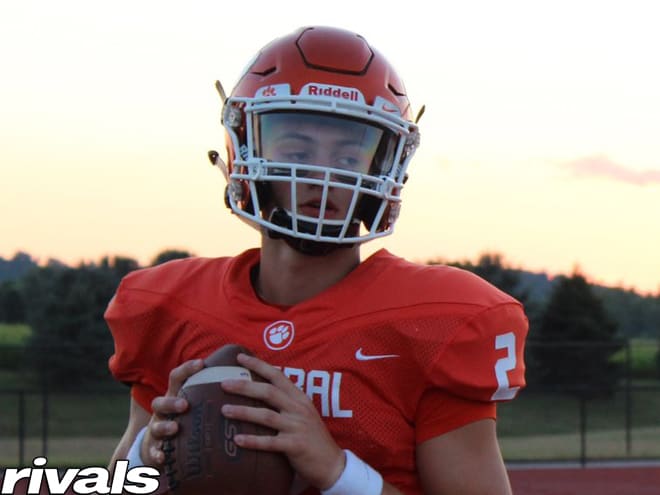 "Penn State was always my dream school, although I tried not to let that influence me during this decision," Pribula said. "But quarantine was a unique time. Coaches and I had a lot of time. I think I talked to coaches more over the past couple months than I normally would've if this was a normal environment. That really helped me develop relationships with these coaches pretty quickly, even without visiting all of them.
"But I was still able to evaluate each school, and I did that. It just got to the point where I knew Penn State was the one that I wanted to go to, and that school just so happened to be my dream school growing up."
Pribula first developed a relationship with regional recruiter Tyler Bowen. Those two are still close, but it was his comfort with new offensive coordinator Kirk Ciarrocca that really helped him come to this decision.
"Personality-wise, I relate to [Ciarrocca] really well. As soon as I got the offer from them and we started talking, we bonded right away," Pribula said. "I think a big part of that is because he grew up pretty close to where I live. He played at Red Land High School, which is about 25 minutes away from me. I feel like I can relate to him and he can relate to me.
"We spent a lot of time on Zoom and a lot of time on calls. We talked a lot about his offense and how I would fit in. I think those talks really gave me a chance to see what kind of an offensive mind he has and what kind of quarterback coach he is. I love what he's doing as a coach and I love the guy as a person. It's a great fit."
Pribula earned his first scholarship in December of his freshman year after playing safety and wide receiver. The only reason he didn't play quarterback was because his brother, Cade, who's now at Delaware, was a senior at the time.
Temple became Beau's first Football Bowl Subdivision offer in June 2019, and once schools were able to see him play quarterback his sophomore season, he added 11 more offers from January to July, all of which were to play quarterback. Notable schools included Northwestern, Nebraska, Rutgers, Syracuse, Virginia Tech, Wake Forest and West Virginia.
Rutgers and Wake Forest both hosted him for visits before the NCAA shutdown on-campus recruiting in March, while Penn State hosted him for camp in June 2019, then again for the game against Purdue last October. That game was far from his first experience in Beaver Stadium, however, as Pribula said he grew up attending at least one game Penn State game each year. When asked to look back, he said that the win over Minnesota in 2016 stood out the most.
"I haven't been to a White Out game yet, so I'm looking forward to that," Pribula said. "Probably the most memorable game that comes to mind for me is the Minnesota game in 2016. I believe Penn State was 2-2 at the time. They lost to Pitt and should've won that game, then got beat big by Michigan. It was looking like it could be a tough season. They were losing to Minnesota in that game, too, but then Saquon Barkley has that big run in overtime and Penn State hasn't looked back ever since. That was a momentum changer and big moment that everyone looks back on now."
Pribula is one of a handful of 2022 FBS prospects that live in the lower Susquehanna Valley. Wide receivers Anthony Ivey (Manheim Twp.) and Mehki Flowers (Steel-High) both hold scholarship offers from the Nittany Lions, as well as defensive lineman Anthony Smith, who resides in Shippensburg. Fortunately for Franklin and his staff, Pribula already has relationships with all three.
"Me and Anthony have built a really good relationship the past few years. Our high school coaches are friends, so we've done a lot of stuff together," he said. "Ever since we got to know each other, we've become good friends. We've hung out together and we've worked out before. We text a lot, too, so I would say that I know Anthony well. I know Mehki Flowers a little bit. We text every so often. I also know the defensive lineman from Shippensburg, Anthony Smith. My dad went to Ship and I've been friends with Shippensburg's quarterback."
The Nittany Lions have gone from zero to three Class of 2022 commitments in just 10 days. Both wide receiver Kaden Saunders and tight end Jerry Cross have already earned four-star ratings. Pribula is expected to earn a rating when Rivals updates its 2022 rankings later this month.
Last season, he totaled more than 1,600 yards of total offense in just eight games, totaling 18 touchdowns. He also led Central York to its best record (9-2) in over a decade. At Penn State's Whiteout Camp last summer, Pribula ran a 4.6-second 40-yard dash and added a 4.1-second 20-yard shuttle.
*******
• Talk about this article inside The Lions Den
• Watch our videos and subscribe to our YouTube channel
• Learn more about our print and digital publication, Blue-White Illustrated
• Follow us on Twitter: @BWIonRivals, @NateBauerBWI, @RivalsSnyder, @DavidEckert98
• Like us on Facebook