Penn State's Jalen Pickett proving himself since transfer to State College
To the outside world, he's Jalen Pickett. He wears No. 22 for Penn State men's basketball, playing point guard in one of the toughest conferences in the nation.
Then, there's Jalen Pickett in his own words:
A son and a brother from Rochester, New York, with NBA dreams, future coaching aspirations, an unabashed Avengers fandom and a lifelong love of WWE passed down from his dad to him and his brother.
Finally, there's the Jalen Pickett current and former coaches have come to know:
A momma's boy and a 22-year-old "old man" whose slow, old school and funky — yet high IQ — style of play draws comparisons to the tortoise from "The Tortoise and the Hare."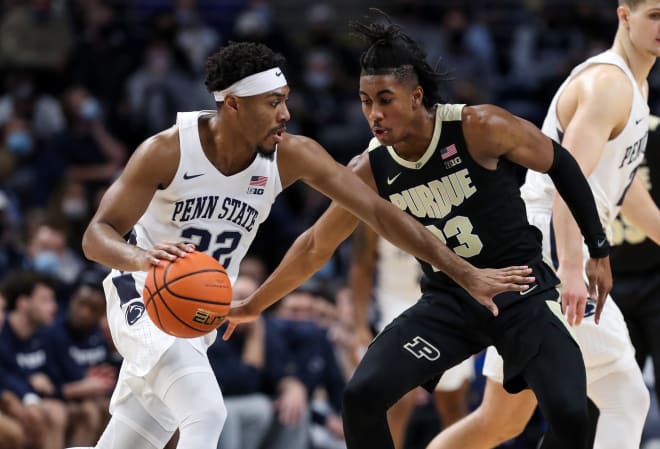 In his senior campaign and first season with the Nittany Lions, he's started every game, averaging 16.6 points, 4.3 assists and 1.3 steals per game in Big Ten play.
Before Penn State, he played three years at mid-major Siena under coaches Jamion Christian and Carmen Maciariello. Christian was the head coach during Pickett's freshman year, while Maciariello was an assistant before taking over the top spot during Pickett's sophomore year.
Pickett was a three-time first-team All-MAAC selection with the Saints, the 2019-20 MAAC Player of the Year and the 2018-19 MAAC Rookie of the Year.
And even before that, he took a post-graduate year at SPIRE Academy, a preparatory school in Ohio, hoping to improve upon the almost-exclusively Division II offers he was garnering.
Once he arrived at Spire Academy (OH), he said the experience was great for him.
He played alongside future Division I athletes and coaches, and a number of high-profile scouts were in the gym whenever his team took the court.
"[Former Spire head coach] Dave Brisky did a great job recruiting us. We had a good class," Pickett told Nittany Nation. "A lot of D-I coaches came in and out of the gym, and I made some great friends there. It was just very competitive. And I enjoyed every part of it."
By the time his prep year was over, some mid-major offers started to roll in, including Canisius, St. Peter's and his eventual landing spot, Siena.
But around him, his teammates were picking up bigger offers. Some went to Tulane, Miami (OH) or even Rutgers — Pickett and Penn State took down his former prep teammate Caleb McConnell and the Scarlet Knights last week.
Pickett didn't have animosity toward the guys getting more looks, but it drove him.
"Credit to them, they worked really hard for it," Pickett said. "But it just kept that fire under me. Just keep working, and hopefully my time will come eventually."
Pickett committed to Siena, and the work started there under Christian and Maciariello.
Out of high school, Pickett caught Maciariello's eye when the coach was at George Washington. While Pickett didn't have the grades for an offer at the time, Maciarello told him he'd "look out for him," and directed other coaches to take a look at Pickett.
When Maciariello teamed up with Christian later on, Pickett had just finished his prep year.
"I told Jamion Christian, 'Hey, we gotta take this kid,'" Maciariello told Nittany Nation.
It wasn't to fill a positional need — Maciariello simply knew Pickett had the chops to be a good basketball player — but Pickett said he was initially recruited as a two-guard. He didn't even want to be a point guard.
However, Siena's starting point guard went down with a knee injury during a preseason closed scrimmage against UMass. Pickett made sense as the guy to try to fill the hole.
"Jamion Christian at the time just kind of threw him at the point. The good thing with Jalen is the game kind of slows down for him," Maciariello said. "And even in AAU when he played for the City Rocks, he was a guy that was always on the floor. He [didn't] necessarily ever need to be a point guard, but he ended up being the guy that would have the ball late or make the winning play."
Despite not being keen on the position, Pickett excelled in Siena's next scrimmage at the one spot. Christian approached him shortly after.
"He was like, 'If you're gonna make money or play basketball long term, you're going to be a point guard.' He said I had a knack for it," Pickett said. "I was like, 'Okay, coach, I'll listen.'"
Evidenced by his straight first-team All-MAAC selections and top conference honors, the position change worked out. The coronavirus pandemic held Siena from reaching the NCAA Tournament during his three years, but Pickett described the stint as "very successful" and was highly complimentary of his time as a Saint.
But he had bigger fish to fry, and the NCAA granting an extra year of eligibility made it even more appealing to look at bigger opportunities.
While Maciariello may have liked to see Pickett stay one more year and graduate from Siena before transferring away, he's not naive to the process. Pickett came into his office to tell him he was looking to transfer, he wished him the best and they still keep in touch to this day.
For Pickett, transferring wasn't anything against Siena. It was time to prove what he'd been telling himself for years.
"[It was to] see if I can do it. If I was able to compete at the next level and be successful [and] get in front of as many eyes as I can and play against the best competition," Pickett said. "I wanted this."
"Like I said, I played with Caleb McConnell at prep school every day going up against him, playing with him, and so I knew I could do it. I could play at that level. But it's different saying it and actually going to experience it."
Pickett had heard a bit about the transfer portal recruiting process. He had heard his phone was "gonna go crazy," but he dismissed it, assuming he'd get a lot of calls for just the first day or so.
"For the first week, there were so many schools, it was ridiculous. My phone just wouldn't stop ringing," Pickett said. "I literally turned it off for like four nights in a row… West Coast schools would call me at like 10 o'clock at their time at night. It would be like two in the morning on my time."
Once he finally waded through the craziness that was his second recruitment, Pickett lined up top schools of Penn State, Gonzaga, Baylor, Miami and Oregon State.
But why Penn State over the likes of Gonzaga or Baylor, the participants of the 2021 NCAA Championship?
"Coach Shrews," Pickett said emphatically.
Pickett said he wanted to go somewhere he felt wanted. Somewhere where the team wanted to win. Somewhere that felt like family.
Aside from being closer to home so his family could continue coming to his games, Micah Shrewsberry and Penn State checked the boxes for where Pickett wanted to be.
The Nittany Lions recruited him the hardest, had the most people reach out and created the most family-like environment.
In just his first couple of months as a Division-I head coach, Shrewsberry already picked up a big win by nabbing Pickett out of the portal.
For Shrewsberry, he targeted Pickett initially because he was a veteran. He knew he'd have players like John Harrar, Myles Dread and Seth Lundy returning to his roster, and he wanted to surround them with older guys to level the playing field rather than fill his roster with younger pieces.
As the courtship between the two continued, Shrewsberry hooked onto what Pickett had done at Siena. Pickett played in a heavy ball-screen offense with Christian — someone Shrewsberry knows personally — which was very similar to what Shrewsberry knew he'd run at Penn State.
Maciariello agreed that Pickett has been doing the same things at Penn State that he did at Siena.
He excels at reading defenses, getting defenders on his hip, being controlled with the ball and finding his "bread and butter" turnaround jump shot. The Nittany Lion faithful have gotten awfully used to that jumper when the shot clock is winding down, too.
"I knew how he had played before [and] the success he had at Siena playing in that system," Shrewsberry said. "So I knew he'd fit in pretty seamlessly here."
Between the scheme, the resume and the pitch, Pickett found exactly what he wanted at Penn State with Shrewsberry.
Shrewsberry didn't give him an elaborate sales pitch. He wanted Pickett at Penn State, but he told him he'll have to work for it. He'll get out of the experience what he puts into it.
There's a lot of season left, but Pickett's playing at a high level on the biggest stage in college basketball. His goals are in front of him now more than they ever were before. But he's not finished.
"If I keep playing well, I believe [my goals are achievable]. Winning is what is going to help everybody achieve all their goals. We have to keep winning," Pickett said. "We got to definitely keep getting better each and every day, and as a team, we'll see where we are at the end."