Penn State offers one-third of 2020 Rivals100
Penn State's push to become a national player on the recruiting trail has never been more evident following the release of the latest Rivals100 for the Class of 2020.
While James Franklin and his staff are still searching for their first commitment in the 2020 class, the Nittany Lions have verbally offered 33 prospects that made the latest list. More importantly, they've already hosted about half of those players for at least one unofficial visit.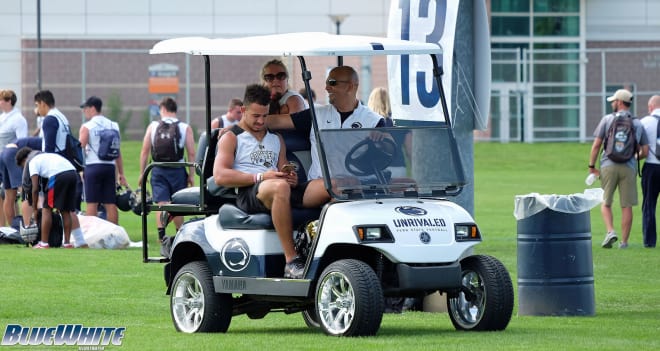 Five-star DE Bryan Bresee, who sits at No. 4 overall, remains the highest-ranked prospect that's also seriously considering the Lions. Back in July, he took his fifth unofficial visit to University Park. Following that trip, he also informed BWI that he's considering a return visit at the end of September for the annual whiteout game against Ohio State. The Buckeyes and George are also seriously in the mix, but there's reason to believe that Penn State could very well be the early favorite here.

The Lions are also in the mix with two linebackers that made the Top 10: Mekhail Sherman, at No. 9, and Antoine Sampah, No. 10. Like Bresee, Sherman has been a regular visitor at Penn State and may just have the Nittany Lions at the top of his list. His trip in June for the Whiteout Camp was his fourth dating back to last summer. Sampah has been on campus just once, which was back in March.
WR Julian Fleming, No. 25, RB Jalen Berger, No. 28, RB MarShawn Lloyd, No. 34, Saf. Jordan Toles, No. 35, and WR Porter Rooks, No. 41, are the five most notable prospects that round out the Top 50. Rooks and Toles are yet to visit Penn State, although Toles has said on numerous occasions that he plans to see a game this season. Fleming, Berger and Lloyd have all been on campus multiple times over the past year. In fact, the Lions are believed to be the early favorites with both Fleming and Lloyd, although Georgia is also making a serious push with Fleming. Lloyd was long believed to be a prospect that could make an early commitment to the Lions, but he has since suggested that he'll likely hold off until after the season, at the earliest.
Outside the Top 50 are eight additional prospects that have already visited Penn State at least once, including two sets of teammates: defensive ends Chris Braswell, No. 52, and Demon Clowney, No. 54, who play at St. Frances in Baltimore, as well as WR Rakim Jarrett, No. 62, and CB Luke Hill, No. 73, who play at St. John's College High, along with Sherman, in Washington, D.C. Back in May, both Braswell and Clowney visited University Park for the first time. Jarrett and Hill have been on campus multiple times already, including four trips for Jarrett and three for Hill. It felt as if the Lions were the team to beat with Jarrett throughout the spring and early summer. However, he then made it clear that he was very high on the Buckeyes following Ohio State's offer in the beginning of July. With that said, we still believe that Penn State has a real chance with Jarrett. Hill announced last week that he's planning to make a commitment on Sept. 1. Clemson is likely the team to beat.
Four additional prospects to keep an eye on include CB Enzo Jennings, No. 53, RB Chris Tyree, No. 55, OL Aaryn Parks, No. 79, and LB Kalel Mullings, No. 82. Out of those four, Tyree has been on campus the most, as he took his fourth visit to Penn State for the Lasch Bash Barbecue at the end of July. Parks also attended the Lasch Bash, as well as the Whiteout Camp earlier this summer. In fact, following those two visits, Penn State is now the favorite with Park. Mullings was also on campus at the end of July, as he attended the staff's final prospect camp of the summer July 29. That was his second visit to Penn State, as he also camped with the staff last summer.
List of Penn State targets in Class of 2020 Rivals100
2) RB Zachary Evans
- Up four spots from No. 6
3) LB Justin Flowe
- Down one spot from No. 2
4) DL Bryan Bresee
- Down one spot from No. 3
7) OL Myles Hinton
- Down two spots from No. 5
8) Ath. Arik Gilbert
- Up one spot from No. 9
9) LB Mekhail Sherman
- Down one spot from No. 8
10) LB Antoine Sampah
- Up two spots from No. 12
12) DE Myles Murphy
- Up nine spots from No. 21
13) Saf. Kelee Ringo
- Up 14 spots from No. 27
15) OL Justin Rogers
- Up one spot from No. 16
22) WR Demond Demas
- Down two spots from No. 20
25) WR Julian Fleming
- Up one spot from No. 26
28) RB Jalen Berger
- Stayed the same
29) WR Marcus Rosemy
- Stayed the same
32) OL Chris Morris
- Up 13 spots from No. 45
34) RB MarShawn Lloyd
- Up seven spots from No. 41
35) Saf. Jordan Toles
- Down two spots from No. 33
41) WR Porter Rooks
- Down nine spots from No. 32
42) Ath. Cartavious Bigsby
- Down six spots from No. 36
45) WR Jordan Johnson
- Down three spots from No. 42
52) DE Chris Braswell
- Down three spots from No. 49
53) CB Enzo Jennings
- Down three spots from No. 50
54) DE Demon Clowney
- Down three spots from No. 51
55) RB Chris Tyree
- Down two spots from No. 53
62) WR Rakim Jarrett
- Up one spot from No. 63
68) RB AJ Henning
- Up four spots from No. 72
69) CB Dwight McGlothern
- Down 31 spots from No. 38
73) CB Luke Hill
- Up four spots from No. 77
79) OL Aaryn Parks
- Up three spots from No. 82
82) LB Kalel Mullings
- Up two spots from No. 84
84) LB Derek Wingo
- Down 24 spots from No. 60
88) DE Tyler Baron
- Stayed the same
93) Ath. Teriyon Cooper
- Up one spot from No. 94