Rivals100 OL Aaryn Parks commits to Penn State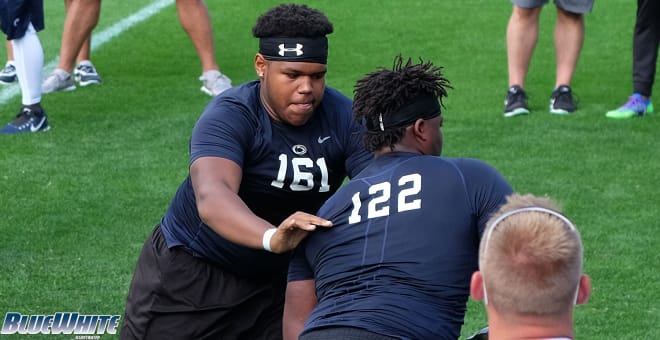 Penn State's run along the offensive line continued Monday, as four-star offensive tackle Aaryn Parks announced that he officially joined PSU's Class of 2020.
Over the past few months, it's been no secret that the Lions were the team to beat, but he elected to visit a few other programs in March, notably Maryland, North Carolina, N.C. State and West Virginia, to make sure of his decision. Parks then returned to Penn State April 6 for one last unofficial visit.
The Rivals100 prospect earned just shy of 20 scholarship offers. Florida, Mississippi State, North Carolina and Oklahoma were the other four schools that made up his top five.
Overall, Parks took four unofficial visits to Penn State. Although the staff was already showing plenty of interest last spring, it was his performance at the White Out Camp in June 2018 that ultimately earned Parks a scholarship. He quickly returned in July for the Lasch Bash Barbecue and spoke very highly of the experience. When he returned again in September for the game against Ohio State, it was clear that the Nittany Lions were the team to beat.

Penn State has now earned five commitments in April, four of whom have been offensive lineman. Tackle Grant Toutant was the first join the class back in November. The staff also added three interior lineman this month: Golden Achumba, RJ Adams and Nicholas Dawkins. DT Cole Brevard also committed this month.
Parks is currently the 84th ranked prospect in the nation. He's the 11th-ranked offensive tackle and the seventh-ranked player in Maryland. He was also a top performer at the Rivals Three-Stripe Camp in Washington, D.C., earlier this month and will now participate in the Five-Star Challenge this June.
Penn State's Class of 2020 now ranks No. 6 overall in the Rivals Team Rankings
Join us inside The Lions Den for more on Parks and the entire Class of 2020!