LB Curtis Jacobs Moves into Rivals100
Jacobs is now the top-ranked prospect in Penn State's Class of 2020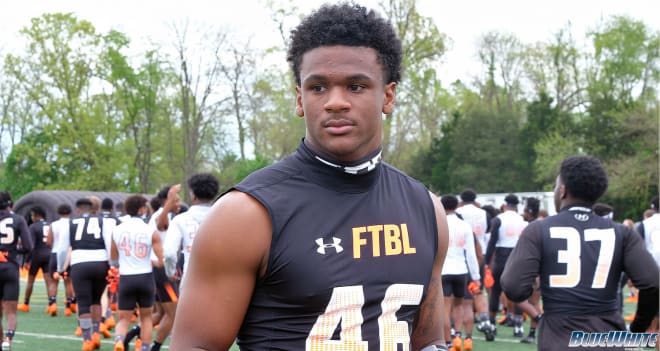 Future Penn State linebacker Curtis Jacobs is now a member of the Rivals100.
Since cracking the Rivals250 last summer, the Baltimore native has steadily ranked between No. 177 and No. 158 overall in the past four updates for the Class of 2020. However, following an excellent spring, which included strong performances at multiple camps, Jacobs moved up 92 spots to No. 85 overall.
"We liked what he saw from Curtis this spring. Not only did he look really good at Rivals camp in Washington, D.C., back in the spring, but he then came to Atlanta and was one of the best linebackers at this year's Five-Star Challenge," said regional analyst Adam Friedman.
"When you look at his overall development, you can really see all the hard work he's putting in. He's filled out his frame nicely and hasn't lost any of his speed. He's really done a good job showing us that he can compete with the very best players in the country."
With his latest jump in the rankings, Jacobs is now the top-ranked player in Penn State's Class of 2020. He's also the only future Nittany Lion currently inside the Rivals100. However, if all goes to plan for James Franklin and his assistants, he won't be the only top 100 prospect when it comes time to sign in either December or February.
Running back Jalen Berger, who sits at No. 42 overall, is one of the staff's highest-ranked prospects that's yet to make a commitment. Just last month, Berger visited Penn State for the first time in over year and he went on to call the Nittany Lions his No. 1 school. Since he doesn't plan to make a commitment until the All-America Bowl Jan. 5, there's a lot that needs to play out still, but the Lions will undoubtedly host him for at least an official visit at some point this season. Ohio State, Syracuse and Rutgers are also in the mix.
Linebacker Antoine Sampah, who sits at No. 27 overall, committed to LSU back in April but is expected to visit Penn State one more time this season. Last month, Sampah was planning to attend Penn State's Lasch Bash barbecue until a late change in his work schedule forced him to stay home. We'll be watching him closely for a visit Oct. 19-21 when Michigan comes to town.
Two other prospects to keep an eye on include offensive lineman Aaryn Parks, No. 60 overall, and wide receiver Joshua Downs, No. 84. Parks had previously committed to Penn State before opening up his recruitment in mid-June. At the time, he said that the Lions are still under consideration, but contact has been limited over the past two months. Downs has been committed to North Carolina since February but did take an official visit to Penn State in June.
Penn State Prospects Inside the Latest Rivals100