Predicting Penn State's two-deep depth chart for the Wisconsin game
Penn State will not release a depth chart this fall for the first time in the James Franklin era.
The head coach explained during a Tuesday news conference prior to the opener with Wisconsin that one main factor drove the decision to nix the public positional grid, which often simply followed the last game's starters regardless of any injuries or other news that may have led to a deviation ahead of the next game.
That said, many fans still found it to be a useful tool during the season.
"We've always released a depth chart," Franklin said. "I really don't have a strong opinion either way. There's been multiple schools in the conference that haven't been releasing it for a number of years. This year, we found out that Illinois, Michigan, Michigan State, Minnesota, Nebraska, Ohio State, and Purdue either were not releasing it or were thinking about not releasing it, so it just didn't make sense for us to do it if others weren't.
"I know on Sundays or even Saturdays when we're breaking down the next opponent, if that's already out there, it saves some work. It saves some time."
Franklin has a fair point, to an extent, but on the other hand, outlets like Pro Football Focus and others track snap counts, which can help opponents form a depth chart, and most schools now have loads of analysts who break things down with or without one before the assistants truly begin game planning.
At any rate, the conversation got us thinking: What might the two-deep look like on Saturday when the Lions take on the Badgers at Noon ET on FOX inside of Camp Randall?
It's time to make some predictions.
Quarterback

Running Back
Starter: Noah Cain
Backup: Keyvone Lee
The Lowdown: These aren't the only two backs who will play in Week 1 and after, of course, as John Lovett, Devyn Ford, and Caziah Holmes will all also see carries. It's just a matter of how Mike Yurcich and Ja'Juan Seider plan to divvy up the workload, and these two leading the way makes the most sense.
Wide Receiver 
Wide Receiver
Starter: Jahan Dotson
Backup: Cam Sullivan-Brown
Wide Receiver
Starter: KeAndre Lambert Smith
Backup: Harrison Wallace
Wide Receiver
Starter: Parker Washington
Backup: Marquis Wilson
The Lowdown: Dotson and Washington have obviously been locked in as two of the starters for a long time. We expect Lambert-Smith to be the third, but Sullivan-Brown has earned plenty of praise over the past two years and Wallace, a true freshman, has done the same in recent weeks. If forced to choose, the odds say that Sullivan-Brown will start if Lambert-Smith does not. As for the pick of Wallace behind Lambert-Smith, he's received plenty of praise, but maybe Daniel George ultimately emerges?
Tight End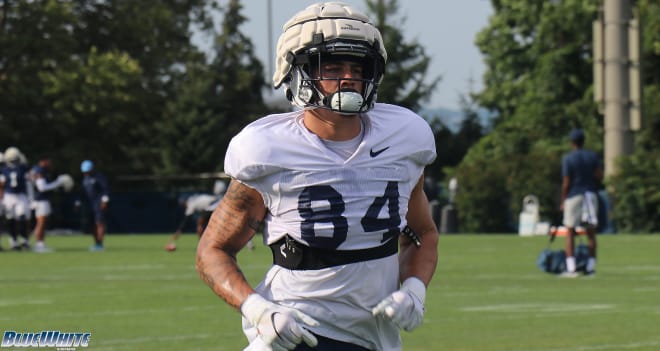 Starter: Brenton Strange
Backup: Theo Johnson
The Lowdown: Predictions do not get any easier than this. We will see some of Tyler Warren in action, too, throughout the year, but these two will take the bulk of the tight end load this fall, and seeing both on the field at the same time shouldn't be ruled out.
Offensive Line
Left Tackle
Starter: Rasheed Walker
Backup: Olu Fashanu
Left Guard
Starter/Backup: Anthony Whigan OR Eric Wilson
Center
Starter: Mike Miranda
Backup: Bryce Effner OR Juice Scruggs
Right Guard
Starter: Juice Scruggs
Backup: Des Holmes OR Saleem Wormley OR Bryce Effner
Right Tackle
Starter: Caedan Wallace
Backup: Olu Fashanu OR Landon Tengwall
The Lowdown: There is almost no thought required when it comes to the starting five, as we know that one of Whigan or Wilson will be first up at left guard while the other four jobs are locked in. Questions linger, however, about the backup situation. It feels likely if someone would go down or need to be replaced that a shuffle would be in order, which could bump a "backup" out of playing time if another starter is slid into the vacated role. So, we took our best crack at laying out how the depth chart might have looked, but note that it may not be followed in a real game. And, as. you can see, it sounds like Effner is the ultimate utility man.
Defensive Line
Defensive End
Starter: Nick Tarburton
Backup: Jesse Luketa OR Amin Vanover
Defensive Tackle
Starter: PJ Mustipher
Backup: Fred Hansard OR Coziah Izzard
Defensive Tackle
Starter: Derrick Tangelo
Backup: Hakeem Beamon
Defensive End
Starter: Arnold Ebiketie
Backup: Smith Vilbert OR Zuriah Fisher
The Lowdown: The only sort of uncertainty here is whether or not Duke transfer Tangelo has done enough during camp to hold off any other challengers for that first-team spot, but our assumption is that he has. The backup situation is certainly murkier, though, but good things have been said about Vilbert in August and Luketa seems to be having success when he works at end. Getting another player, perhaps Amin Vanover, to earn snaps here is important. Beamon has worked mostly inside during camp but profiles as a player who might be able to step out to end from time to time, too. It's one of the more interesting snap counts to follow on game day. We've also seen Izzard take snaps with the second-team at times during camp.
Linebacker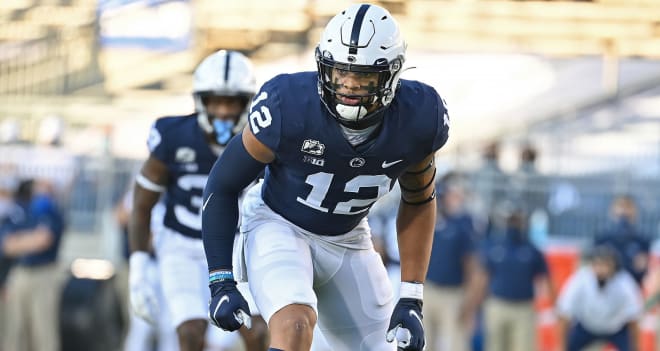 WILL Linebacker
Starter: Brandon Smith
Backup: Charlie Katshir OR Kobe King
Middle Linebacker
Starter: Ellis Brooks
Backup: Jesse Luketa OR Tyler Elsdon
SAM Linebacker
Starter: Curtis Jacobs
Backup: Jonathan Sutherland
The Lowdown: Penn State fans are salivating over the chance to watch Smith and Jacobs in action, and with good reason, but Brooks is also a key and overlooked part of Brent Pry's unit this year. As for the backups, Sutherland is working at both linebacker and safety, and we've heard plenty of good things about Katshir and Elsdon, but can they put it all together on game day? King, then, is a freshman who certainly looks the part and should get to cut his teeth on special teams to start.
Secondary
Special Teams 
The Lowdown: This is the one area we've seen and heard very little about during camp. One can assume Dotson will return punts and Brisker has been discussed as a kick return option, albeit hardly the only one, as speed abounds across the roster to fight for that job.
As for the specialists, we'll be curious to see how Jordan Stout is used this year. Does he still kickoff, punt, and handle long field goals, or has something else been worked out there? Jake Pinegar will take the field goals from 40 yards and in.
Joe Lorig has plenty of bodies and thus decisions to make prior to kickoff.