PSU Hoops HC Shrewsberry wraps up season, points focus toward 2022-23
On his one-year anniversary of coming to Happy Valley, coach Micah Shrewsberry summed up his first campaign in blue and white via Zoom. All in all, there was some good, and there was some bad.
Among the good things, Shrewsberry made it a point from the very start of his tenure to focus on Penn State's defensive presence and let offense develop more along the way.
That plan worked out, as the Nittany Lions topped the Big Ten in points allowed per game at 65.
"I was pleased with how we defended. The things that we established as a defensive team," Shrewsberry said Tuesday. "We dictated the pace to everybody else. Even if they were a fast team like Iowa. They don't want to slow the game down, they want to play fast, but our defense forced people to play a certain way."
While he admitted there are plenty of areas to improve on for next season, Shrewsberry also added that establishing a culture and playing with high effort were more positives to take away from Year 1.
Shrewsberry said he'll now take a moment to evaluate the season, but he'll quickly pivot right into preparations for next year, including figuring out what he can do better. He's shifting his focus toward integrating the five freshmen signed for next season and figuring out which pieces he still needs to round out his team.
He's getting a full offseason at Penn State for the first time, though, and he'll have a much different chance to focus on what he wants to control in the program. He doesn't have to spend time re-recruiting his own players this year like he had to with the likes of Seth Lundy and John Harrar.
The time since the season ended has already had a "way different" feel to Shrewsberry compared to last year's offseason.
"There was so much going on. When I first got here, I didn't feel like I had control in terms of our roster," Shrewsberry said. "There were so many guys that were coming and going. We spent way more time re-recruiting guys than we did actually recruiting other guys"
Dealing with that adversity at the start of his tenure cut into what Shrewsberry could do in the transfer portal in his first year.
While Shrewsberry won't have to bring in nine new players to his roster again next year, there are still a number of positional holes to fill. Most notably, Penn State loses John Harrar, Greg Lee and Jalanni White in the frontcourt for good this offseason.
Shrewsberry compared the transfer portal to "speed dating" and expects Penn State to use it on a "need-based basis." With that said, he wants to at least bring a couple of older players onto his roster to balance out the five incoming freshmen.
"You may get a guy, and you don't know everything about him," Shrewsberry said. "You don't know their makeup. You don't know exactly how they tick. You don't get a chance to spend as much time with them. So it's a gamble whether or not you try and build around that every single year."
The transfer portal had mixed returns in Shrewsberry's first go, but it was largely positive. Jalen Pickett and Lee stood out the most, while names like White, Jaheam Cornwall and Jevonnie Scott gave solid minutes here and there.
Another new aspect in Year 2 for Shrewsberry is the chance to have a full summer, both for recruiting and for his current team.
Thanks to having so much turnover on his roster and having many players transfer in later in the summer, Penn State didn't have a typical offseason.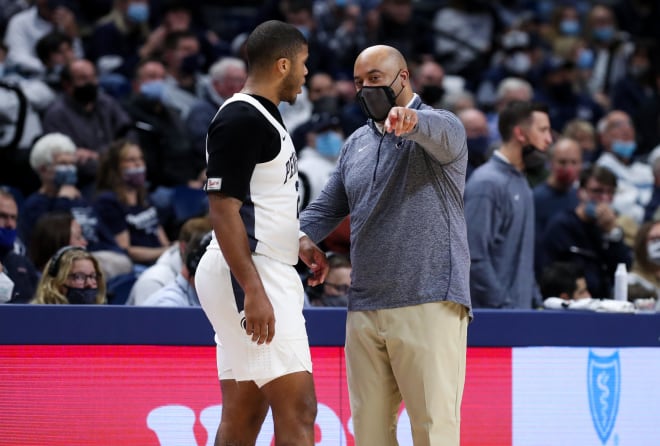 "We had a lot of pieces that weren't able to be there, and they pushed some of our development from the summer into the fall," Shrewsberry said. "So that's something that we'd love to do a little bit differently."
Shrewsberry said this summer will be "really important" to get freshmen going and continuing establishing a culture.
"I'm excited about that time. I'm excited about really digging in and teaching these guys," Shrewsberry said. "And even the older guys that are back, it's a chance for them to kind of relearn everything as well.
"We'll get a chance to, offensively and defensively, kind of establish how we want to play what we want to do. [We'll] use some team-building type activities, which we didn't get a chance to do last year as well."
Perhaps the most important change this offseason is getting Pickett back for a second year in Happy Valley. The senior guard confirmed after Penn State's Big Ten Tournament exit that he'll return and use his fifth year of eligibility.
Interestingly, Shrewsberry said he knew returning for a fifth year was probably something Pickett wanted to do before the season started and while recruiting him. He said Pickett wants to finish school and "maximize" his Penn State experience.
It's welcomed for both parties, as Pickett started to play some very good basketball as the year wore on.
"With him coming back, it gives us a good cornerstone to start with… He struggled out of the gates but really got going as the season went on," Shrewsberry said. "Then you saw there in the Big Ten tournament what he was capable of doing. And he was doing all that against Big Ten competition, against people that are trying to stop him, and he's at the top of the scouting report and everything."
Pickett averaged 18 points per game across three Big Ten Tournament games with six rebounds and five assists. Playing a full Big Ten slate for the first time will help both Pickett and the team overall, according to Shrewsberry.
"Now going in, he's a little more comfortable next year," Shrewsberry said. "He can help these younger guys kind of get through what they need to do to win on the road. Him coming back is a big help --- a big key. It's a big relief because he knows our system."
While Pickett's status is now out of the question, there are still decisions to be made for seniors Sam Sessoms and Myles Dread, who could also come back for a fifth year.
Sessoms and Dread both started and came off the bench at times during the year, but each were major contributors. Sessoms provided a spark on both sides of the ball and especially as a ball handler, while Dread was second on the team with 55 made 3-pointers and a 40.7% mark from deep.
However, Shrewsberry doesn't yet know either players' decision for next season.
"We'll get together and have more in-depth meetings with everything in terms of what those guys want to do with their futures," Shrewsberry said, "but we haven't had those discussions yet."