PSU signs 21 players before early signing period closes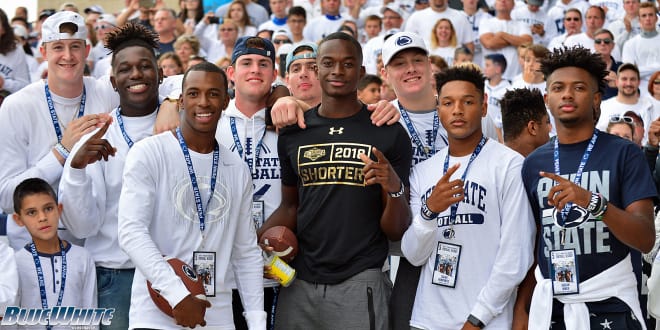 James Franklin and his coaching staff signed 21 prospects during the first early signing period in Division I football.
In the days leading up to the signing period, which began at 7:00 AM EST Wednesday, Penn State had 20 verbal commitments in its Class of 2018. Out of those players, Harrisburg wide receiver Shaquon Anderson-Butts was the only player not to sign. That was expected, as Anderson-Butts still has work to do academically. The other 19 prospects all signed within the first few hours on Wednesday morning.
In addition to the players that had previously committed, the Nittany Lions were also able to add two more Rivals250 prospects to the class. The most notable addition was five-star defensive end Micah Parsons. The nation's fifth-ranked overall prospect, Parsons took 20 unofficial visits to Penn State. That Harrisburg, Pa., native then committed to head coach James Franklin in Feb. 2016 during a junior day. However, it quickly became clear that he wasn't going to completely shut down his recruitment, as Parsons took multiple unofficial visits in the months that followed, most notably to Georgia, Ohio State and USC.
Despite all of that, Parsons remained committed for over a year, but did eventually decide to open up his recruitment this past April following a visit for the Blue-White Game. At the time, it felt as if the Nittany Lions were going to miss out on Pennsylvania's highest-ranked prospect since defensive tackle Sharrif Floyd, who signed with Florida in 2010. However, Franklin and his assistants never wavered in their commitment to Parsons and his family.
"I just wanted to be home with my brothers and bring back the glory," Parsons told Rivals.com analyst Adam Friedman following his commitment. "I took all my visits and I'm glad to be back and committed. The coaches never gave up on me since my freshman year. I've had a few bumps and transitions and they never moved on from me. They always stayed in my corner and that means a lot."
He added, "It means a lot to be close to home and know that my family, my friends, and my city are behind me. That's why a lot of people stay home. I want to be the best athlete to ever come from Harrisburg. I can do that at Penn State."
A US Army All-American, Parsons was named both the Offensive and Defensive Player of the Year in the Mid-Penn Commonwealth division this season. He was also a four-time all-state selection by the Pennsylvania Football Writers Association.
The Lions were also able to add four-star wide receiver Jahan Dotson. Over the past few weeks, it became clear that Nazareth, Pa., native wasn't going to sign with the school he originally committed to, UCLA. Once Penn State's staff learned that he had interest in staying closer to home, head coach James Franklin and wide receiver coach Josh Gattis made a late push with the the 5-foot-11, 170 pound receiver.
Dotson originally earned an offer from Penn State way back in December 2015. He's only taken just a handful of visits to State College, the most recent of which was in April for the Blue-White Game. However, up until his commitment to UCLA, which took place in the beginning of September, Dotson had been regularly speaking with multiple members of Penn State's offensive coaching staff.
"My relationships at Penn State are still strong," Dotson told Rivals.com analyst Adam Friedman following his commitment. "We stopped talking for a while but we started talking again and those relationships are still there. Coach Gattis has been talking to me about everything. I always enjoy talking with him. He's a great guy."
Below is the complete list of signees.
Penn State Football Class of 2018
Quarterback
Will Levis - 6-3, 220 - Madison, Conn. - Xavier
Running Back
Ricky Slade - 5-9, 185 - Woodbridge, Va. - C.D. Hylton
Wide Receiver
Jahan Dotson - 5-11, 170 - Nazareth, Pa. - Nazareth
Daniel George - 6-2, 210 - Fort Washington, Md. - Oxon Hill
Justin Shorter - 6-4, 220 - Monmouth Junction, N.J. - South Brunswick
Tight End
Pat Freiermuth - 6-5, 250 - Merrimac, Mass. - Brooks School
Zack Kuntz - 6-7, 235 - Camp Hill, Pa. - Camp Hill - Early Enrollee
Offensive Line
Nana Asiedu - 6-5, 275 - Stafford, Va. - North Stafford
Bryce Effner - 6-5, 280 - Aurora, Ill. - Metea Valley
Frederick "Juice" Scruggs - 6-3, 270 - Erie, Pa. - Cathedral Prep
Defensive Line
Judge Culpepper - 6-4, 275 - Tampa, Fla. - Plant
Aeneas Hawkins - 6-2, 280 - Cincinnati, Ohio - Moeller
PJ Mustipher - 6-4, 300 - Owings Mills, Md. - McDonogh
Linebacker
Charlie Katshir - 6-3, 215 - Camp Hill, Pa. - Cumberland Valley
Jesse Luketa - 6-2, 240 - Ottawa, Ontario - Mercyhurst Prep (Pa.) - Early Enrollee
Micah Parsons - 6-3, 245 - Harrisburg, Pa. - Harrisburg - Early Enrollee
Nick Tarburton - 6-3, 250 - Green Lane, Pa. - Pennridge - Early Enrollee
Defensive Back
Trent Gordon - 6-0, 180 - Spring, Texas - Manvel - Early Enrollee
Isaiah Humphries - 5-11, 190 - Rowlett, Texas - Sachse - Early Enrollee
Jordan Miner - 6-0, 180 - Wesley Chapel, Fla. - Wiregrass Ranch
Kicker

Jake Pinegar - 6-2, 195 - Ankeny, Iowa - Ankeny Centennial