PSUs Rivals250 4-star targets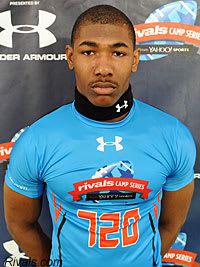 With the latest iteration of Rivals.com's rankings, including the latest batch of four-stars, it's time to take a look at where Penn State stands with its uncommitted or committed targets on the list.
Blue White Illustrated's Tim Owen breaks them down, in order, right here:
- Gary has long been Penn State's top defensive tackle target, but as the New Jersey native's recruitment has gone on, PSU has faded further into the background. Most recently this summer Gary visited Georgia and then LSU twice. LSU appears to be gaining momentum right now, but Auburn, Alabama and the Bulldogs are still in contention. Big Ten programs Michigan and Ohio State continue to remain under consideration for the five-star as well.
- Smith visited Penn State multiple times as an underclassman recruit while he still lived in the Baltimore area and before he transferred to IMG Academy in Florida. Soon after moving, Smith verbally committed to Clemson, but he has since re-opened his recruitment. Maryland or Auburn appear to be the frontrunners to eventually land the five-star, but Smith says Clemson is still under consideration as well as LSU. It's unlikely that PSU gets back in the mix here.
- High school teammates with PSU commit Shane Simmons at DeMatha (Md.) Catholic, Davis considered Penn State early in his recruitment and visited on a few occasions. Throughout the spring and into the summer, however, other schools jumped ahead of Penn State. Davis recently announced a top five of Alabama, Georgia, Maryland, Michigan and UCLA. We believe Maryland and Michigan are currently his top two options.
- Formerly committed to Ohio State, Hall saw a huge boost in his rankings in the latest release of the Rivals100. After a de-commitiment in early August, Hall is considering a wide variety of schools around the country. The Maryland native has set up one official visit so far for this fall, this to Alabama, and is still figuring out his options for his remaining four. He's mentioned Florida, LSU, Tennessee and Texas A&M as other SEC schools that have his interest. He's also contemplating visits to Oregon, Notre Dame, North Carolina and Maryland. Penn State can't be counted out yet, either. We know he was talking to PSU coaches throughout the summer, so there is reason to believe that they can get him on campus for a visit this season.
- Sanders was the very first verbal commitment in Penn State's Class of 2016, and despite a couple off-season visits to nearby Pitt, Sanders has held strong to his commitment. However, he mentioned this summer that he's considering official visits to Virginia Tech, Alabama and LSU. He's also said that he'll check out Pitt again. Penn State is still considered the favorite to land his signature in February, but there is reason to continue monitoring Sanders throughout his senior season at Woodland Hills.
- With only a few scholarships left in Penn State's Class of 2016, it appears as though the coaches have moved on from recruiting another tight end in this cycle. Upshur, who is from Philadelphia, will take official visits to Michigan, Florida State, South Carolina and Arizona State this fall.
- Williams continues to climb up the recruiting rankings as the Tennessee native is now among the the top 100 in the country. Many believe the in-state Volunteers lead in this recruitment. Georgia is under heavy consideration, as well, along with other SEC schools such as Alabama, Auburn, Florida, LSU and South Carolina. Penn State, too, is in the mix. Williams played high school football with defensive coordinator Bob Shoop's son, Tyler, at Father Ryan in Nashville. Tyler is now a walk-on WR at PSU, and Williams continues a strong relationship with the Shoop family. Williams has scheduled an official visit to Penn State for the Michigan game in November.
- Menet committed to Penn State this summer. The Reading, Pa., native chose the Nittany Lions over Duke. He also held offers from Ohio State, Alabama, Auburn, Florida State, Georgia, Michigan, Michigan State, South Carolina and Stanford, among many others.
- Simmons was one of the first verbal commitments in Penn State's Class of 2016 and he's held firm since. Additionally, Simmons has been on the of the biggest recruiters among PSU's commitments. Listed at 6-foot-3, 224 pounds, Simmons was offered by PSU as a defensive end. Some analysts believe he could also play outside linebacker.
- Diggs has visited Penn State multiple times throughout his recruitment and we wouldn't be surprised if he is back on campus this fall for a game. That said, Diggs hasn't publicly commented on his recruitment much this summer, so there are no definite plans. A Maryland native, we know Diggs saw the in-state Terrapins three times this summer and also visited Alabama in July. Those two schools appear to have substantial leads over everyone else.
- We know Hamlin visited Penn State twice this summer - once in June and then again in July for the Lasch Bash barbecue. Aside from that, though, the Pittsburgh native's recruitment has been held mostly under wraps lately. Both Pitt and Ohio State are firmly in the mix, and judging by his recent visits, the Nittany Lions are, too. Any time Hamlin speaks publicly he says he's in no rush for a decision, but if he continues to wait it out, Penn State could possibly fill its allotment of scholarships for DBs.
- Dioubate, a Philadelphia native, is Penn State's newest verbal commitment in the Class of 2016. He's arguably also the most coveted. Defensive tackle is one of the top positions of need in this cycle, and next to Gary and fellow verbal commitment Ellison Jordan, Dioubate has always been atop PSU's recruiting board. He chose the Nittany Lions over Alabama, Auburn, Florida, Michigan State, Ohio State, Pittsburgh, Rutgers and Wisconsin among others.
- Of Penn State's verbal commitments, Hill has been one of the most talked about this off-season. A Michigan native, Hill has visited both Michigan State and Michigan on numerous occasions since he committed. However, he continues to say that his commitment to Penn State is strong and that he visits the in-state schools only to tag along with teammates or to see his brother, who currently plays for the Wolverines.
- McGovern verbally committed to Penn State in March, selecting the Nittany Lions over Duke, Georgia Tech, Maryland, Miami, Michigan State, North Carolina, Pittsburgh and Stanford, and his commitment has yet to come under question. McGovern is on pace to graduate from Lake Lehman early and enroll at Penn State in January.
- Of the Penn State's remaining viable recruiting targets, Ferns is the next one who is expected to announce his decision. An Ohio native, Ferns could make the call as soon as Friday, Aug. 28. After eliminating Ohio State from contention earlier in the process, Fern's recruitment has come down to the Nittany Lions and West Virginia, the school at which his older brother is currently enrolled.
- Nixon, who is from Florida, has remained one of Penn State's top recruiting targets since day one, as PSU was one of Nixon's first major scholarship offers. He's visited PSU a few times throughout the process, most recently for the Lasch Bash barbecue in July. He visited Georgia soon after and and that was followed by a trip to Auburn. Nixon named a top 10 that includes Alabama, Auburn, Duke, Florida, Florida State, Ole Miss, Oregon, Penn State, Tennessee and Texas A&M, but we believe the Bulldogs, Tigers and Nittany Lions have separated themselves from the group. A decision could come at any time, but it may also drag into September.
- Hansford had been rumored to be close to making a decision earlier this summer, but he recently debunked that and said he's in no rush to end things. He visited Penn State twice this summer, so the Nittany Lions are in a good spot and we expect him to visit again this season, possibly for the game vs. Rutgers in September. Ohio State is also under consideration, but he's expected to visit Notre Dame soon, and the Irish appear to be gaining momentum quickly.
- Despite dropping out of the Rivals250, Zembiec has been one of Penn State's top quarterback targets ever since he camped before his junior season. He committed soon after, but missed most of last year due to a broken wrist. He's expected to be back to full health in order to lead Aquinas Institute in Rochester (N.Y.) this fall, and then he'll graduate early and enroll at University Park in January.
- Jordan ranks outside the Rivals250 and at 6-foot, 270 pounds, some consider him undersized for his position, but Penn State has coveted Jordan for its three-technique DT spot since the beginning of his recruitment. In June, the Maryland native selected PSU over the in-state Terrapins and Virginia Tech.
- Brown was the first prospect to commit to Penn State the morning of its Lasch Bash barbecue in July. Brown, a Maryland native, had considered PSU a favorite ever since he visited late last season with high school teammate and PSU true freshman TE Jonathan Holland. Penn State first offered brown as a defensive end, but other schools recruited Brown as a linebacker. Prior to his commitment, PSU discussed the option with Brown that he could start his PSU career at linebacker and then eventually grow into a defensive end. He chose PSU over Pitt, Notre Dame and USC.
- A New Jersey native, Fuller is fresh off a visit to Rutgers this week. Next, he'll announce his top 10 and choose his five official visits from that list of schools. Penn State is expected to make the cut, as he visited in July and only had good reviews about the visit. However, like all of Penn State's top remaining prospects, especially at defensive back, which is the position PSU has targeted Fuller for, every commitment from here on out will impact other prospects in some manner, so if he does want to be a Nittany Lion, Fuller may be forced to make a commitment sooner than he hoped.
- Fries committed to Penn State in early June, choosing the Nittany Lions over nearly two dozen scholarship offers, including Clemson, Maryland, Miami (Fla.), Michigan, North Carolina, Pittsburgh, Rutgers, South Carolina, Virginia Tech and Wisconsin. Fries visited Michigan soon before his commitment, which was one of Penn State's biggest competitors in his recruitment.