Take Three: Robinson, Ficken and OBrien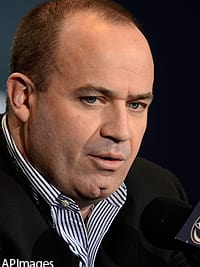 Continuing the "Take Three" series, BWI examines the pulse of Penn State and three pressing topics facing the Nittany Lions.
According to CBSSports.com, 10 of the 11 top WR prospects are underclassmen. Robinson ranks No. 4. If a few of the other WRs make the leap this year -- along with a monster senior season from Robinson -- that should open things up for Robinson to solidify himself as a first-round pick in 2015. But what if these other underclassmen don't declare, and instead decide to test the waters in '15?
If they stick around, then I think it would be in Robinson's best interest to declare now. I've always thought that Robinson will only increase his draft stock at the NFL Combine. He already has the film, and I believe Robinson's measurables will explode off the charts -- with maybe his 40-yard dash time being the only exception. If some of the other WRs stay in school, I don't see why Robinson can't sneak into the top of the first round or early in the second in '14.
Robinson has a lot to figure out over the next couple weeks. The clock is ticking.
Ficken has traveled a rocky road at Penn State, dating back to that Virginia game in 2012 in which he missed four field goals. Then he finished his junior season by missing 7 of his last 15 attempts. Some fans have called it a collapse, considering he previously set the school record with 15 consecutive field goals.
According to the highly regarded Peter King of TheMMQB.com, the NFL has created a panel called The Career Development Advisory Panel to recommend candidates for NFL teams who will be in search of a new head coach. This year, the panel is encouraging and putting special emphasis on the hiring of minorities.
Thanks to the "Rooney Rule" every NFL team must interview at least one minority candidate before hiring a coach. But last year, contrary to how the rule is supposed to work, each coaching vacancy was filled with a non-minority. King called it an "embarrassment." The NFL wants to be sure that doesn't happen again -- one of the reasons why this panel was assembled.
According to King, Lovie Smith, Jim Caldwell, Mel Tucker, Ray Horton and Todd Bowles are the top minority coaches listed by the CDAP. The CDAP also included the following non-minority candidates: Darrell Bevell, Pete Carmichael, Jay Gruden, Kevin Coyle, Mike Pettine, Dan Quinn, Bob Sutton and Sean McVay.