Three season-defining questions for Penn State's D-line: Entrance Exam
The Penn State Nittany Lions football season begins in less than a month, and Blue-White Illustrated is breaking down the key questions facing each Penn State position group in its new series, Entrance Exam, continuing on the defensive side of the ball with Penn State's linemen.
Check out previous Entrance Exam stories:
1. Can the Nittany Lions adequately replace defensive end Adisa Isaac?
Penn State football head coach James Franklin publicly confirmed last Saturday what had been speculated for weeks: Defensive end Adisa Isaac is likely to miss the entirety of the season with an injury suffered outside of football-related activities.
Isaac was likely penciled in to be one of Penn State's starters at defensive end, after the Nittany Lions lost two stalwarts at that position last season in Odafe Oweh and Shaka Toney.
With the news, a position group that already carried some significant question marks coming into the 2020 season saw its picture become even murkier.
There is no nailed-on next-man-up for the Nittany Lions with Isaac out of the picture.
It could be Nick Tarburton, who has been injured for the majority of his Penn State career, but is healthy this season and is garnering some positive remarks from his teammates and coaches.
Jesse Luketa, who will play some defensive end for the Nittany Lions this year after starting at linebacker last season, could also figure into the picture, as could the likes of Hakeem Beamon, Amin Vanover and Smith Vilbert, among plenty of others.
No matter who takes the mantle, the task at hand will be a difficult one, as the Nittany Lions look to their depth to replace the impact made by two defensive ends who will be playing in the NFL next season
RELATED: Two Penn State Nittany Lions earn a place on The Athletic's 'Freaks List'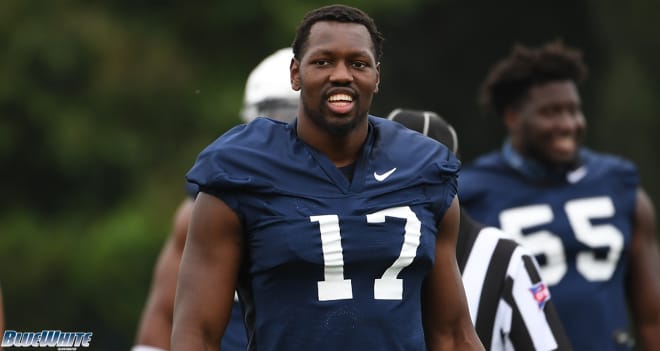 2. Can the transfers carry the load?
With some of the issues we just ironed out under the previous question in mind, it's clear that Penn State will rely heavily on two new faces brought in via the transfer portal to anchor this unit.
Arnold Ebiketie has garnered plenty of headlines over the offseason, and rightfully so.
He was one of the most exciting pass rushers among the Group of Five last season, with four sacks in just six games played. His trainer, Eddy McGilvra, told BWI earlier this summer that he views Ebiketie as a potential top-100 pick in the NFL Draft.
Similarly, Derrick Tangelo was a shining light at defensive tackle for Duke in 2020, providing strong pass-rushing ability while maintaining a physical presence against the run.
However, there will be little time for these two names to get adjusted. The Nittany Lions will be relying on them to contribute immediately — and make a strong impact.
With only inexperience behind Ebiketie and Tangelo, Penn State could be in trouble if they don't hit the ground running immediately.
They certainly have the talent to do so, but it's far from a given with any transfer.
3. What happens to the sack totals?
Penn State defensive coordinator Brent Pry has acknowledged that the Nittany Lions stopped selling out for sacks last season, feeling that they were leaving themselves exposed in other areas.
That's not to say the Nittany Lions don't want to sack the quarterback — they very much do. They simply adjusted their priorities.
The result was a relatively middle-of-the-road pass rush for Penn State last season, with 2.3 sacks per game — good enough for 54th nationally.
Will that be enough again in 2021, or will Pry and the Penn State coaching staff decide to make another adjustment in search of a more disruptive pass rush?