Three Things: Signing Day Press Conference
James Franklin had a lot to say during his press conference Wednesday. Between the recent surge in transfers, plus the addition of new wide receiver coach Gerad Parker, there were no shortage of topics. With that said, yesterday's gathering in the Beaver Stadium press room was centered around Penn State's Class of 2019. Here's what caught our attention!
Latest Additions
Penn State put the finishing touches on another highly-rated recruiting class Wednesday, wrapping up the 2019 cycle with four new signatures, bringing the class to 23 players overall.
Back in December, the Nittany Lions signed 19 prospects, including two elite running backs: Devyn Ford and Noah Cain. They also added linebacker Brandon Smith, offensive lineman Caedan Wallace and nine other prospects that were given a four-star rating by Rivals.
The four prospects they added Wednesday may not have earned all the accolades those above did, but as Franklin pointed out, some of the team's top contributors in recent years came towards the end of recruiting classes.
"Christian Campbell and Torrence Brown are two guys we offered the night before signing day and both had really good careers here," said Franklin. "One is bouncing around the NFL right now and one had a great career for us before it was cut short with some injuries. So, there's a lot of paths of how you get to a certain place. That's in recruiting."
With that in mind, Franklin broke down the four players that signed with the staff yesterday and what they saw from each.
DT Joseph Darkwa: "A young man from Germany, 6'5", 272 pounds, a skinny 272 pounds. We were able to watch him on game tape. He's probably a lot more advanced than we anticipated him being. And being able to watch all his workout tapes, very athletic and excited about his future."
Franklin added, "[Darkwa] is an interesting kid because he speaks four languages, which is impressive, especially in our country, where we don't embrace that like a lot of other countries do. He speaks -- I hope I pronounce this right -- he speaks Twi, the native language of Ghana where his family is originally from. His mom moved to Germany 30 years ago. He speaks Twi. He speaks German. He speaks English and he speaks a little Dutch is how he explained it to me."
Ath. Daequan Hardy: "Hardy was a guy we went back and forth on the entire process. What really helped us was two things: Number one, he came to camp last year, and in our camp ran a 4.4. [There aren't] too many human beings on the planet that run 4.4 and we had it in our own camp. That was going into his junior year. And then on top of that he had a dominant senior year. Had a dominant senior year, unbelievable amount of touchdowns, unbelievable amount of interceptions."
Franklin added, "We recruited him as a corner and possible athlete. We know he can be a wide receiver as well. A lot of conversations about that. We know he can be a return man. We know he can be a special teams guy, but it really came down to taking Daequan to what I had mentioned earlier: we had documented times from our camp from two years ago on him that ran a 4.4, and it was evaluating his senior tape. He had a dominant senior year. I want to say over 25 touchdowns. I want to say over 10 interceptions...I think what happens sometimes with coaches, you get so caught up in the eyeball test and measurements. Daequan's not a big, imposing guy at this point of his career. But if you put the tape on and watch his production, he had as good of a senior year as anybody in the country."
WR TJ Jones: "The wide receiver position was important for us in T.J. Jones, another young man that we were able to get out of Florida…We kind of fell in love with him late in the process. Obviously Coach Seider's connection there. [Jones] came on a visit, got to know him really well, his high school. Had a bunch of offers from all over the country. And again, another prospect that we think has a lot of upside."
DE Smith Vilbert: "Vilbert reminds us a lot of Jayson Oweh. He's only played football for one year. His potential and his ceiling is very high because it's still all new to him. Watched him play basketball [and] was blown way [by] his movement on the court. Another guy, 6'5", 243 pounds right now… [Vilbert has] the type of length and type of athleticism off the edge that we're looking for."
Out of this group, Jones makes the most sense when it comes to making an early impact. He played big-time high school football at Florida's highest level. There are some quality receivers ahead of him, so it won't be easy, but from what I've learned in recent weeks, he's a bit underrated. Hardy will need to add some weight before he's ready to return kicks, but that's where I see him making his first impact. I could see him following up Hamler in that role. Hardy could also matchup well against athletic receivers in the slot. As for Vilbert and Darkwa, both are about to make a major jump in competition, but as Franklin explained, the potential is there. Give Sean Spencer some time to get them up to speed and they could very well end up contributing after a few seasons.
Gerad Parker
Yesterday was our first opportunity to meet new wide receiver coach Gerad Parker. We only spoke with him for about 15 minutes, but it was easy to understand why Franklin gravitated towards him. I liked his energy and just his personality overall. You can tell he's a fun guy to be around, but also a good leader. He fits the mold of a head coach one day. I liked what he had to say.
But he also shared some insight on what it was like these past few weeks. Parker said this was the first time he had to make a quick transition like this, recruiting for one school one day and another school the next.
"This was probably the first time [I really had] to dive into it that way," said Parker. "[It's] pretty crazy to fly into another city, take my shirt off, [then] put a shirt on of Penn State that Coach Rahne brought to me and hit the road with Coach Rahne and go like that. It's a pretty crazy thing."
Parker also talked about some of the recruiting territories that he'll have at Penn State.
"I'm going to take North New Jersey. [That] is going to be a big piece for me. My days at Purdue in the Big Ten allowed me to kind of take the I-65 corridor and Indianapolis especially. So, I'll get a chance to stay there and work into Cincinnati. And then, of course, we'll be beating up the whole country to find the best wide receivers in the country."
I was able to speak with a few coaches and contacts about Parker in recent weeks, mainly when it comes to what he's like on the recruiting trail. Those connected to both Jones and OL Doug Nester, who signed with Virginia Tech, raved about Parker, noting that he's a very good recruiter and will do an excellent job for the Nittany Lions. So far, I like what I've seen.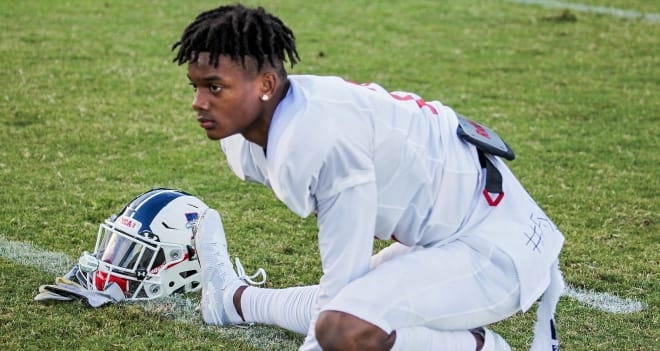 2020
While the 2019 class may still not even be finished - all eyes on you, Nick Cross - the staff will turn much of its attention to 2020 when they return to State College on Monday. The Nittany Lions have already earned four commitments in what's expected to be a very good class. In addition to OL Grant Toutant and LB Derek Wingo, who have been committed for a few months now, PSU added two additional four-star prospects this past weekend: Ath. Curtis Jacobs and CB Josh Moten, both of whom are from Maryland.
PSU is also in great shape with Moten's teammate, OL Aaryn Parks, who's planning to visit University Park with multiple family members in the coming weeks. Don't be surprised if he becomes No. 5.
When you look at the region as a whole, there's reason for fans and the staff to be excited. Already, Rivals has named six five-star prospects in the mid-Atlantic: DE Bryan Bresee, LB Antoine Sampah, WR Rakim Jarrett, WR Julian Fleming, LB Mekhail Sherman and RB MarShawn Lloyd. On top of that, all six of those players have visited Penn State multiple times already. For some perspective, the 2019 class finished with just two five-star players: DE Antonio Alfano and OL Darnell Wright.
Overall, 2019 had nine mid-Atlantic or New England prospects in the Rivals100, 24 in the Rivals250. So far, 2020 has 17 mid-Atlantic and New England prospects in the Rivals100 alone, 33 if you look at the entire Rivals250. When you add in the seeds that Penn State has now planted in Florida and other states throughout the country, there's reason to believe that this upcoming class could be a special one in Happy Valley.
"I do think the region is really strong," Franklin said, when asked about 2020. "And that's important. It really is important, because obviously the closer they are, the better chance you have to develop the type of relationships that you need. So we're going to have to take advantage of that. And that is within a six-hour radius of campus. We're excited about it. We've got a pretty good start on it."