Up Close & Personal: Linebacker Charlie Katshir
Like the majority of players who find themselves in possession of a Penn State offer letter, incoming freshman Charlie Katshir is supremely athletic.
And he has the measurables to prove it.
Katshir is one of several Penn State recruits who spent his spring on the track. He achieved a personal best in the 100-meter race this year, finishing in 11 seconds flat.
It's easy to imagine that type of speed translating into a role as a wide receiver or defensive back on the gridiron, and that was exactly the case at Cumberland Valley High School. Katshir accumulated 715 receiving yards during his senior season, while also lining up in a number of spots defensively, mainly at safety.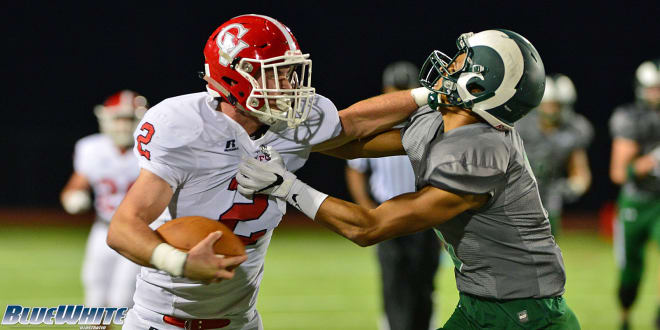 "I would say I'm athletic, kind of like a ball hawk," Katshir said. "I follow the ball wherever it goes, just reading the quarterback and reading plays well."
Although Katshir uses the vernacular most fans associate with elite defensive backs, Penn State has different plans for his athleticism.
Katshir was recruited as an outside linebacker, primarily because of his body type. At 6-foot-3, and now pushing 225 pounds, he weighs almost 20 pounds more than the heaviest defensive back on Penn State's roster, Amani Oruwariye, and is 2 inches taller.
"They told me that they see me filling out my body, just the way my body will fill out, getting a lot bigger. They don't really have safeties that size," Katshir said. "They said they see me as an outside linebacker, a hybrid type."
Katshir certainly has a hybrid skill set. Combine his speed and athleticism with the intelligence and anticipatory abilities that come with playing safety, and Katshir already has a number of traits most outside linebackers don't – even before he steps foot on campus.
Following his season, he put in the work to transform his body to fit the role Penn State wants him to fill. Katshir is lifting and eating "constantly," he said. During the spring, he did all that while keeping up with his obligations to the track team.
But he isn't forgetting his roots at safety. "I think it helps my instincts," he said, "just kind of reading the play, reading the quarterback and just going after it."
Based on James Franklin's comments during his signing day teleconference with the media, Katshir's instincts may help him compete for playing time when he arrives, despite the fact that he will be learning a new position.
"We've got some real needs [at linebacker]. So a combination of a Katshir, [Micah] Parsons, [Jesse] Luketa and [Nick] Tarburton really helps us there, guys who have a chance to come in and compete," Franklin said.
Katshir, who plays basketball in addition to football and track, is no stranger to competition on the field or court. This year, though, he was forced to confront some difficulties away from it.
He tore his labrum during his junior season and had it surgically repaired before tearing it again, causing damage to another ligament. Katshir underwent surgery again in February and didn't flinch during his path to recovery.
"Obviously it was tough, having my second surgery in the same year. But having that, going through that, made me a lot tougher," he said. "For the recovery, going through physical therapy all over again, getting strength back, that mobility, and then eventually getting back in the weight room – I got back in the weight room a couple months ago, and I'm back lifting full time. It feels great."
Now, Karshir's attention turns toward University Park, where he'll join a number of young, talented linebackers like Parsons and Luketa. (Tarburton has been moved to the defensive line.) The only one of the group without a fourth star, Katshir has his work cut out for him as he looks to make an early impact for the Lions.
"I'm just kind of ready to get up there to see the different competition, the talent," he said, prior to his enrollment this past weekend. "It will make me a better player, just going against those guys every day."
But the central Pennsylvania native isn't about to lose perspective amid the competition that awaits.
"It's great, just having the fan base out there," he said. "Knowing that they're behind me already, without even stepping foot on campus, it's just great. I want them to know that I'm just a hometown boy, living his dream, who will work hard for the school, the team, just to get what I want and what the town wants."